Nike's marathon challenge
With apologies to boxing champ Anthony Joshua, arguably the biggest sporting event of 2017 so far was not an official, recognised event, but a massive Nike marketing stunt.
The sports apparel behemoth trained three of the world's top (non-Adidas sponsored) distance runners for a marathon-distance race. Nike trumpeted the science used in the athletes' preparation, their shoes and equipment, and bent the rules of normal competition in an attempt to have the trio run a marathon in under two hours. With the official world record three minutes 'slower', this would mean breaking one of the great barriers in world sport - a four-minute mile for the 21st Century.
At a time when mainstream athletics is under a doping cloud, Breaking2 got journalists aplenty writing articles debating the project's merits and racked up 5.4 million Facebook views on the live stream of the 6 May race. It also allowed the brand to push its message of encouraging individuals to push their own limits - and drew attention to Nike's new Zoom Fly SP shoes.
It all went to plan as a comms campaign - and almost didn't matter when the fastest of the runners clocked two hours... and 25 seconds.

Safer Spaces 'blackout'
This simple but eye-catching campaign from the Association of Independent Festivals saw more than 25 music festival websites 'black out' for 24 hours on 8 May to raise awareness of sexual assault.
As part of the Association's Safer Spaces drive, the festivals also shared this animation below on social media, using the hashtag #saferspacesatfestivals, encouraging festival-goers to actively promote safety.
Splash at Topshop
Whether virtual reality will ever truly take off is still hotly debated, but that hasn't stopped Topshop placing it at the centre of its latest campaign. Situated at the retailer's flagship store, 'Splash' allows shoppers to don an Oculus Rift VR headset, before being immersed in a very unusual version of Oxford Street.
Participants will discover Topshop-themed surprises as they 'slide' down Oxford Street on an inflatable device. The VR waterslide is part of an 'interactive pool scene' which is being displayed in the store's windows.
The wider summer campaign includes the smell of sun cream being spread throughout the store, a range of summer pop-ups and a branded snapchat lens, immersing users into a summer-themed aquatic world. The free experience has been developed in partnership with Your Studio, with the VR being designed in collaboration with digital agency Fat Unicorn.
.@Topshop just launched a VR waterslide where you twist and turn through central London. pic.twitter.com/vGTAmgJEeG

— Business Insider UK (@BIUK) 26 May 2017

Lottoland's £150m dream jackpot
Aside from Arsenal's FA Cup victory on Saturday (27 May), the club has underperformed this season. As a result, fans have been at each other's throats and have repeatedly called for manager Arsene Wenger's head.
Cue the latest campaign created by PR firm Frank, which sees its client Lottoland team up with a few of the regulars from Arsenal Fan TV as they dream of turning the club's fortunes around.
The stunt, which is designed to promote the online betting site's new £150m jackpot, follows Arsenal Fan TV host Robbie as he dreams up a series of increasingly unrealistic events.
At one point during the video, Fan TV favourite DT, who has been appointed as the club's new manager, promises to hire "a specialist witch doctor and healer to work alongside midfielder Jack Wilshere" (who regularly finds himself injured).
The video, which has been viewed over 200,000 times on YouTube since its launch last week, ends with the tagline "it's never too late to turn your fortunes around" as Robbie snaps back to reality.
Ladbrokes for Eurovision
The value of the word 'Brexit' in a news headline almost a year on from the EU referendum is probably approaching saturation point, but there are still some events that are worthy of association.
Step onto the stage Eurovision, and a clever little campaign from agency Cicero on behalf of Ladbrokes. Ahead of the world's favourite song contest, the bookmaker released research on Britain's attitude towards UK representative Lucie Jones; whether Brexit would affect the number of votes cast from mainland Europe in our direction; and, most pertinently, whether Britain should leave Eurovision altogether. At the same time, Ladbrokes' betting odds on Britain winning the contest were highlighted to potential consumers.
Prior to the main event, Cicero's cheeky campaign achieved plenty of coverage for its client, including articles in Metro, City AM, Daily Star and Daily Express.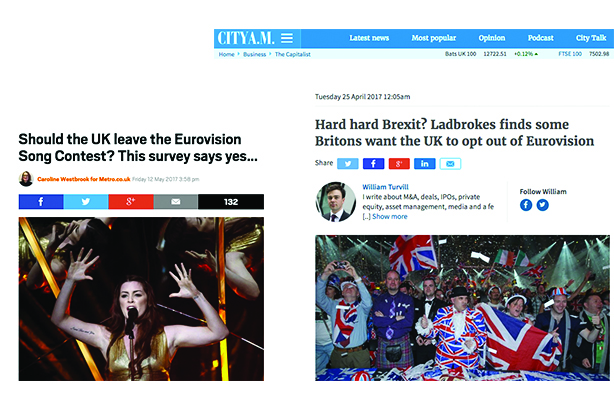 Eurovision 2017: Fears the UK's Lucie Jones could be hit by the Brexit factor https://t.co/7VPB8uFZth pic.twitter.com/1McfDfuRzE

— Daily Star (@Daily_Star) 8 May 2017