Brighton-based Pegasus was acquired by UDG for a deal worth up to £16.8m in May last year, joining UDG's Ashfield Healthcare Communications division.
The agency has today announced the opening of a base in Macclesfield, within an existing Ashfield site.
Pegasus MD Simon Hackett (above) said this new based would give the agency access to a "big pool of skilled staff in that area", the opportunity to work with other Ashfield businesses, and closer links to existing and potential clients in the north, although he did not name specific companies.
Pharma giant AstraZeneca made an investment of £120m in a new site in Macclesfield in 2013, securing 300 jobs, according to the BBC. According to business support agency Bionow, other pharma firms operating in the region include Bristol Myers Squibb, GSK and Eli Lilly, with the latter based in Speke, which it says hosts the "largest cluster of biologic manufacturing in Europe".
Jo Spadaccino, the firm's head of pharma and life sciences, is overseeing the Macclesfield office. She has been with the agency since 2010. The office, which is situated within an existing Ashfield office, is staffed by two new hires and a third employee who has transferred from Brighton.

It today unveiled a refreshed brand (above), created in-house by the agency, to align with its parent company - a departure from its previous blue livery (below).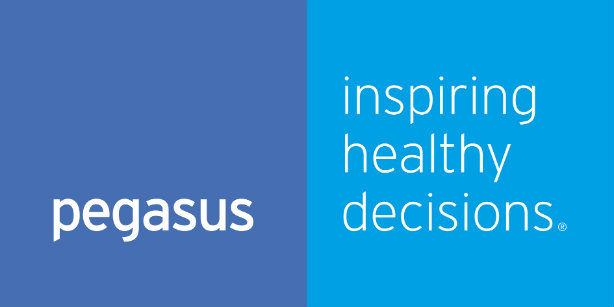 Hackett said that being part of Ashfield "means we're able to provide end-to-end solutions to health organisations across the world, offer our people greater scope in their roles, and ultimately realise our mission of inspiring healthy decisions amongst more people, in more ways".
At the start of the year, the agency launched 'CHANGE', a planning model designed to understand behaviour change, developed in collaboration with University College London's Centre for Behaviour Change.
The agency's staffcount has increased by 10 per cent to 110 since being bought - and its revenue rose 9 per cent last year to £9.6m, making it the UK's 32nd largest agency and one of the biggest healthcare specialists, according to PRWeek's Top 150 Agencies report 2017.
Pegasus was said to be "performing well" in UDG's interim results, released yesterday. Gross revenue for the half year was £379.9m across the group.
Pegasus is the largest UK PR agency headquartered outside of London - a crown it inherited from Scotland's The Big Partnership in 2016.

---
Read next: PRWeek UK Awards 2016 - Specialist Consultancy of the Year, Pegasus