The Lib Dem manifesto launched this morning, the day after Labour's (official) launch. The Labour manifesto had also been leaked last week.
Since Jeremy Corbyn became Labour leader in 2015, the Lib Dems have repeatedly hit out at Labour for failing to provide adequate opposition to the Conservatives.
---
Read next: 'The real campaign is being fought on social media': General Election panel, week four
---
In an apparent riposte, people Googling the term 'lib dem manifesto' are shown a Google AdWords listing for the Labour manifesto, entitled 'The Lib Dem Manifesto - What You Need To Know - labour.org.uk'.
Included in the copy is: "Only Labour Can Provide The Real Opposition In This General Election".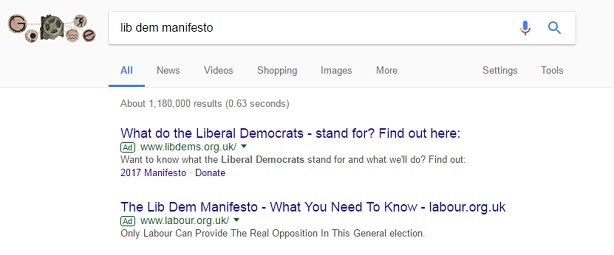 That link directs people to a page on the Labour website that begins: "The Liberal Democrats will say and do anything to get elected. They broke their promises before and they would do it again."
It goes on to outline the Lib Dems' "record of voting with the Tories", and finishes by saying: "The Lib Dems are running away from their record in the last Tory-led Government, trying to pretend they oppose the Tories, even though they propped them up and voted with them.
"The Tories couldn't have done it without them. The truth is the Lib Dems will say anything to get elected but they will be judged on their record – and it's a record of broken promises.



According to Google, organisations do not pay to list AdWords advertisements, but they pay every time somebody clicks on one.
The average cost per click of AdWords is between 50p and £1.50.
Labour is not the first organisation to use AdWords to park its tanks on its rival's lawn - in 2016 the agency Cicero took out ads undermining rival firms, only to later apologise, saying it had been "a mistake by a junior member of staff".