Brexit taxi trauma
The glitzy and glamorous folks of the global PR industry were out in force last night at PRWeek's Global Awards at London's 8 Northumberland Avenue - click here to read the list of winners.
Warming up the throng, PRWeek US editor-in-chief Steve Barrett - a Brit abroad in New York – gave a telling anecdote about his taxi journey from Heathrow this week.
True to stereotype, the cabbie wasted little time extolling the virtues of Brexit. One downside (one of many, from Flack's point of view) of the UK's EU departure came to light when, having been told the card payment machine wasn't working, Barrett offered to pay in US dollars. Taximan was after $1.8 to the pound. "I'm afraid that ship has sailed," Barrett bemoaned.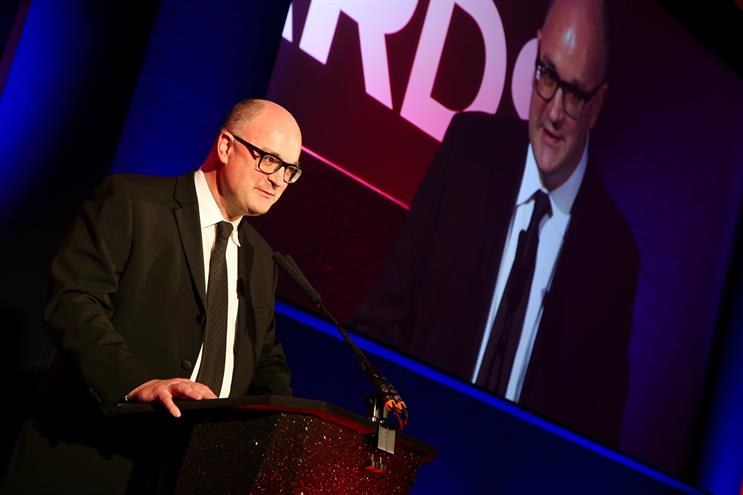 The Barnett comedy formula
Hosting the evening, journalist and broadcaster Emma Barnett showed her hack tendencies with a couple of playful jabs at the dark side.
"Transparency is key - campaigns this evening will be rewarded for how transparent you've managed to be without annoying your clients," she joked - with the line going down a little better among Flack's journalist colleagues than the comms pros in attendance.
She also detailed a recent case where transparency seemed to have been lacking, when shadow chancellor John McDonnell came on her Radio 5 Live show after a bad day of local elections for Labour. McDonnell took a standard Corbynite route of decrying media bias against Labour, saying broadcaster hadn't been "giving us a fair crack of the whip".
"I said 'but Mr McDonnell, my producers have invited you on this programme every single week for the last eight months and you haven't said yes until now' and he said 'well my press director didn't tell me that' - and his press director didn't agree, and then they had a nice conversation afterwards."
But is Barnett really one to lecture on transparency? After telling the audience that PRWeek US editor-in-chief Steve Barrett was her first boss on fellow Haymarket title Media Week, she revealed: "Yes, I did lie to Steve Barrett that I supported Manchester United to get the job, and later admitted that I didn't care for football." Surely not…
She also recounted two good lines she had been given on a recent trip to Scotland, where there is apparently no chance of people getting tired of politics because, in the words of one Scot: "It's not Ed Sheeran, you can never have too much of it."
Another person she met drew an surprising comparison: "Nicola sturgeon is like Beyonce - she's obsessed with independence."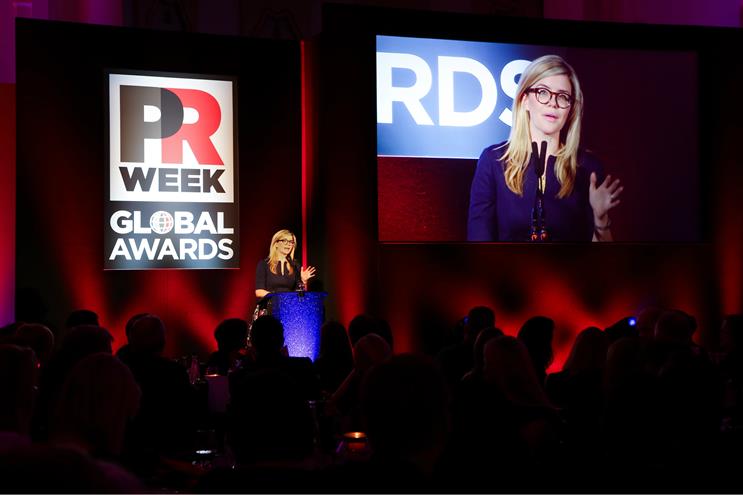 Weber's show of force #SquadGoals
Weber Shandwick did particularly well at the Global Awards, scooping seven gongs.
The agency - whose UK and EMEA CEO Colin Byrne is to step down after 20 years of service – was out in force, accounting for what looked like half of the 500-strong audience. #SquadGoals.
This became apparent when they flooded stage to collect the Global Agency accolade (see picture below). Flack was concerned for host Emma Barnett, who looked slightly terrified as the sea of people came racing towards her. But fear not, dear reader, nobody was injured in the receiving of their awards.
Flack must also give an honorary mention to healthcare agency 90Ten, which brought roughly 10 people – or about a third of their entire staff - on stage to collect the top prize in the Global Content category.
A second honorary mention goes to Tin Man Communications founder Mandy Sharp, who flew solo to collect the Consumer Launch award for the agency's work with anCnoc. Bravo.

Exclusive recruitment policy
Now we all know that in this day and age, diversity should be at the top of any self-respecting company's agenda. To that end, Flack was surprised, shocked even, when, during a friendly chat at last night's PRWeek Global Awards, the boss of one large UK PR agency admitted to excluding an entire group from its recruitment process. After Flack had pointed out what a genuinely nice bunch of folk worked at the (multi-award-winning) firm, eager to learn its secret, the response came: "We just have a very strict policy of not hiring wankers!"
Brain for satire
Away from the Global Awards, Flack loved this election-themed funny from Edelman veteran David Brain, who recently announced his departure from the agency after 13 years. Brain has been sending the note below, a spoof of a famous Conservative advert in the 1980, to his contacts (it also featuring an email address and phone number, which Flack decided to airbrush out). We'll miss you, David.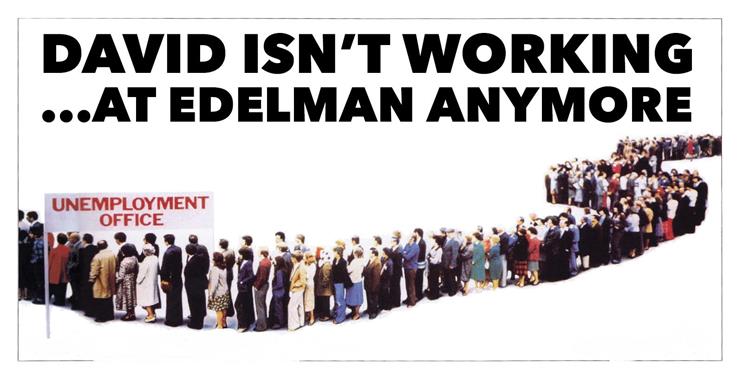 Pitching is a thrill that hardly anyone likes
This week's joint PRWeek/PRCA pitch process survey taught Flack a couple of interesting things: 1) Hardly anyone likes the pitch process; and 2) PRs live for the "roller-coaster thrill" of the pitch process. Talk about mixed messages.
Responding to the survey, agency PRs were particularly critical of briefs, which many said were inadequate. Just over 10 per cent said they were satisfied with briefs – a worrying stat, Flack is sure you'll agree.
James Hickman, director at Hatch Communications, said the brief "seemed to be" the biggest issue with the pitch process. He said: "Clients need to be more focused on what success looks like rather than expecting agencies to provide creative platforms based around a very woolly brief." Ouch!
But it's not all doom and gloom. Aduro Communications founder Natalie Luke said pitching was the lifeblood of any agency and one of the main reasons PRs prefer agency life to in-house.
"The roller-coaster thrill of the pitch is an absolute highlight," Luke said.
Luke is somewhat alone, though, as very few (i.e. zero) other respondents seemed to have anything positive to say about the pitch process.
However, The Romans co-founder Joe Sinclair did advise other agencies not to bother pitching against his agency. He's well-and-truly thrown the gauntlet down with that comment.
For a full analysis of the survey results, click here. For a roundup of pitch process horror stories, pet hates and nuggets of advice, click here.