The eagerly anticipated battle royale featuring PRWeek's five favourite campaigns in April was won by Secret CEO – Malaria No More, launched for World Malaria Day. It garnered 44 per cent of the 1,147 votes cast. The agencies Publicis LifeBrands and Unfold Stories worked on the campaign.
In second place, with 308 votes, was London Planner's 60-second guides, starring comedia Jay Foreman; and in third, 'The most eligible bachelor in the world' – where Sudan, the last male northern white Rhino, was given a Tinder profile to try and find him a match. The campaign was devised by Tinder and Ogilvy Africa for conservation group Ol Pejeta Conservancy.
See the full results below and find out more about the winning campaign: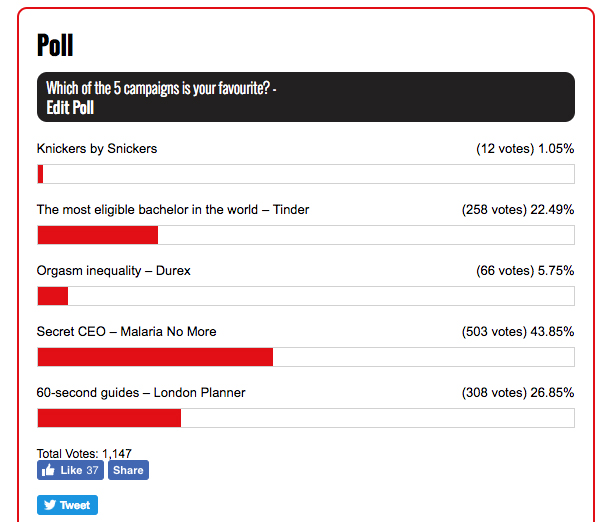 Secret CEO – Malaria No More
With many worthy causes out there, charities need to find a new angles to make their message cut through. Malaria No More UK worked with agencies Publicis LifeBrands and Unfold Stories to bring to life the huge impact on global business of malaria, as outlined in a report by EY. This included a chilling film (above) asking "Who is the secret CEO?" – which many people viewed without knowing that the answer was a mosquito. Celebrity backers have included Sir Andy Murray and Sir Richard Branson.
who is the secret CEO. Clue: it's not @StephenMangan. #worldmalariaday #malarianomoreUK https://t.co/EYM7oX77ag

— emma freud (@emmafreud) 25 April 2017
If you are working on a brilliant, eye-catching campaign you think should be included this month (May), email Sam.BurneJames@Haymarket.com


---
More: Five Campaigns we Liked in March: your winner revealed
Five Campaigns we Liked in Febuary: your winner revealed
Five Campaigns we Liked in January: your winner revealed