John Foley, previously a senior independent non-executive director, becomes non-executive chairman at Porta, which owns PR shops Newgate Communications, Publicasity and Redleaf.
Gene Golembiewski, previously chief financial officer, will remain an executive director and company secretary, but will "take on a more commercial role", according to Porta. Former head of group finance Rhydian Bankes becomes the new CFO.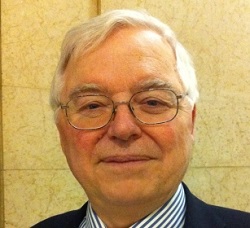 All changes take place immediately, the company announced this morning.
The news comes seven months after Porta's last major reshuffle, which saw Wright move from CEO to executive chairman and Steffan Williams taking the chief executive role.
The company also appointed former MHP chief executive Gavin Devine to the new role of chief operating officer last year.
Wright (right), a former Financial Times journalist who went on to found the agency Citigate, became Porta's first CEO in 2010 and has helped it grow to a business with 18 offices in nine countries.
Williams said: "I would like to thank David for all his hard work in getting Porta to where it is today. David helped start Porta and played a key part in taking the company from its start-up phase to becoming a significant independent company within the strategic communications advisory market. We wish him well in his retirement.
"As CEO, I'm both honoured and excited by the prospect of leading Porta into the next phase of the company's development."
Wright said: "It's with great pride that I step down from the board of Porta. We have built a remarkable business in a very short period of time and I want to thank all my colleagues for their hard work and support. I know I am putting Porta into good hands and that it is well placed for the next phase of growth. I remain a seriously committed investor."
Porta reported fee income of £26.9m in 2015, with growth of 14 per cent on an organic basis. The company will announce its 2016 financial results on 11 May.