Knickers by Snickers
April Fool's Day is the perfect time for agencies to showcase their creative flair, and they certainly didn't disappoint this year. Our favourite was Freud Communications' tongue-in-cheek campaign for its client, Snickers. The agency launched Sknickers - a range of underwear for men. The campaign included a 20-second YouTube video (above), directed by Rankin, introducing the range from what Snickers said was "the one company that knows nuts better than anyone".
Easily-fooled when hungry?Don't worry. Share = we donate to @Orchidcancer. See https://t.co/fFEngM3TKB #LoveYourNuts pic.twitter.com/3Scpm5kbKc

— Snickers (@SnickersUK) 1 April 2017
The brand supported male cancer charity Orchid by donating for every share of its Sknickers posts on social media from 1 to 9 April.
The most eligible bachelor in the world – Tinder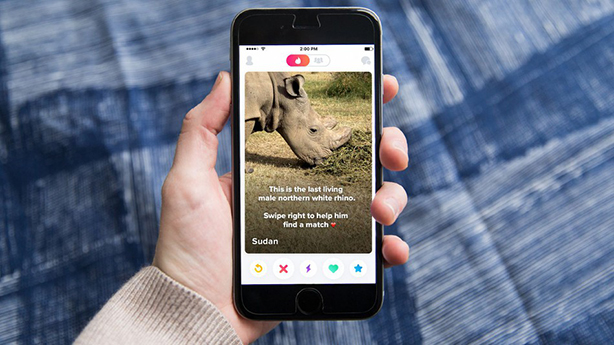 For this clever campaign, Ol Pejeta Conservancy, a conservation operation in Kenya, teamed up with dating app Tinder to raise awareness of 'The Most Eligible Bachelor in the World' – Sudan, the last northern white rhino. Tinder users across the world would see a profile of Sudan (above), featuring information about his plight. They could swipe right for a link enabling them to make a charitable donation to help match Sudan with one of 17,000 potential female white rhino suitors.
Can you guess why Tinder wants you to swipe right on this rhino? pic.twitter.com/zzE4g4eIjM

— AJ+ (@ajplus) 1 May 2017
The campaign – which achieved widespread coverage across national and international news outlets – was produced by Tinder, with help from Ogilvy Africa.
Orgasm inequality – Durex
Virgo Health launched a campaign (above) for Durex to encourage people to talk about sex, based on research showing that two-thirds of UK women do not orgasm every time they have sex. Calculating that the country's women miss out on 400 million climaxes a year, they staged and filmed a spoof march with protesters fighting against 'orgasm inequality'. Signs using "I am one of the 2/3" slogans, and variations on this motif, give a cheeky wink to the UK's Brexit vote 52 per cent-ers and 48 per cent-ers.
Secret CEO – Malaria No More
With many worthy causes out there, charities need to find a new angles to make their message cut through. Malaria No More UK worked with agencies Publicis LifeBrands and Unfold Stories to bring to life the huge impact on global business of malaria, as outlined in a report by EY. This included a chilling film (above) asking "Who is the secret CEO?" – which many people viewed without knowing that the answer was a mosquito. Celebrity backers have included Sir Andy Murray and Sir Richard Branson.
60-second guides – London Planner
Tour-guide magazine London Planner teamed up with comedian Jay Foreman to launch a series of witty and informative 60-second clips (above) on YouTube to help tourists navigate the capital successfully. The videos, presented by Foreman, show tourists in London how to eat out and use the Underground, as well as giving directions from airports.
London Planner's in-house team created the campaign ahead of the magazine's YouTube channel launch in April.