The campaign, which runs from today (26 April) until 20 August, was launched to media this morning at the retailer's flagship Oxford Street store in London.
Speaking to journalists at the launch event, John Lewis' PR chief man turned customer experience director Peter Cross said #NationalTreasures was created as a celebration of summer, as well as an attempt to mirror the success of the company's Christmas campaign work.
Last year the John Lewis Christmas campaign featured woodland creatures and Buster the Boxer bouncing on a trampoline.
The new campaign, which brings to life what summertime means in Britain, includes 220 life-size cartoon illustrations (below) and shop-front displays created by illustrator Paul Thurlby. The illustrations are being displayed at all of John Lewis' 48 UK shops, the company said.
Thurlby said he hoped the scenes, which include people queuing up for ice cream and a tea party overseen by The Queen, epitomise the nation's "most treasured quintessential moments".
He said: "It's been interesting exploring what makes us brilliantly British."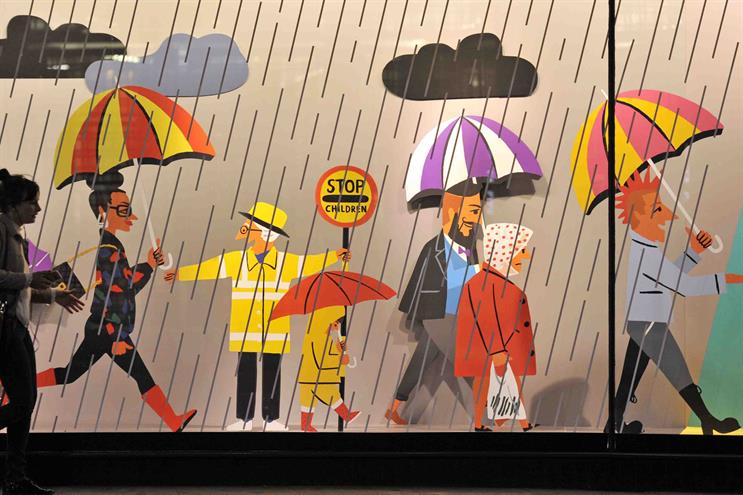 The campaign also includes video (below), a programme of live interactive events and workshops designed to promote John Lewis stores as "destinations of discovery", a company statement said.
The summer season programme is aimed at consumers and includes masterclasses, seminars and Q&A sessions. It will take place throughout John Lewis stores in the UK.
Cross said: "Customers will be able to visit our shops and leave having learnt, laughed at, tried and tasted some of our nation's absolute favourite things."
Cross is one of the speakers at PRWeek's PR360 conference, which runs tomorrow and Friday (27-28 April).