The 1st of April is here again, and brands just can't resist a chance to flex their comedic chops. Some of these gags we wish were actually true. Others just make us gag. Enjoy!
Quilted Northern

Annoyed by FitBit updates from your friends clogging up your feed? That's nothing compared to the TMI in store once they pick up a uSit. Yeah, it's a poop tracker. The online video was dreamed up by those cheeky creatives at Droga5. Probably while logging a few hours of their own.
"While we may not be thought of as a tech brand, we do know a few things about what happens in the bathroom," said Jason Ippen, brand director for Quilted Northern. "We believe uSit gives consumers access to more personal data than they ever dreamed possible."
This isn't the toilet paper brand's first foray into uncomfortable messaging. Last year it spoofed the growing popularity of luxury TP-yes, that's what the category's called-with a hand-crafted "rustic weave" that's tough to forget.
Buffalo Wild Wings

March Madness is still in full swing, which means playoff beards (or rally beards) grace the faces of half of college basketball's biggest fans. See, it's good luck not to shave during a tournament, because that affects how well your favorite team plays. That's not an April Fool's joke—it's an actual thing.
But Buffalo Wild Wings—a brand formed from equal parts sports and meat—wants to help customers grow their rally beards as quickly as possible, and with the thickest, lushest results. Enter Rally Beard Sauce, which one would think goes on chicken wings but actually goes on your face. Actual bottles of the orange substance exist, though in extremely limited quantities, but everyone can enoy the online videos.
"Through years of pioneering research in the field of sauce facialization, we've developed a game-changer that puts the power to influence a rally directly in the fingertips of our fans," said Paul Mashburn, (most assuredly not a fake) chief sauceologist for Buffalo Wild Wings. "With our Rally Beard Sauce, you'll see long growth equal big wins for your favorite team, so only use as appropriate."
Try not to get it in your eyes.
Lexus

Potholes, gas taxes, left lane bandits: these are the bane of the luxury car owner. Now Lexus is here to help with at least one of those problems. Introducing the Lane Valet, a combination of technical wizardry and wishful thinking that shunts dawdling commuters off to one side, explained in an online video from Team One.
"Lane Valet was conceived by top Lexus engineers who understand the importance of safe and steady driving conditions," said Brian Bolain, GM, Lexus product and consumer marketing. "An appropriate vehicle speed without excessive braking offers optimal fuel efficiency, better traffic flow, and decreased driver frustration. We're just trying to give everyone the best possible driving experience."
How long before we can commission a version that moves gawking tourists out of the middle of the sidewalk?
Jim Beam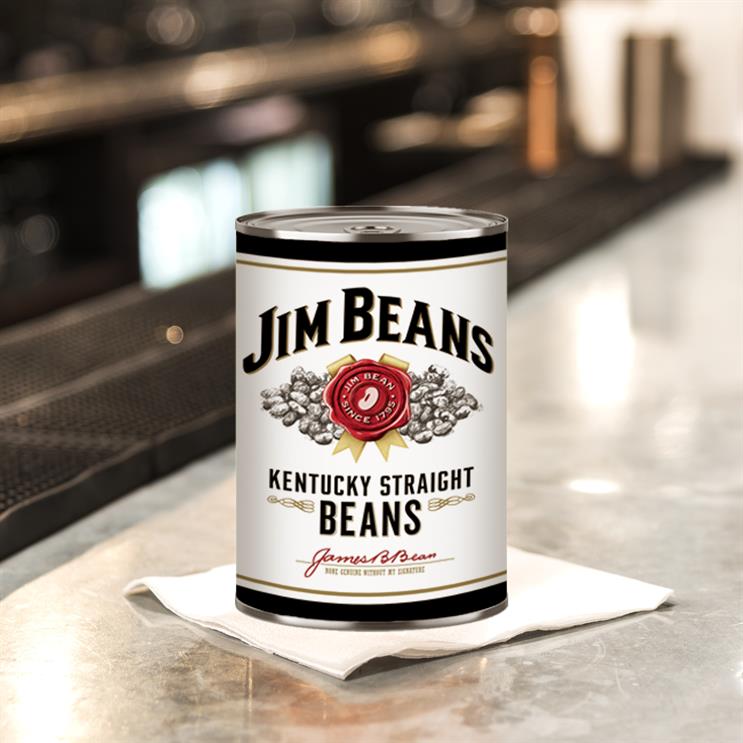 We've all been there. It's last call, you sidle up to the bar, slap down a fistful of wadded bills, and carefully enunciate, "Bartender, pour me a shot of Gin Beam! I mean, Jim Bean!" (Note: don't ever do this.)
But being from Kentucky, and also on social media, Jim Beam understands it's sometimes tough to get the name just right. As an homage to the late-night tongue twister, the bourbon brand's PR agency of record, Olson Engage, has created Jim Beans. In a can, no less, because tinned beans are the best beans. Look for them everywhere...in pictures posted to the brand's social feeds.
Burger King

Teeth are like beards for the mouth—they hold onto food for later. Burger King understands that you can't always be eating a Whopper. But now you always taste like you just came from the drive-thru. Because you want that.
The awkward dubbing is a perfect addition to this slightly disturbing digital spot from Paris-based independent agency Buzzman. Have some mouthwash handy.
USA Swimming

Even athletes have a sense of humor, if not a particularly discerning sense of smell. The new official fragrance of the U.S. swim team is Eau de Chlôrine, a parfum encapsulating the essence of bleach, sweat, and the painful slap of a belly flop. At least, that's my experience at the pool.
"We worked with our fragrance scientists to capture the smell of success, which is a little different for everyone," said Matt Farrell, chief innovation officer at USA Swimming. "For us, Eau de Chlôrine embodies that indescribable feeling you get when you dive into the pool for the first time."
Shame. It smells like shame. A pretty website worthy of a self-important cologne accompanies the spoof video, which is also running on Facebook.
Tough Mudder

Can this please be real? I want the whole grueling ordeal—mud and log walls and electric fences—but with adorable puppies. Is that wrong? It's probably wrong. But the video and all the spoofed assets running on the parody website feel so right.
"Tough Mudder has more than 2.5 million participants globally, and we are more committed than ever to put some teeth behind our effort to expand that number by including creatures of all shapes, sizes, and breeds," said Jesse Bull, SVP of product and media at Tough Mudder. "Along with our great partner, Nulo, we believe the addition of the fun and unique Puppy Mudder will do just that, while promoting active and healthy lifestyles for all furry friends."
The obstacle course endurance race is often in the position one-upping itself to keep things fresh. Last year, Tough Mudder the ElectroShock Therapy Toy, another outrageous idea that doesn't exist, but was much less likely to cause an unironic outcry from PETA.
Progressive

The insurance company's latest bid to "insure everything" is out of this world. Red Planet Protection gets a detailed writeup on its own website: It covers rovers and pods, meteor strikes, and theft by aliens. (They're not sending their best). Plus, Flo in a spacesuit!
Analog Watch Co.

Some people become so attached to their pets that they have them stuffed after they die. This is one step away from that. The most worrisome part is that there's a non-zero chance that the products featured in this online video are real. Pre-orders begin on April 1, but keep in mind that this is the same company that launched a Kickstarter to make watches out of marble.
This story first appeared on campaignlive.com.