The 'dirty bottle' - One Water
To coincide with World Water Day (22 March), bottled water social enterprise One Water and its agency Houston PR created a 'dirty bottle' to highlight the poor water conditions experienced by hundreds of millions of people worldwide.
The idea was simple - create a bottle with a brown hue giving its contents the appearance of being contaminated. The agency said the bottle was being market tested, with One Water hoping the publicity would help it to secure a deal with a supermarket to stock it.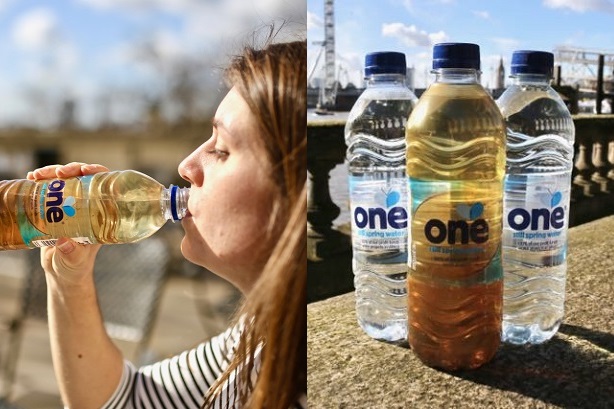 Houston, which was taken on as the company's retained agency earlier this year, said it had achieved pick up across several trade, regional and national titles, with the highlights being pieces in The Huffington Post and The Metro. Social media reaction included the HuffPo article gaining the attention of the United Nations Environment Programme.
Every day, more than 800 children die from illnesses caused by contaminated water & a lack of hygiene & sanitation: https://t.co/Pvg7Ks25YN pic.twitter.com/MulNKV1hsr

— UN Environment (@UNEP) March 23, 2017
The Power of Nice - Monarch
The survey is a vital weapon in every PR's armoury. We'll all recognise that they can come out a little stale or tired at times, but low-cost airline and holiday company Monarch's agency Tin Man Communications used it to great effect earlier this month.
Having been taken on to lead a number of activations across the year for Monarch, Tin Man commissioned research from Jonathan Freeman, professor of psychology at Goldsmiths, University of London's i2 Media Research Lab, which highlighted that being nice positively correlates with higher earnings, greater levels of happiness, and success in life.
The Power of Nice research secured substantial coverage and discussion about what it means to be nice - and gave the airline a chance to talk about its policy of giving upgrades to customers to who are especially nice over the phone. It also complements the firm's current ad campaign.
The campaign was the first in a series of PR activations that form a wider brand campaign for Monarch entitled 2017: The Year of Nice. Three further campaigns are planned across the year. Nice work.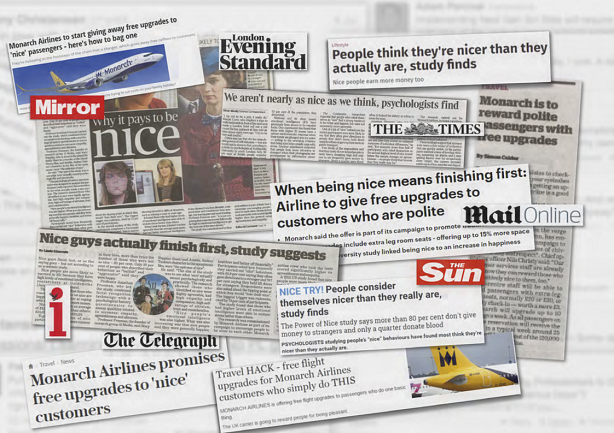 Medicinal cannabis - Kingsley Capital Partners & University of Oxford
The medicinal use of cannabis to treat the symptoms of a range of health conditions is not new, but it is a polarising issue in the UK.
So when Acuitas Communications was enlisted by Kingsley Capital Partners to launch its partnership with the University of Oxford to fund research into the medical benefits of the green stuff, creating biopharma venture Oxford Cannabinoid Technologies, it trod extremely carefully in order to navigate a turbulent media environment.
The agency developed a programme of media engagement designed to protect the reputations of both Kingsley and Oxford, enlisting key advocates such as Baroness Molly Meacher, chair of the All Party Parliamentary Group on Drug Policy Reform.
Patrick Stewart reveals he uses marijuana daily to help with arthritis https://t.co/HchgfO0wUL pic.twitter.com/6OqioXwq5o

— Huffington Post (@HuffingtonPost) March 19, 2017
But the master stroke in the campaign, launched on March 16, was bringing in Hollywood A-lister Sir Patrick Stewart, who offered testimony about how he has successfully and regularly used cannabis-based products to treat his osteoarthritis. To date, the campaign has achieved coverage in over 60 outlets across the world, including the BBC and Huffington Post (above).
Clean Eating Burger - KFC
KFC UK & Ireland had a cheeky take on food bloggers and the 'clean eating' craze to promote its new, very much non-clean-eating limited edition burger The Dirty Louisiana. It starred fictional foodie blogger Figgy Poppleton-Rice, who proffered clean eating advice on her own blog, along with her Instagram and Twitter pages.
A video (above) showing Poppleton-Rice how to make the KFC Clean Eating Burger – made from a chia-seeded cauliflower bun, unsweetened almond yogurt, ice cube relish, spiralized chicken breast, and 100 per cent British kale - ended with a sign crashing down on her and a Southern voiceover stating: "Nothing satisfies like the Dirty Louisiana. It's finger-licking good." Within a few days it garnered 4.8 million views, nearly 16,000 shares, and 53,000 comments, with pickup in publications including Business Insider, Men's Health, Mashable, and Yahoo! News.
The tongue-in-cheek campaign, created by creative agency BBH London with assistance from Freuds and KFC's in-house team, was perfectly produced and tapped into the zeitgeist with suitable humour to reach its target audience. The use of multiple channels also proved effective to spread the word - 'she' now has 20,000 followers on Instagram (above).
Comic Relief – Shirt Piers Morgan up
Journalist, Good Morning Britain host and general wind-up merchant Piers Morgan "begrudgingly" agreed to stop tweeting, writing, broadcasting and talking for 24 hours during March as part of a campaign to raise £50,000 for poverty charity Comic Relief. Morgan – a lifelong Arsenal fan – clearly has a decent sense of humour as he also agreed to pose in a Spurs shirt (which apparently made him puke) once the fundraising target was met.
I've taken a photo in a Spurs shirt. It made me puke. @Lord_Sugar will tweet it tomorrow.
£50k goes to @comicrelief.

— Piers Morgan (@piersmorgan) March 23, 2017
Apprentice boss and former Spurs chairman Lord Sugar, who regularly 'feuds' with Morgan on Twitter, jumped at the chance to silence his social media foe, adding a generous £5,000 to the total. The entire £50,000 is being donated to Comic Relief, which raised over £73m during its live Red Nose Day telethon (24 March).
The best birthday present I could have asked for on my 70th, @piersmorgan gagged and wearing a Spurs shirt! @comicrelief @GMB pic.twitter.com/s4fet7cFJc

— Lord Sugar (@Lord_Sugar) March 24, 2017