He dismissed the traditional process of writing press releases and sending them to journalists as "telesales".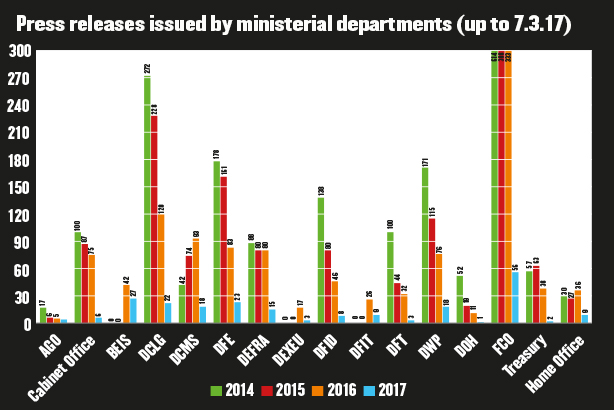 But an examination of government data (above) between 2014 and 2016 reveals how some departments have heeded Aiken's suggestion more than others.


While there has been a fall of 20 per cent in the number of press releases issued across government since 2014, several thousand are still being released each year.


---
---

Perhaps unsurprisingly, the Cabinet Office, the parent department of the Government Communication Service (GCS), has slashed the number it issues by 25 per cent, from 100 in 2014 to 75 in 2016.


The Foreign and Commonwealth Office has cut the number of press releases by almost half, but still issues almost one a day on average.


The Department of Health issued less than one a month on average last year, compared to one a week in 2014.


But the Department for Environment, Food and Rural Affairs (Defra) has continued to issue press releases at virtually the same level, with 80 produced in 2016 compared to 88 in 2014.


Meanwhile, the Home Office and the Department for Culture Media and Sport (DCMS) have significantly increased their output – by 20 and 121 per cent respectively.


Aiken told PRWeek: "Modern communication techniques - from creating social media content, to devising hard-hitting behaviour change campaigns - are at the very heart of the Government Communications Service."


He added: "Of course, the humble press release has a role to play, but the way people consume their news and information, and the way they communicate with each other, has changed - our practices have to reflect this."


The GCS will continue to work "on the basis of what is right for the audience, and what is right for the message," pledged the government comms chief.


DCMS, Defra and the Home Office referred PRWeek's requests for comment to Aiken's statement on behalf of the Cabinet Office.