Power Book members voted Sir Philip Green as the individual or organisation that managed their reputation most poorly in the past 12 months. Meanwhile, President Trump was easily the most popular answer when asked who did so most adeptly.
---
Click here to see the full Power Book UK 2017

---
Forty-nine Power Book chiefs went for retail magnate Green as the worst PR performer. Green was in hot water last year over the collapse of BHS and did his reputation no favours with prickly appearances in front of MPs. Threatening to throw a press photographer's camera in the sea probably didn't help either.
Second was beleaguered train company Southern Railway (26 votes), followed by Jeremy Corbyn's Labour Party, on 22 votes (or 28 if votes for Corbyn himself are added to the total).
Other popular (and not surprising) choices included another corporate big beast, Mike Ashley of Sports Direct (16 votes), and the Remain campaign (15 votes).
Several UK politicians received multiple votes, including Michael Gove (11) and David Cameron (five) - while ten people simply replied "politicians".
Among corporations, there were votes for Samsung (11) and Volkswagen (nine), both of which have suffered recent crises. Five people chose Sam Allardyce, whose reign as England football manager was cut short after a newspaper sting.
Given what happened in the US in November, it's little surprise to see Hillary Clinton high on the list, with 18 votes. Interestingly, that's only one more than Trump – who was easily the most popular choice when respondents were asked to identify their top PR performer.
Fresh from his startling election victory, 55 Power Book entrants chose 'The Donald' in that category, more than three times the number that went for the second choice, our own political leader, Theresa May.
Politics dominated the top five, with UKIP's Nigel Farage and recently elected London Mayor Sadiq Khan on ten and nine votes respectively. Ahead of both Farage and Khan was Michelle Obama, who was credited with acting with style and humanity (she received eight more votes than her husband, incidentally).
Talking of, um, style, former shadow chancellor turned Strictly Come Dancing star Ed Balls won the hearts of eight voters. Power Book entrants put forward 52 different responses when asked who managed reputation most poorly.
There was much less agreement about the top PR performer – with 108 different answers received for that question.
The Royal Family deserves an honourable mention. Three people chose the institution as their top PR performer of the year, while Prince Harry received eight votes and Prince William two.
Corporations to get the nod included Tesco (six votes), Alton Towers owner Merlin (five votes), Virgin (four votes) and Tesla (four votes). Touchingly, five Power Book entrants chose an individual who received praise for the publicity around his own sad departure in 2016: David Bowie.
Which organisation or individual has managed reputation most poorly over the past 12 months?
Sir Philip Green/BHS (49 votes)
Southern Railway/Govia (26)
Labour Party (22)
Hillary Clinton (18)
Donald Trump (17)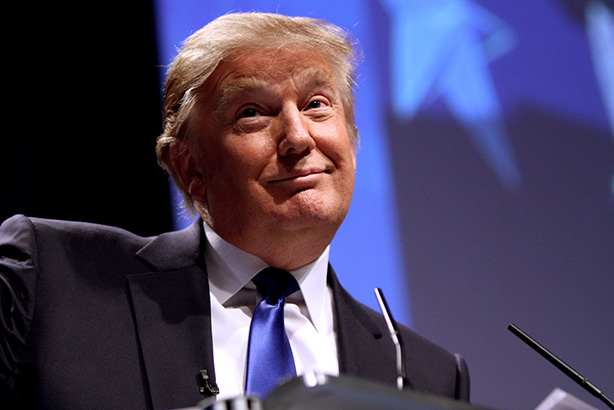 Has Donald Trump managed his reputation poorly or adeptly in the past year? (©Gage Skidmore, via Flickr)
...and which most adeptly?
Donald Trump (55)
Theresa May (14)
Michelle Obama (11)
Nigel Farage (10)
Sadiq Khan (9)
More from the Power Book:
PRWeek UK Power Book: Top ten in corporate & financial comms


---
Click here to subscribe to PRWeek – you'll get essential breaking news, views & expert analysis; an exclusive UK Daily News email bulletin; industry-leading reports such as the Power Book, Global Agency Business Report, Best Campaigns & Best Places to Work; and a whole lot more.