In particular, two PR professionals have said it reminds us that influencers themselves need training - and also to be made clear by brands what is and what is not acceptable from the outset of any partnership.
The tweet to Charles' 181,000 followers, which he has since deleted, read: "I can't believe we're going to Africa today OMG what if we get Ebola?"
Following a backlash on the social media, and a reported defence of his original comments, Charles issued an apology, arguing that the tweet was never intended to offend, and was only posted to "make fun of my friend's mistake".
Part of Charles' apology read: "As a white cis [cisgender] male, I recognise my privilege and would never want to take that for granted, but I fucked up." He also published a second apology on Instagram, where his following numbers 1.5 million.
February 16, 2017
Alison Metcalfe, influencer manager at Hill+Knowlton Strategies, said that because social media infleuncers often rise to fame "overnight", they have a very short period of time to become accustomed to the business side of their occupation.
"Therefore, it's crucial that, as well as training provided by their representation, that they educate themselves about current affairs relating to their industry, as well as advancements regarding rules and regulations," Metcalfe said.
In response to Charles' Ebola tweet, CoverGirl sent a series of tweets condemning his actions, but conceded that he had issued an apology.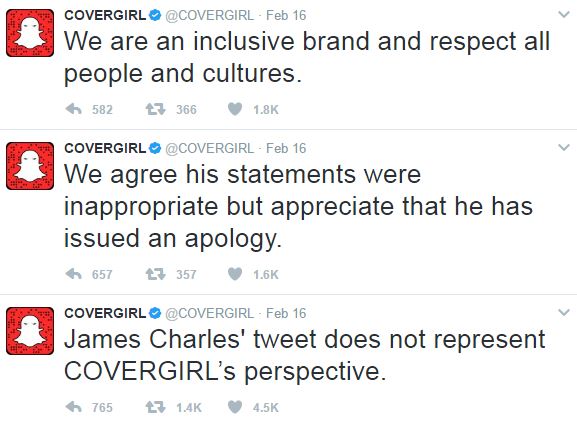 A statement from the company said: "James Charles' initial tweet does not represent CoverGirl's perspective. We agree his statements were inappropriate but appreciate that he has apologised. We are an inclusive brand and respect all people and cultures."
CoverGirl told PRWeek UK that its agreement with Charles "remains unchanged".
W Communications founder Warren Johnson said the debacle demonstrates that brands need better measures to protect themselves when working with influencers.
He said: "Influencers are publishers in their own right, and in many cases have greater reach and impact than traditional media.
"They should be held accountable for the things they publish, in exactly the same way as a newspaper or broadcaster would be. The moment there's a financial investment from a brand, the influencer needs to be clearly aware of their obligations in the way they communicate and the repercussions if they mess up."
In a similar incident last month, YouTube vlogger Pewdiepie, who boasts over 53 million subscribers on the video-sharing platform, was recently embroiled in a social media backlash following his decision to post a video in which he reportedly paid two men $5 to hold up a sign that read: "Death to All Jews."
Disney and YouTube immediately dropped the vlogger, whose real name is Felix Kjellberg, in the aftermath of that video.
Despite this, PR professionals in the US said Pewdiepie's career as an influencer is unlikely to be over, arguing he may still find work with smaller brands.
In a follow-up video, the Youtube star apologised for "taking it too far", and said: "It's just me. There's no producer here, no writer, no cameraman. It's just me. It's always been just me."


---
• Click here to subscribe to PRWeek – you'll get essential breaking news, views & expert analysis; an exclusive UK Daily News email bulletin; industry-leading reports such as the Power Book, Global Agency Business Report, Best Campaigns & Best Places to Work; and a whole lot more.