Given the fractious state of the Conservative Party after the EU Referendum, prime minister Theresa May's decision to hire Boris Johnson's former PR chief as her comms director may seem surprising. But it's testament to her standing in the party that Katie Perrior succeeded Craig Oliver last summer as the most influential PR in Downing Street.
Perrior doesn't fit the usual government comms director mould. For one thing, she's the first woman to hold the position. She is from a working-class background and, unlike her recent predecessors, is not a former journalist.
But people who know Perrior speak of more fundamental qualities that set her apart. She is down to earth, kind and sociable, they say; daring and determined, with genuine political convictions, and a ruthless streak. Perhaps above all, she is a unifying force helping to hold together a Government and a party divided over Europe. Much like May, in fact.
Perrior is said to have a different approach from her predecessor to dealing with the media, focusing more on building direct relationships with newspaper editors. Some say this means she can be less available to the average lobby hack, but the tactic appears to have had some success. Reports in January that David Cameron asked Daily Mail owner Lord Rothermere to sack the newspaper's editor, Paul Dacre, before the EU Referendum suggest the former PM could have benefited from closer relationships with editors.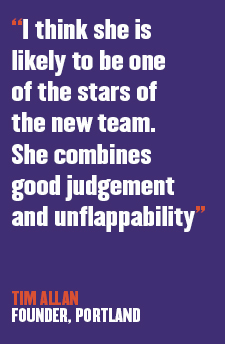 Another example is 'trouser-gate', when May received criticism for wearing £1,000 leather trousers in a photo shoot, prompting a public row with former education secretary Nicky Morgan. The press generally held back from harsh attacks on May. By contrast, Cameron was ridiculed after being photographed in 'posh' swimming trunks on holiday last summer.
"No one does that with Theresa. She's benefited from a honeymoon and Katie is part of that as well, I think," says a Westminster source.
"You can see Theresa is getting away with stuff that Cameron would have got slaughtered for. She's got the Mail onside, she's got the Telegraph onside, and she's got The Times onside. She's got the unholy trinity of the right-wing press behind her."
May certainly regards Perrior as among her most trusted advisers, alongside her former aides – current chiefs of staff Fiona Hill and Nick Timothy. Perrior accompanied the PM on her recent visit to the White House, and on other high-profile international assignments such as May's speech to the UN General Assembly in September.
"I think she's likely to be one of the stars of the new team," says Tim Allan, founder of PR agency Portland, who worked with Perrior on projects with iNHouse, the consultancy she co-founded. Allan speaks highly of Perrior, which is notable given his Labour background (he was an adviser to former PMs Tony Blair and Gordon Brown).
"She combines good judgement and unflappability, is very experienced at politics at the highest level, and has been for a while," says Allan. "She'll do a very good job. She has the ability to keep things simple, make sure she delivers, thinks about how to solve a problem and has the determination to follow through and get things done."
One industry figure who knows Perrior well is former business partner Jo Tanner. They worked together in the Conservative 'war room' (press office and policy unit) under former party leader William Hague in the late 1990s.
In the years that followed, Perrior worked closely with high-ranking party figures, including a stint as senior media adviser to May when she was party chairman, and later to David Davis as shadow home secretary. She also freelanced, and expanded her comms and media experience as deputy head of press at ITV, then head of press at Channel 4.
Formidable character
In 2006, Perrior and Tanner formed iNHouse Communications. "It was very much her idea," says Tanner. "Katie was really, really determined, which is a feature of her."
Their first hire was Dylan Sharpe, now head of PR at The Sun, who labels Perrior and Tanner a "formidable double act". "They both had quiet strength. They knew how to put someone on the back foot if they were not going in what they considered to be the right direction.
"In a short space of time, they turned iNHouse from the two of them, then me, into a fully-fledged agency. I think that's testament to their drive, and Katie is a massive part of that."
The following year, Perrior and Tanner were approached to work on Boris Johnson's London mayoral campaign. Not opposed to the risk, they agreed. "We met with Boris and everyone pretty much turned their backs on us, saying we were mad to get involved," says Tanner.
"We were written off. There were some very interesting pieces written about us at the time because a lot of Tories didn't want Boris to be the mayoral candidate – they didn't think he was serious enough."
Johnson's election was a turning point. "The campaign really landed us. I think a lot of people who thought Boris wasn't worth the time of day then realised they were maybe silly to think so."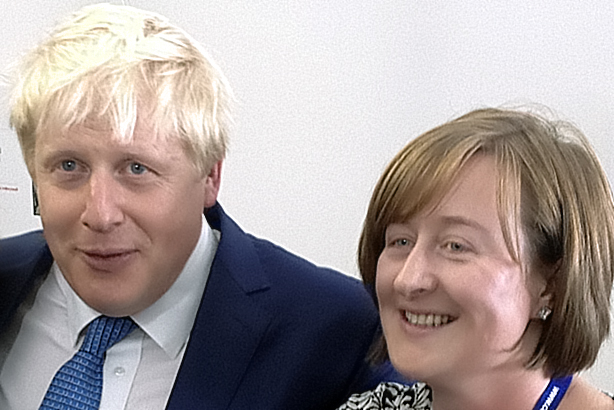 'Mad to get involved': But Perrior (right) helped Johnson get elected as London mayor
The iNHouse team continued to work with Johnson as mayor, giving Perrior a first real taste of working on an international media strategy, as the high-profile and outspoken politician generated interest from other countries.
In 2012, iNHouse ran its first 'London Lounge' at the Conservative Party conference, offering meeting space, discussion panels and social events – notably the infamous karaoke sessions.
Sharpe says: "It's normally attended by political wonks, special advisers and all the lobby hacks, who all get up and sing along. That's a testament to how they keep the journalists onside – and they all love them. There are lots of funny stories about the antics they got up to with the lobby journalists.
"I don't think you'll find there's a hack at the lobby or one who's gone into corporate comms who will say they don't have a great relationship with Jo and Katie."
Tanner, for her part, describes Perrior as the "life and soul of the party". "She's very good fun – good value on a night out, good for anecdotes, making people laugh." (Incidentally, Perrior's karaoke song of choice is George Michael's Faith.)
London Lounge is now a mainstay of the annual Conservative conference, and has been rolled out to other party conferences. Tanner explains: "It was a big innovation. It was a bit like with Boris – we had the forethought to do something a bit different. That was one of my madder ideas, but it was Katie who made sure it happened. I was probably the more risk averse of the two of us whereas Katie was always more willing to take chances."
Accenting the positive
The London Lounge is also a fitting metaphor for Perrior's ability to bring people together in a positive way. Tanner notes her support for early client Women2Win, an organisation founded by May that promotes women in politics. In 2011, Perrior co-founded HerSay, a free database service promoting women for media interviews.
Tanner says she and Perrior were seen widely as "the good guys". "We always tried to do things in such a way to present opportunities that were helpful to people, rather than negative."
Crucially, they never "got into any camps". "We didn't get involved in Brexit. A lot of people have respect for us for not getting tribal, for not getting into disputes about political issues."
That's not to say Perrior doesn't have strong political convictions – far from it. Tanner explains: "Katie was always the more politically connected person. She was a local councillor [in Bexley] for example, many years ago.
"I'm not even sure Craig Oliver was a member of the party when he had that job, and I know Katie always was. That's a very different type of person, because you care about what the party's trying to achieve, not just what the Government's trying to do. It's a broader aim."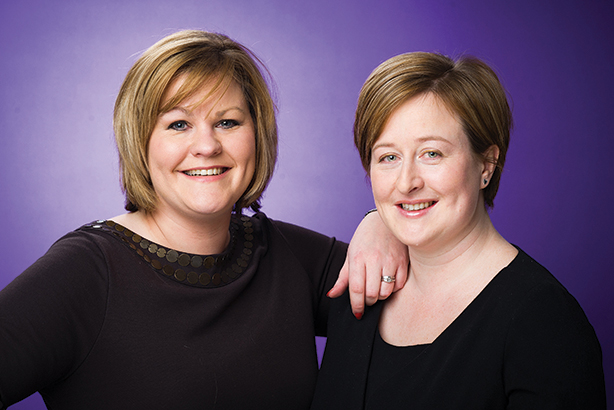 South London girls: Jo Tanner (left) and Katie Perrior
Perrior, state educated and brought up in Bexley, didn't have the public school/Oxbridge background of many of her political peers. Tanner says that, as "south London girls", she and her colleague "probably stuck out like a sore thumb". But it's a background that helps explain Perrior's affinity with May's stated drive to expand opportunities past the Oxbridge elite.
The Westminster source says: "Everyone thinks the injustice stuff Theresa is doing is a fag-end thing, and it's all about Brexit. But actually Theresa does really believe it, and Katie fervently believes it."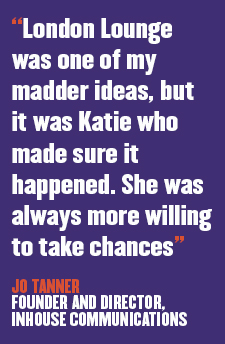 As for Perrior's style, the source says: "She's quite aggressive, quite punchy, very frank. She swears. People really respect her but they also slightly fear her. She's got that aura about her.
"Craig Oliver was very slick, quite a sartorial man, who prided himself on being a smooth communicator. Perrior is cut from a very different cloth. She has working-class roots, speaks her mind, is not afraid to say anything to anyone, and is almost angry about imbalance and injustice in society."
Sun on Sunday political editor David Wooding tells PRWeek he has known Perrior since she was "an energetic, talented young press officer" at the Conservative Party. "I can talk to her quite frankly and honestly and she can talk to me in the same way. We get on."
Others speak of her kindness and good nature. Tanner says her former colleague had a tendency to write handwritten 'thank you' notes. "She's old-fashioned like that, very principled."
Starbucks UK corporate affairs director Simon Redfern, who also worked with Perrior on the London Lounge, describes her as "formidable but fun". "She's tough, really tough, but is also a joy to be with, a real laugh. She gets stuff done in a way that you don't always see with agencies. She drives things forward and has tough conversations. She isn't afraid to get her hands dirty."
Given the formidable challenge of keeping the Conservatives together amid deep divisions and sniping from both sides of the EU debate – from prominent Europhile MP Ken Clarke to Brexiteer cabinet member David Davis, for example – May will need all Perrior's skills to foster unity. But there are positive early signs that the PR pro has the attributes to get the job done.
"She's done a pretty good job so far," the Westminster source adds. "There are loads of ministers that could kill each other there. They don't, and a lot of that is down to the way Katie runs things. She acts as a really good bridge with the other SPADs. She keeps it all calm."


---
Click here to subscribe to PRWeek – you'll get essential breaking news, views & expert analysis; an exclusive UK Daily News email bulletin; industry-leading reports such as the Power Book, Global Agency Business Report, Best Campaigns & Best Places to Work; and a whole lot more.