That is according to the latest component of Edelman's 2017 Trust Barometer, which surveyed 1,000 16 to 18-year-olds in the UK during February.
The Youth Trust UK survey follows a wider report published in January, which found that British public's confidence in institutions was plummeting as part of an "unprecedented crisis of trust shared across the Western world".
According to the new survey, 70 per cent of teenagers would have rejected Brexit had they been given the chance, while just over half (52 per cent) said the result should not be acted upon.
Only 14 per cent of younger people said they felt more confident about a post-Brexit world.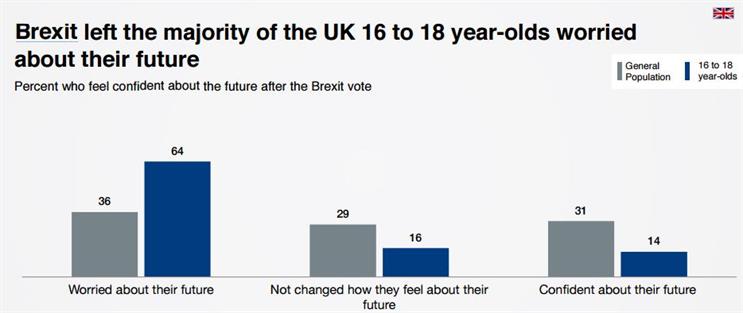 Edelman UK & Ireland chief executive Ed Williams said the vast majority of 16-to-18s were concerned for their future.
"Rather than the optimism of youth, they show a greater angst about the future than their parents do," Williams said.
When asked whether they trusted political figures to negotiate the UK's withdrawal from the EU, the teens were pessimistic, which is in line with the thoughts of the over-18 population, Edelman said.
Prime Minster Theresa May was chosen as trustworthy by 36 per cent of both age groups, while Brexit campaigner Boris Johnson received a score of just 26 per cent from both groups.
London Mayor Sadiq Khan top scored with teenagers at 40 per cent trust, but only garnered 24 per cent trust among the general population.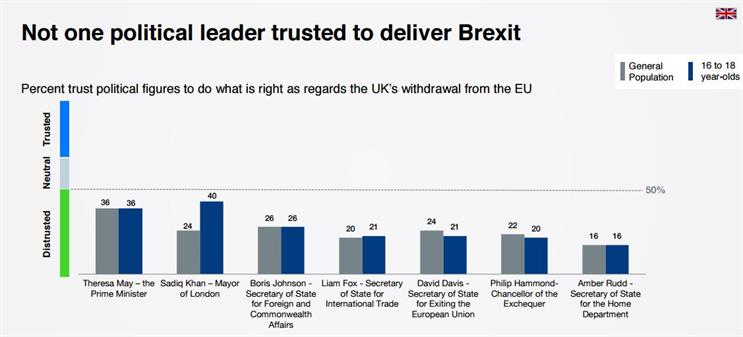 As seen among the British public in the full Barometer, 16 to 18-year-olds have an overall distrust of business, government, media and NGOs.
However, the teenagers actually trust most of these groups more than the general public. This trend only reverses when asked how much they trust the media.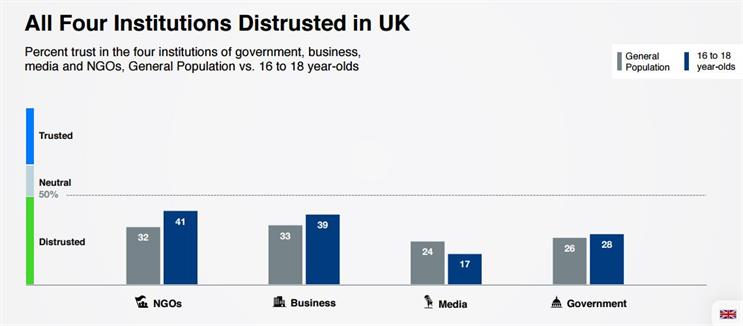 Media
The general population were found unlikely to trust the media - 24 per cent said they did, while this figure drops to 17 per cent among 16 to 18-year-olds.
Despite this, certain types of news is trusted, typically from traditional sources, as opposed to stories read online. For example, 76 per cent said they trusted a newspaper, while only 24 per cent said they trusted a blog post.
Brands
Of the brands that teenagers commonly identify with, 56 per cent said they trusted the brands to "understand" them.
However, 51 per cent said it was "almost impossible to have a relationship with a brand in any meaningful sense of the word", while a quarter said they were "annoyed" at attempts by brands to be their "friends".
"This survey offers a chance for politicians, for business and the media, to understand attitudes of a cohort that will soon be voting as well as forming lasting relationships with brands and media sources," Williams said.
Change of pace
Elsewhere in the survey, teenagers were found to be more concerned about the pace of change than older citizens, with 59 per cent of 16 to 18-year-olds saying the change of pace in social media was too fast.
This is in comparison 44 per cent on the general population who thought the same.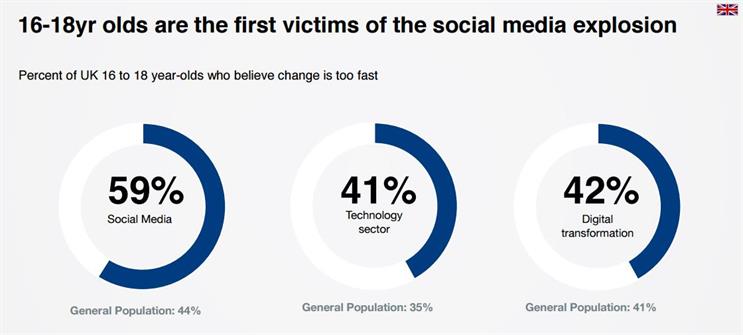 This trend is reversed when discussing societal change.
For example, 70 per cent of teenagers say improvements to environmental sustainability are too slow, which is in comparison to 53 per cent of the general population which thought the same.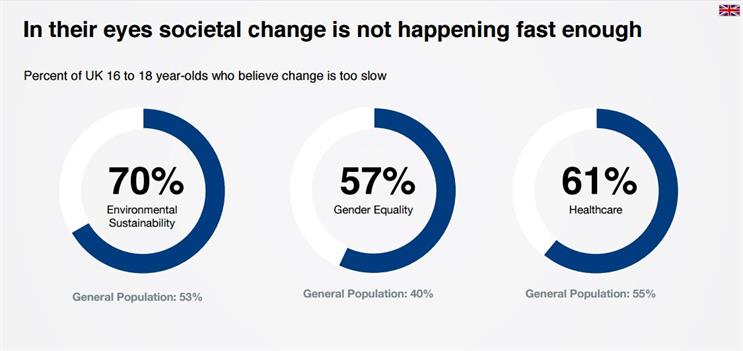 According to Edelman, the study reveals the teens are fretting about their place in a world that is changing too fast for their comfort.
"It paints a picture of an angst-ridden generation, worried about their chances of success in adult life," the agency said.