The fifth Social Divide index from the company's strategic communications division has named Diageo the company making best use of social media around full- or half-year results time, overtaking BP, which was the top dog in both 2016 and 2015.
It also found that 31 firms did not publicise or discuss their results on Twitter, YouTube, LinkedIn or Slidershare in any form.
Of those 31, FTI report author and head of digital Ant Moore said: "Companies may take a view based on the moment in time, their sector, their company's performance and the views of their investors and shareholders. It shouldn't be social for the sake of it and that's a key benefit of having an integrated team involved in planning."
FTI analysed results-related content across the four platforms, and based rankings for each of the 69 firms that did use social media on the basis of quality of posts, and engagement achieved.
The total of 17,085 shares, comments, likes and other engagements was twice as high as in 2016's report - and last year's report had also recorded a doubling of interaction with such content top against the year before.
However, a large part of this engagement (42.5 per cent) came on posts from just four firms.
Diageo bests BP
Having been top of the pile for the last two years, BP slipped to second in FTI's rankings, with Diageo climbing from 13th to top spot. The top four was completed by GSK and Tesco. Fifth place went to TUI Group. The full ranking is shown below: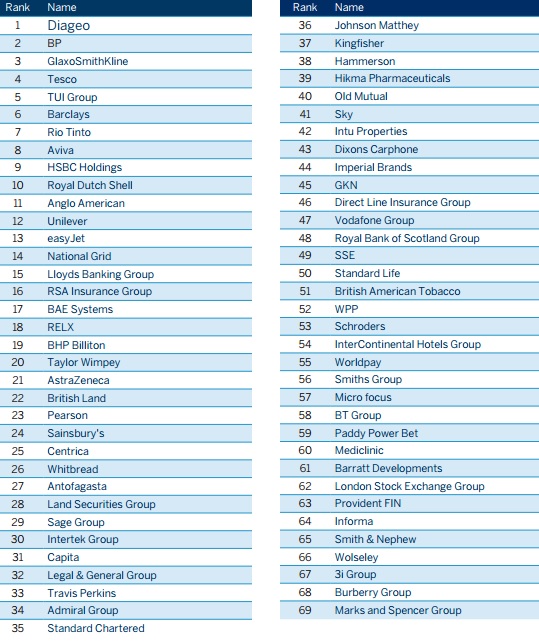 FTI commended Diageo for its "slick and beautifully presented infographics and imagery, which stand out and grab the audience's attention as they scroll".
A stronger #performance across our six biggest #global #brandshttps://t.co/PmVNNKpBYV #Diageo2016results pic.twitter.com/NxPz6PGSue

— Diageo News (@Diageo_News) July 28, 2016
It says that it found that many of the interactions with Tesco's posts came from its own employees, leading to its 41-place leap in the rankings to third place. "Internal stakeholders are (generally) predisposed to be support and can create a virtual network of advocates around an announcement," FTI's report says.
CEO Dave Lewis: "It's testament to the great work of Tesco colleagues around the world" pic.twitter.com/gIQsstlzpd

— Tesco News (@tesconews) October 5, 2016
Tesco is ranked by FTI as the best-performing firm on Twitter, while Diageo was commended as the best user of LinkedIn, and Shell was the top firm for YouTube use (see below). Just three firm's used LinkedIn-owned SlideShare, with Shell also the pick of the bunch here, ahead of Anglo American and BP.
The report gives two key lessons for results announcements and beyond; companies should not be afraid to post the same content twice, something which is done by many major companies and individuals; and that learning the language of social media such as DYK (did you know) and ICYMI (in case you missed it) will make corporate messages more accessible.