Timeframe: September-October 2016
Agency The Playbook, launched by Hanover last year, was charged with securing more than 50 pieces of coverage in order to driving awareness of both SiB, which works to prevent avoidable blindness, and Standard Chartered's role in it. It was hoped this awareness would increase revenues for an accompanying fundraising auction.
Audience research revealed that individuals care more about charitable causes when they have a personal connection to it, so The Playbook decided to give fans an understanding of what it is like to be blind. At the heart of this was a video created by The Playbook using the club's bespectacled manager Jurgen Klopp.
Additional images (see main picture) were created using the same blurred vision graphics as in the video.
The Playbook also invited journalist to a blindfolded football training session at the club's academy, with Klopp in attendance, and made players available for international and UK media, negotiating for inclusion of campaign imagery.
SiB and campaign imagery were also placed across owned media. This included the club's website, pitchside ads and most prominently, for the crunch match against rivals Manchester United on 17 October 2016, the space on Liverpool players' shirts that is normally occupied by the Standard Chartered logo.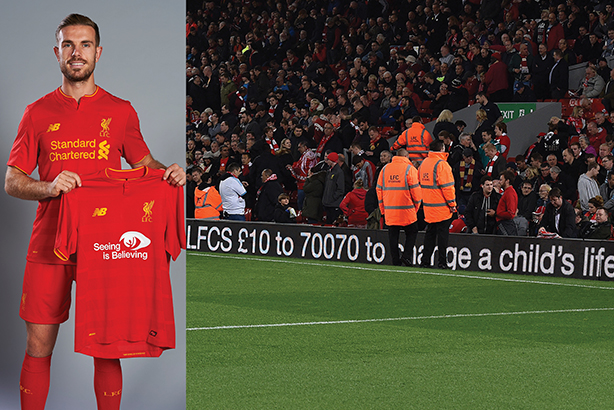 Former players were also invited to share content and coverage on their social channels.
See how #LFC are supporting #SeeingIsBelieving campaign against avoidable blindness https://t.co/wQCeLPWzTi @StanChart

— Ian Rush MBE (@Ian_Rush9) October 17, 2016
A total of 83 articles appeared across different media – including in key Standard Chartered client markets Botswana, Kenya and Singapore – and the campaign was covered on BBC One's Football Focus and Sky's Soccer AM.
The video was viewed more than 50,000 times on Standard Chartered's channels, and more than 3,500 people were referred to the SiB website in the campaign's first 14 days. An auction of signed shirts and other memorabilia including replicas of Jurgen Klopp's glasses, which had raised $95,200 in 2015, raised $110,000 in 2016.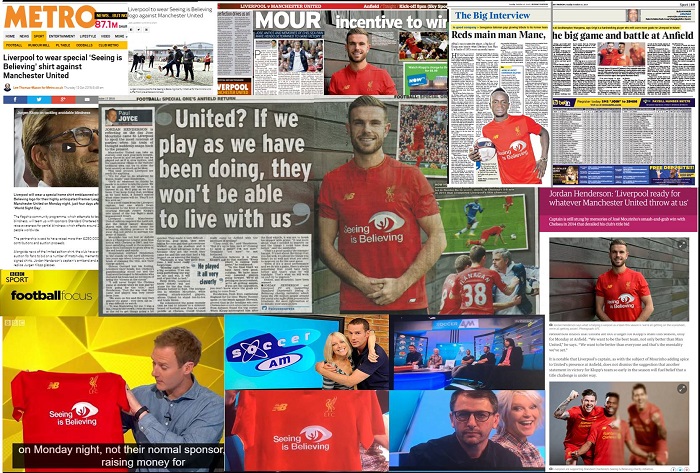 ---
• Click here to subscribe to PRWeek – you'll get essential breaking news, views & expert analysis; an exclusive UK Daily News email bulletin; industry-leading reports such as the Power Book, Global Agency Business Report, Best Campaigns & Best Places to Work; and a whole lot more.