Flack 'delighted'
If you haven't read it already, this hilarious press release from the BBC about the return of W1A, a 'mockusoap' comedy about life inside the corporation, is well worth a gander.
Flack's personal highlight is this quotation from BBC Studio's (real) head of comedy Chris Sussman: "Good communication is one of the cornerstones of the BBC, and I'm extremely pleased to be finding out about this series via this press release."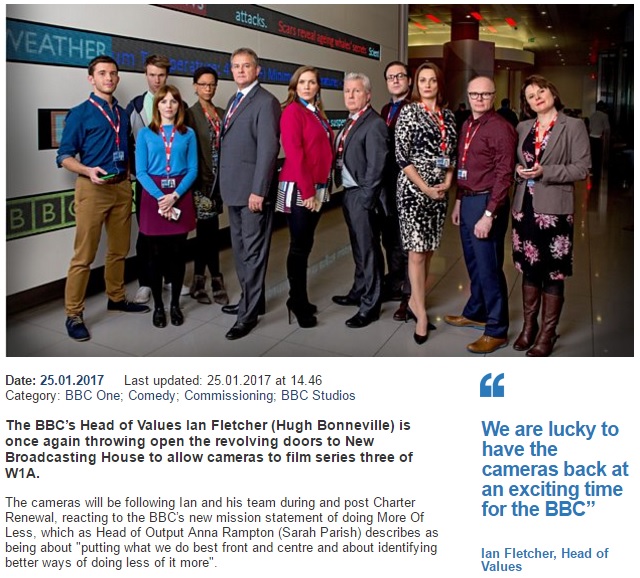 The episode reminds Flack of this gem of a quotation a few years back on a press statement about the second series of Alan Partridge's Mid Morning Matters show on Sky Atlantic.
'Partridge' said: "I am both thrilled, humbled, gladdened and excited to be bringing Mid Morning Matters back to Sky Atlantic.
"I expect those who doubted its success feel suitably chastened to never again doubt the wisdom of my career choices and to say nothing in response unless their comments are wholly supportive and positive. I hope I've made myself clear... thank you, let's leave it there."
As an 'I'm delighted' quotation, these take some beating.
Instinctif readies for the Trump of the Midlands
Like most of the Western world, Flack has spent the last week marvelling at the moderate, evidence-based and all-round sensible policies of new US president Donald Trump.
Which left Flack thinking - where is the UK's version? Well, at an Instinctif Partners event on English devolution last night, one of the agency's team suggested Birmingham had a "Trumpian" candidate - the former John Lewis MD of nine years, Andy Street. As a businessman, he is positioning himself as being distinct from his career politician rival, the Labour MEP Siôn Simon.
Time to Make Birmingham Great Again, it seems.
If Street needs a guide on how to emulate Trump's social media output, he could do worse than look at last week's PRWeek-led push for the industry to #TweetLikeTrump.
'Big Sam' Allardyce welcomes Chinese New Year
The most notable guest at a Chinese New Year drinks evening hosted by social and digital content agency Red Lantern this week was former England boss Sam Allardyce.
The Chinese new year theme (the actual new year is Saturday) was chosen because the agency specialises in engaging Chinese audiences in Western sport - clients include the Premier League.
The actual new year is Saturday, the year of the rooster - or more specifically, the fire rooster. People born this year are said by one website to be "trustworthy" and have "a strong sense of responsibility at work", and by another to be "good at managing money".
Sam Allardyce arguably lacked these in the circumstances leading to the premature end of his reign last year as England manager - but as a wood horse by birth, he is seen as a "born leader and decision maker", so it's not all bad.
Since we're talking about Red Lantern, Flack enjoyed this understated, honest insight it posted on its Twitter feed. We don't know either...
Most popular emojis in China per age group. 00 = millennials and so on through to those born in 80s. Not sure what it tells us tho. pic.twitter.com/ROMyOOtF4C

— Red Lantern Digital (@RedLanternDM) January 24, 2017
From Read-er to writer
Flack had an interesting time at the launch of Bell Pottinger's 2017 Rules of Engagement report on Tuesday, released to mark the birth of the agency's new integrated practice Engage.
.@BellPottinger #RulesOfEngagement event. "In 2017 brands will live and die by how they behave as consumers have more power" @prweekuknews pic.twitter.com/2lm1UMwuOf

— John Harrington (@John_Harring) January 25, 2017
The event was packed with senior Bell Pottinger folk, although one notable absentee was Kevin Read, corporate and brand chairman and now chair of Engage.
Flack's diligent enquiries revealed that Read is in fact taking a six-month sabbatical to write a book on the 'art of pitching'.
Read tells Flack that it's based on four "critical stages" of pitching gleaned during his 25 years in the industry. Namely: understanding the real brief; planning and rehearsing; being in the room and making an impact; the follow up and "creating a culture of learning and winning".
Flack awaits it with interest.
Big achievements
It's been a week of women in PR being recognised for their achievements and seeing their names in lights.
Rachel Bell, founder of Shine Communications (which is celebrating its 20th anniversary), was featured in an article in the Guardian this week celebrating 'The women-led start-ups smashing the glass ceiling'.
The glowing write-up took readers through the highlights of Bell's career so far, including partnerships with former staff which have led to the creation of Mischief, John Doe and Aduro.
It also explored Bell's raison d'être for starting Shine: "I wanted to build a business where people felt encouraged to do their best work, the antithesis of what my career experience had been up to that point," she told the Guardian. Bell's employer - of nine years - before setting up Shine was Fleishman Hillard.
Meanwhile, during a visit to New York, Fiona Chow, founder of Goadi PR, featured on the Nasdaq billboard in Times Square for an hour, along with her founding client Nicholas Oliver: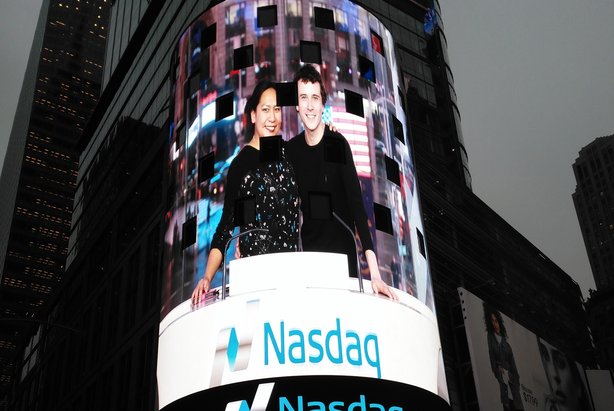 Oliver, founder of People.io, also rang the closing bell at the Nasdaq – his prize as the rising star of entrepreneur hotbed, the Founder's Forum. Chow was so overcome by the experience she left her scarf and headphones behind and missed her flight home.