The announcement was described as "all good" by its head of values, Ian Fletcher.
As far as PRWeek can tell, the press release posted on its website this afternoon is actually a promotion for W1A, the BBC's satire about life at the BBC, rather than an actual reflection of BBC policy.
The release, published on the corporation's media centre, declares that the BBC's head of values Ian Fletcher (played by Hugh Bonneville) is "once again throwing open the revolving doors to New Broadcasting House to allow cameras to film series three of W1A".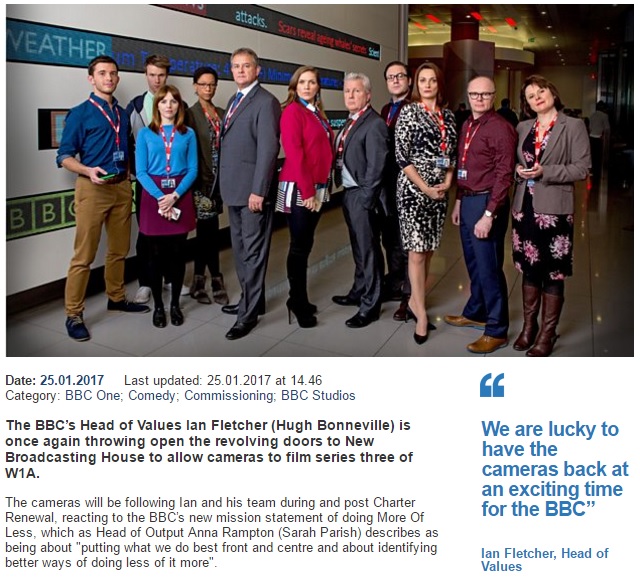 The new series of the show will centre in on the new (fictional) mission statement of 'More of Less', which head of output Anna Rampton (a fictional character, played by Sarah Parish) describes as being about "putting what we do best front and centre and about identifying better ways of doing less of it more".
(Real) life controller of comedy commissioning Shane Allen, who portrays himself in real life but not in the show, where he is not portrayed at all, said: "It's commendable that the team is able to increase the funniness of this series by 20-25 percent year on year, with just 54 percent of the original budget. This beautifully crafted series provides the answer to the age-old phrase: 'If these walls could speak' - in our case it turns out they'd talk bollocks."
(Fictional) head of value Fletcher said: "We are lucky to have the cameras back at an exciting time for the BBC. In a period where we're looking to identify as many Creative Efficiency Opportunities as possible we've been faced with some tough choices, but the good news about that is that in lots of ways tough choices are actually easier than easy choices because there are fewer options to choose from so that's all good."
Chris Sussman, head of comedy, BBC Studios and also a real person, added: "Good communication is one of the cornerstones of the BBC, and I'm extremely pleased to be finding out about this series via this press release."
PR professionals may be relieved or concerned to find that Jessica Hynes returns as unrealistic but (nearly) award-winning PR and marketing guru Siobhan Sharpe.
Filming starts next month and the third series will be broadcast on BBC Two later this year.