A study of 100 asset management firms across the UK, US and Europe by Peregrine Communications looked at how they engage with investors via their websites and on Facebook, LinkedIn, Twitter and YouTube.
Companies were marked on a qualitative and quantitative basis, looking at factors including originality of website content and engagement on social media accounts.
The average score was just 19, out of a possible 43. Below are the top 10 asset management companies ranked in the report: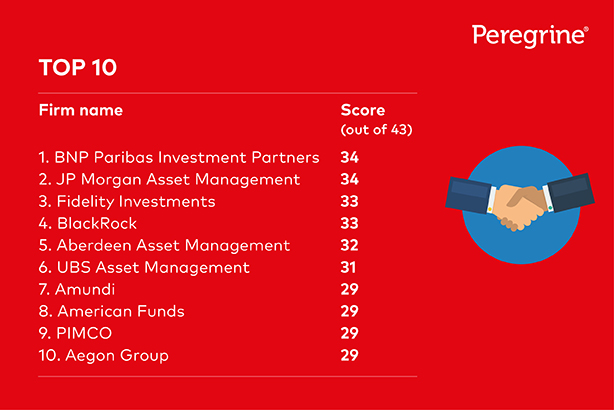 Peregrine highlighted a tendency to prioritise company news over more engaging educational content, relying on "generic language to describe their businesses and ignore video as a tool to attract investor interest". Just 14 per cent of surveyed websites featured educational content.
The study, part of Peregrine's report 'Online but off-message? Digital presence and content marketing in the asset management industry', suggests asset managers are not necessarily using social media as effectively as they could be.
For example, YouTube had the highest level of investor engagement, at 58 per cent, even though only nine per cent of asset managers posted to it on a weekly basis.
While 80 per cent of asset managers have a Twitter account, with 60 per cent posting daily, just 23 per cent of investors engage with this content, the research found.
Overall, only 33 per cent of companies took a balanced approach across all forms of social media, the study discovered.
Generic terms
The research also found that many asset management firms used the same generic terms to describe their business, which often masked genuine underlying differentiators and negatively affected their Google rankings.
The top-ten most popular words used by asset managers to describe their business include: global (34 per cent), long-term (32 per cent), innovative (24 per cent), leading (20 per cent), experience (13 per cent), independent (13 per cent), expertise (12 per cent), diversity (11 per cent), values (11 per cent), responsible (10 per cent).
Peregrine said the findings come as increasing numbers of investment managers create a head of content, in addition to a head of marketing role, to increase their digital exposure to investors – with Schroders, AXA Investment Managers and Legg Mason making hires in the past 12 months.
Peregrine Communications CEO Anthony Payne said: "We believe it is time for the investment sector to catch-up with the general, consumer-facing financial services industry by embracing social media and digital content. It is interesting that firms' size and heritage played a minor role in their overall ranking: digital outlets represent a level playing field on which all types of manager can compete.
"However, the catch-cry of heads of marketing and content should be 'use it or lose it'; if a manager has an existing digital presence, it should either maximising or abandoning it – not letting it languish."