A non-confrontational person by nature who works for one of the boldest, most aggressive advocacy organizations in the world, Tracy Reiman has dedicated her life to animal rights.
"I don't like confrontation personally," Reiman says, "which is funny because I've made a career out of being confrontational. I tell my activists and young staffers all the time, 'It's not about you, it's about changing things. A few minutes of discomfort is nothing compared to the suffering you're going to alleviate by putting yourself out there.'"
Over the course of her long tenure (she has been with PETA for 25 years), Reiman has seen significant change. She has spearheaded messaging around many initiatives, including PETA's efforts to persuade Calvin Klein to stop using fur; Coleman, an outdoor gear retailer, to stop carrying down-filled products; and companies such as Southwest Airlines to end their partnerships with SeaWorld.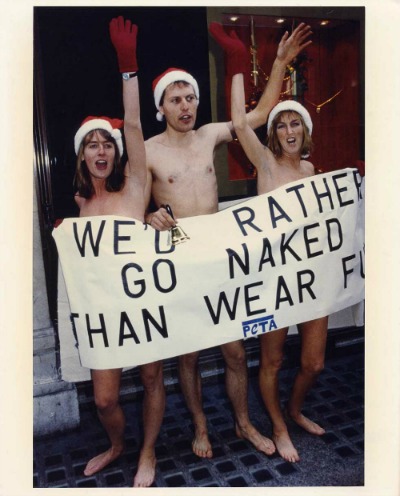 PETA — People for the Ethical Treatment of Animals — has a robust internal communications team. There are about 40 staffers in marketing, 10 in corporate affairs, 25 in youth outreach and campaigns, and 30 in international campaigns that communicate with the organization's more than 5 million members and international arms in Australia, China, France, Germany, India, Latin America, the Netherlands, and the U.K. Since its 30th anniversary, the organization has gained some 3 million new members and doubled the number of letters sent in its advocacy campaigns — from 4 million in 2010 to 8.3 million in 2015.
Reiman "wakes up every day to do battle" in her job at PETA. As a vegan, her work and personal respect for animals are deeply intertwined.
Ingrid Newkirk, PETA's founder and president, has been "an incredible mentor for 25 years" to Reiman. Newkirk and Reiman together are involved with nearly every aspect of the organization.
"A boss' best day is finding a qualified replacement, and Tracy is the gold at the end of my professional rainbow," Newkirk says. "Not that I'm going anywhere soon, if ever, but I have found someone who has absorbed all of PETA's history, appreciates our various approaches, and is seemingly inexhaustible."
Same message, different era
The mission of PETA has been the same since its founding in 1980: to establish and defend the rights of animals. Over the course of her career, Reiman started the organization's marketing and youth outreach departments and worked on the campaigns team. A key point about its message is not being afraid to push the envelope or to shock people.
That's why the organization shares disturbing and graphic slaughterhouse videos in public arenas such as Twitter, where it has more than 700,000 followers, and Facebook, with an audience of over 4.6 million. It's key to get people thinking about what's happening to animals and changing ingrained behaviors.
"We don't want people to be just OK with doing things that may reduce suffering for animals or just changing their life a little bit," Reiman explains. "We need them to go all the way, so sometimes you have to make them uncomfortable."
PETA has actually softened a bit compared to its tactics years ago. The organization still organizes protests, but Reiman said many of PETA's dealings are now done without activating its member base.
"In years past, we felt we had to really shake people at their core, because we needed to grab their attention," she says. "It's hard to do, but today we can grab attention using different methods."
PETA doesn't have PR agency partners, though the organization does work with external agencies, many of which work for PETA on a pro-bono basis. Ogilvy & Mather Bangkok did so in April 2016. The agency came to PETA with a concept for a leather pop-up store that had a gory surprise inside handbags and jackets to show customers.

"We partner with agencies that are excited to work with an organization that will allow them to expand and do something provocative, something that will help change the world," Reiman explains. "They don't get to do that with other big companies."
The resulting hidden video of people's reactions to the gruesome leather goods garnered more than 150 million views, Reiman notes.
Over the course of her 25 years there, the biggest change she has noted is the rate at which the organization enacts change. For PETA's campaign against General Motors in the early 1990s, the organization held active protests for more than a year before GM finally stopped using live animals in crash tests.
"Today, we get victories without ever even telling members and supporters, just by going and talking to clients behind the scenes, showing them the video footage from our investigations, talking about the change in public opinion," Reiman says.
And, she adds, "The internet is the best thing to ever happen to animals."
When Reiman worked as a campaigner in the 1990s, the goal was getting TV news stations to report on PETA's protests or undercover investigations.
"If we were lucky, we would get eight seconds of video footage on the evening news," she recalls. "Today, we can post the same footage and a million people will see it within 24 hours."
Pushing the boundaries
The organization's willingness to push boundaries can sometimes land it in hot water. Last November, PETA offended many people on social media when it posted a video of sexual assault survivors talking about animal rape. News outlets and the public called the video "appalling" and "outrageous" and Twitter users said it was "dehumanizing," but Reiman says that reaction is just part of the job.
The front of the pack

Like any organization, PETA seeks opportune moments to insert itself into the news cycle. But PETA isn't afraid to jump into controversies other brands would steer clear of.
After the leaked Access Hollywood audio of Donald Trump talking about sexually assaulting women, PETA took one of Trump's lewder comments and created Grab a Pussy(cat). The campaign encouraged shelter cat adoptions through ads placed in New York City.
Harambe's death was another newsjacker. A huge trolling movement sprang up when Cincinnati Zoo staff shot the gorilla to death in May 2016, ostensibly to save a child's life.
PETA turned the conversation to animals kept in captivity with one tweet and blog post. "Harambe sparked an anger in people we were able to harness," Reiman says.
"First people see the message, have a quick reaction, and post a comment on Facebook," she adds. "We're there to continue the conversation with them if need be. We will absolutely — and always do — engage them one on one if they have a concern or question, and we find that we turn people around that way."
In the case of the sexual assault video, PETA's aim was to raise awareness for animals that are artificially inseminated on dairy and meat-production farms.
"This is a perfect example of how making people think about something in a way that makes them uncomfortable will further move them away from eating meat or toward going vegan," Reiman says. "No one knew animals were raped to make dairy products, nobody knew these things. Now they won't forget it. It's important we take such opportunities."
And despite the backlash to the video, Reiman says we would "absolutely do it again." The goal is to get people thinking. With every message to the public, she wants to keep animal rights at the forefront of everyone's mind. That's the only way to get people to change their behaviors, she adds.
The group asks a lot from its supporters, urg­ing people to live without using animals at all, which means going vegan and using cruelty-free products.
Reiman says a lot of PETA's work is focused on young people. Its peta2 division works on outreach to young people alone — no one else.
"We feel strongly that young people are the key here," Reiman says. "They're open to this message and they want to do good. We want to be there to help them understand these issues and reach their friends and family to change things."
Of course, when trying to reach young people, PETA has to make liberal use of all social media platforms. There's a stark difference in tone and language — and emoji use — between the PETA and peta2 Twitter profiles. The youth-focused division has more than 100,000 followers on Twitter and 1.6 million likes on Facebook.
"The peta2 team has found ways to stay relevant with young people, which is not easy to do," Reiman says. "We constantly fine-tune our strategy to make sure the engagement is there and kids are sharing things with other kids. It changes so fast, once you figure it out, you have to figure it out again."
One of the key things about getting young people involved is to make it easy for them to act. Peta2 has a text message program that blasts out texts to its subscribers. For example, if PETA is trying to get a company to stop selling fur, a text will go out and all the members need to do is reply in order to send a letter to that company.
The peta2 street team has about 150,000 members that regularly go out on their high school and college campuses to educate peers about animal rights. Peta2 also provides funding to about 100 college activists around the country to hold events to raise awareness during the school year.

"We started our peta2 program 15 years ago and those kids are in their late 20s and 30s now," Reiman points out. "They're in the workforce, they're at major com­panies, they're part of the decision-making progress. That's partly why we're starting to see so much change, because it's not just the old guys anymore — the new kids are here. We focus very much on youth for that purpose."
Influencing brands
The other aspect of PETA's influencing work is with brands. The organization often works directly with brands to stop an offending issue like selling fur or leather, animal testing, or animals in captivity.
In the past few years, PETA has focused on getting clothing companies to stop selling leather and wool, particularly wool from the Angora rabbit. Reiman says PETA has convinced more than 200 companies to stop selling Angora wool and has "essentially brought the Angora industry to its knees in China."
As the group has become more influential and developed relationships with many companies, Reiman says this work has gotten easier.
"This is another area that's changed in the 25 years I've been here," Reiman explains. "When we send an email to a major company, we get a call back. The companies always come back to the table because they know they have to. They can't turn a blind eye to these issues anymore, because the public won't allow them to."
But Reiman always measures PETA's successes by saying the work is never done.
"That's our responsibility here: to keep the issues in the forefront of people's minds every day," she says. "Because if they're not thinking about us and not talking about us, they're not changing."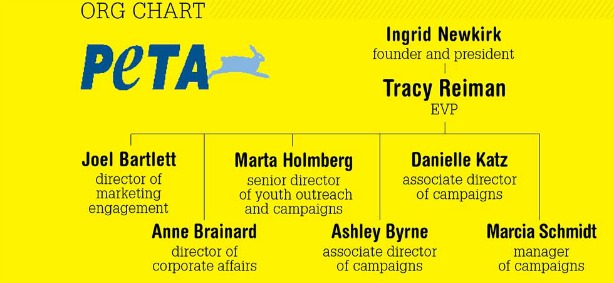 Résumé
2007-present - PETA, SVP (2007), EVP (2007-present)
2005-2007 - PETA, VP of campaign strategy, marketing, and technology
1996-2005 - PETA, international grassroots campaigns manager (1996-1999), director of international grassroots campaigns (1999-2002), VP of international grassroots campaigns (2002-2005)
1993-1996 - PETA, assistant, international campaigns department (1993), coordinator, international campaigns department (1993-1996), caseworker (1996)
1991-1993 - PETA, customer service representative (1991-1992), customer service coordinator (1992-1993), public information specialist (1993)