Security at NATO headquarters is a little bit underwhelming. Situated on the dreary Boulevard Léopold III in a north-eastern suburb of Brussels, you pass Decathlon on the left, Orange on the right, and there, on a low-rise campus that could easily be a business park, lies the headquarters of the mighty North Atlantic Treaty Organisation. Across the road is the new glass-fronted HQ of the alliance, where NATO will be moving this year.
The entrance of the current HQ is guarded not by gruff, buff military types with buzz cuts and machine guns, but by rotund Belgian civilians wearing hi-viz jackets. Okay, they are wearing sidearms, but they don't look very intimidating.
It's probably deliberate. NATO HQ is not a fortress, explains Oana Lungescu , the organisation's principal spokesperson. "It's not just military. This is a political-military alliance. People may think of it in terms of the military, but actually it's the only place in the world where you have 28 countries from Europe and North America getting together around the same table practically every day, discussing matters that concern their security, and acting together on those decisions."
Today we are meeting in the spacious studio of NATO TV. To my surprise, Lungescu, who worked at the BBC for 25 years and is the first journalist to become NATO spokesperson, spends a few minutes in a corner having make-up applied.
She explains that the value of make-up is one of the hard lessons she has learned from the merciless gaze of modern media. "Most cameras are high-definition these days. If you don't wear make-up, you can look awful, so most of us in the public glare tend to use it whenever there's a camera."
Her point is that it is not about vanity; it is a hygiene factor for modern comms. Even though cameras purport to represent reality, high-definition images are so detailed that they present a heightened – or distorted – reality. You do not want people thinking about your open pores when you are delivering a carefully nuanced statement, so NATO has had to learn how to deal with that.
It turns out that this theme of confronting media and technology, which purport to represent reality, but in fact distort it, is one of Lungescu's and NATO's greatest communications challenges and one to which we repeatedly return.
Mind you, as principal spokesperson for the North Atlantic alliance, her whole job sounds like one, long, high-stakes challenge. With a team of 30 press officers, speechwriters, social-media experts, and media analysts, Lungescu not only provides strategic communications advice to NATO secretary Jens Stoltenberg (below) and the North Atlantic Council (NATO's principal political decision making body), she co-ordinates NATO's media operations, is in charge of all speeches and publications by the secretary general and deputy secretary general and responsible for planning and directing all major NATO events.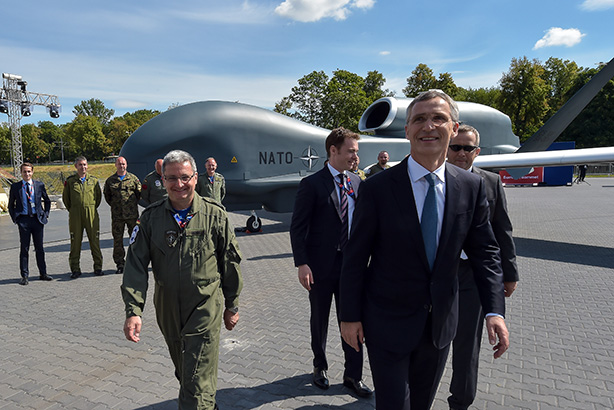 Operating by consensus
To compound the complexity, NATO operates by consensus. There is no majority voting. It can act only when every member agrees. "NATO is an alliance of 28 sovereign nations. They are all majority shareholders in this alliance. So every decision is taken by consensus. It's not always easy and it can take a while, but it means when we take a decision, we can move fast and move together," she explains.
So does that mean Lungescu has to get 28 approvals every time she sends out a press release? She smiles at the potential horror of such an arrangement. "No. I am at every meeting [of the North Atlantic Council] with my team. I, or my colleagues, travel with the NATO secretary general wherever he goes. We take in all the different sensitivities, the red lines maybe and the political direction the alliance is going and then we try to express it in what we have to say. But we don't do communications by committee, because we all know there can be no such thing."
Then there are the external challenges. There is war in Afghanistan; following the 9/11 attacks on the US, this is the first and only time NATO has invoked Article 5, which established the principle of collective defence and states that an attack against one is an attack against all. There is Daesh on NATO's south-eastern flank, there is the political instability in the Middle East and southern Mediterranean and a resurgent Russia breaking international rules in Crimea, Ukraine and Syria. "We live in what is probably the most challenging time for a generation, since the end of the Cold War," agrees Lungescu.
According to some analysts, though, NATO's greatest existential threat comes not from the East but the West. President elect Donald Trump has said NATO is "obsolete" and issued a threat that US forces may not come to the aid of countries that have failed to meet the NATO guideline of spending two per cent of their budget on defence.
Although exercised by Russia, when it comes to Trump, she is remarkably relaxed. Or at least appears to be. "President elect Trump has said he is a very big fan of NATO and he made that clear when he spoke to the secretary general recently," she says. "He also made a point about defence spending. That is a point the secretary general has made consistently. Defence spending in Europe and Canada has been going up since 2015, but there is still an important effort that needs to be made to increase our defence budgets. We don't live an easy world and it doesn't look as if it is getting any easier."
Rethinking communications
As an organisation with a military role, one might expect NATO to have a very clear command-and-control structure for communications. In many companies, only one voice speaks and that is to utter pre-agreed words. That is the convention.
Yet again, NATO surprises. When it comes to comms, Lungescu says there is co-ordination among the 28 NATO countries and between the political and military sides of the alliance, but complete control is yesterday's model. "I don't think in this day and age we can 100 per cent control the message, nor should we try to. This is also a lesson we have learned," she adds. "The world has changed with social media, so we need to empower people to tell our story in the way that they think best. It could be a soldier on a mission or exercise in the Baltics or Aegean, it could be a politician in Brussels. So we have a lot of people telling more or less the same story but from different angles."
Much of Lungescu's work is advising and co-ordinating, and she describes her job as "public affairs". She is, however, absolutely clear that her role does not include the intriguing realm of propaganda or what the military calls 'psy ops'. "We have a policy on strategic communications that it is the effective and co-ordinated use of information. It has five disciplines – public diplomacy, civilian and military public affairs, and info ops and psy ops, which are purely military."
She says that military communications follow political guidance, but stresses there is a firewall between what her department does and 'info ops' and 'psy ops' used in military operations.
Nonetheless, she concedes that NATO is faced with "quite significant propaganda efforts", particularly from Russia. "We see very aggressive rhetoric from certain outlets like RT, Sputnik and others," she says. "We see in our media-monitoring something negative practically every day." An important part of her job is to set the record straight, she adds. She often takes to Twitter asking RT or Sputnik to correct their stories about NATO.
The NATO press office also produces content for its website under a section called 'Setting the Record Straight', which includes content to debunk Russian claims about the alliance.
But Lungescu, who grew up in communist Romania and refused to co-operate with Nicolae Ceaucescu's secret police, before leaving for the West in 1985, is very clear that she and her team are not engaged in propaganda. For instance, next year NATO is deploying four multinational battalions to Poland and the Baltic. Russia is using them to justify amassing forces in the region. NATO rebuts the Russian position. "They are battalions, not divisions," says Lungescu, referring to the 300,000 troops that Russia has stationed close to NATO borders. "So what we do is in response to Russia's illegal annexation of Crimea and its continued destabilisation of Ukraine. It is defensive, it is line with our international obligations and it is proportionate."
From time to time, NATO needs to push back against propaganda, whether from established media or increasingly through social-media manipulation. "There are troll factories in Russia and elsewhere employing hundreds of people with quotas of Facebook posts and tweets," she says.
The danger is that the internet facilitates what one might call 'equivalence' or 'post-truth' in almost any point of view. It happens with global warming, where global warming deniers are so active that if one searches on a related topic, it appears that opinion is evenly split, when it is not. If something is repeated often enough on the internet it climbs the search ranking, regardless of its truth.
Lungescu says: "One of the aims of Russian propaganda is to give the impression that there is no such thing as truth. Everything is a point of view; all shades of grey depending on where you live."
But it is important that NATO does not counter with its own propaganda, argues Lungescu. "We need to fight as who we are. If we adopt the same methods, then we would not be true to our values. So it's important that we have faith that the truth will prevail and that people will actually see through the half-lies."
Cyber arena
Perhaps this is one reason why, last July, NATO designated cyberspace as what it calls "an operational domain". It now joins land, sea and air as a theatre for potential action. For instance, eight years ago there was a cyber attack on Estonia. Almost all its websites related to government, banking and political parties were taken down.
True cyberspace is the pipeline rather than the oil, the hardware rather than the content, but Lungescu concedes that perhaps NATO has not been as 'on it' as it might. "In many ways, NATO is catching up with our member states because there is a realisation that every operation has a cyber dimension," she says.
So NATO now encourages its member states to boost their national cyber defences and trains countries outside the alliance, such as Ukraine. A cyber 'centre of excellence' in Estonia conducts regular exercises, a cyber incident-response centre in Belgium makes sure its networks are protected, and co-operation with the EU on cyber has been significantly stepped up, says Lungescu. "We realise that we cannot compartmentalise the defence of our countries. So if one member comes under cyber hybrid attack, it's important that we bring to bear all of our instruments and we work together to increase our resilience, because of course a cyber attack could be the precursor to something else. They are not there for their own sake."
These days it seems that security isn't about burly men with guns. It's much more sophisticated than that.
Propaganda or facts? Fighting a Russian troll
NATO says it doesn't 'do' propaganda, but it does try to correct inaccuracies spread either by Russian media or Russian 'trolls' who can be remarkably inventive, creating not only fake Tweets and Facebook posts, but also photography, cloned media websites, YouTube videos and even fake Wikipedia pages.
#NATO's new HQ designed as interlocked fingers symbolising unity of 28 democracies. @SputnikInt #factcheck pic.twitter.com/cPCBl30LvI

— Oana Lungescu (@NATOpress) 29 June 2016
Oana Lungescu denounces Sputnik, which describes itself as a "global wire, radio and digital news service", as a virulent source of misinformation. On 28 June this year, it put out a tweet claiming that, according to an "Illuminati expert", the design of NATO's new HQ in Brussels is based on the SS' lightning bolts insignia.
Perhaps it was the Russian sense of humour that led to the analogy. After all, the Daily Mail regularly runs stories about cats and potatoes that look like Hitler. But NATO didn't find it funny and responded through Lungescu's Twitter account with a straightforward rebuttal, pointing out that the design was intended to represent the interlocked fingers of NATO's 28 democracies. The Tweet was accompanied with the hashtag Factcheck.
Oana Lungescu – CV
2010: Chief spokesperson, NATO
2009-10: BBC European affairs correspondent, Berlin
1997: BBC European affairs correspondent, Brussels
1990: Editor, BBC Romania service
1985: Joined BBC Romania service