The Confederation of British Industry's annual Employment Trends Survey, which is published today, questioned 353 companies and organisations of all sizes.
Asked their biggest workforce priorities for 2017, 48 per cent chose the option 'achieving and maintaining high levels of employee engagement', followed by 41 per cent citing 'retaining talent' and 37 per cent saying 'improving leadership skills'
This attests increased emphasis put on employee engagement - in the same report in 2015 it was the joint-second-highest priority (selected by 35 per cent of respondents), and the second highest in 2014 (44 per cent), with improving leadership skills the biggest priority in both cases.
Employee engagement assignments are an increasing source of business for PR agencies, as evidenced by a recent group hire of 15 employee engagement staff by FTI Consulting in London. Omnicom reshuffled its employee engagement businesses earlier this month, while a Weber Shandwick survey of global comms leaders in October identified it as a key priority.
The CBI report says: "Businesses are keenly aware of the value of an inclusive and engaged workplace. When we asked businesses about the benefits of high levels of employee engagement, nearly three quarters of respondents (73 per cent) see improvements in productivity and performance as one of the main benefits flowing from engaged employees. And over half (57 per cent) point to increased customer and client satisfaction."
Employee engagement benefits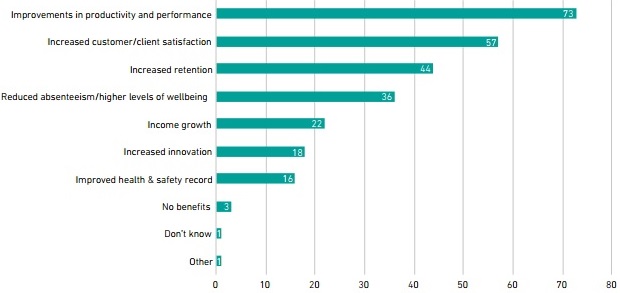 Commenting on the findings, PRCA director general Francis Ingham said: "The growth in emphasis on employee engagement is a welcome and sensible development, as employers recognise that an engaged workforce is key to productivity, good customer service and external reputation.
A recent PRCA survey that found that 63 per cent of employees of UK companies thought that reputational responsibility lies with all members of staff, rather than just comms staff or senior management, Ingham noted.
"The increased empowerment of PR and communications at board level must be one reason for this shift in emphasis", he went on to say.