Jeremy Corbyn Award for the Least Enticing Press Release
"David Davis makes first trip to Spain," was the helpful headline to a press release earlier this month from the politician's Department for Exiting the European Union.
So, now you know.
No, actually Flack can't say for sure but reckons Mr Davis has stepped foot on Spanish soil some time previously during his 67 years, even for a cheeky 18-30 week in the Costa del Somewhere. He is a former Foreign Office minister, after all. Unless his Euroscepticism extends to staying away from member states…
Silliest (or Greatest) Name for a New PR Agency
Tough one this. Flack is torn between Talker Tailor Trouble Maker, founded by former M&C Saatchi PR chiefs Gary Wheeldon and Steve Strickland; and Well Hello, the PR shop formed by ex-Cow MD Lisa Taylor and Nick Woods of WE Communications.
We'll leave it to you.
The 'Didn't We Do Well?' Award
11 April: PRWeek UK Power Book members were asked if they think Britain will vote for Brexit. Our survey said: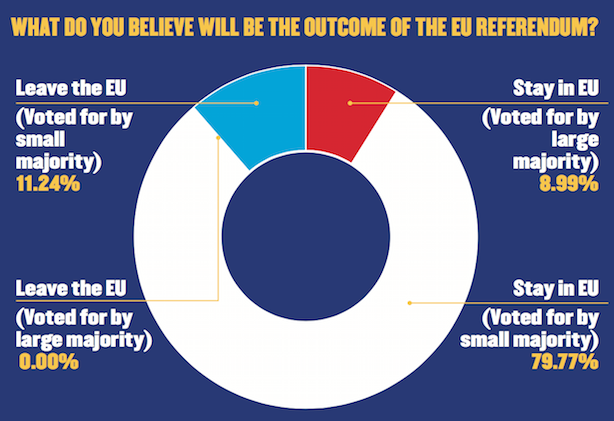 23 June: ...
8 November (morning): PRWeek - UK comms pros predict landslide Clinton victory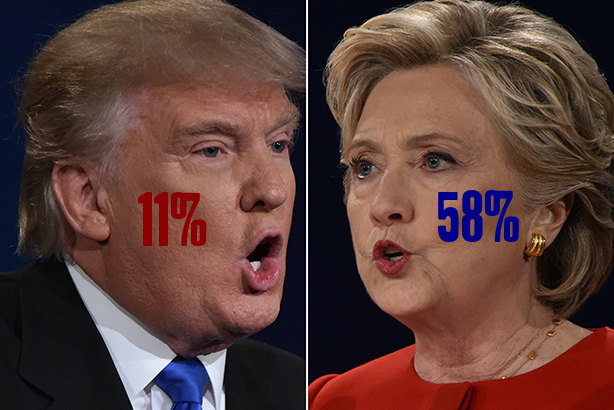 8 November (evening): ...
Strangest Case of Mistaken Identity
Back in February, Mohammed Mdwb, a media officer for the Bahrain Football Association, tweeted his shock that Prince Ali of Jordan – a rival of Bahrain's Sheikh Salman in the race to be named FIFA President – had hired 73-year-old former Israeli international footballer Shimon Cohen to work on his team.
One of the tweets (later deleted) included a picture of Cohen in his heyday, and another included a more recent picture of... umm, a different Shimon Cohen – namely the Welsh guy who runs London agency The PR Office.
Cohen (the PR man), who had already been working with Prince Ali for months, responded with deft humour: "Racism, anti-Semitism and discrimination should have no place in football, but most of all I am upset at being mistaken for a 73-year-old."
The 'Why Didn't We Use That Picture?' Picture Award
PRWeek had a jolly nice chat with 3 Monkeys founder Angie Moxham and Zeno's Steve Earl earlier this year for a profile interview about their merger.
But Flack – not known for milking a pun – was bitterly disappointed that his colleagues at PRWeek Towers wouldn't be, err, 'cow'-towed into choosing this picture (they used an udder one) of the duo posing with a subtle in-agency statue.
Can't work out if it's a metaphor for something.
Best Use of G

ratuitous

but Entertaining Swearing in a Press Release
'People move' press releases tend to be about as interesting as a trouser press, particularly the clichéd quotations ("I'm delighted"… "looking forward to the challenge"... yawn).
So Flack was taken aback by this gem from Talker Tailor Trouble Maker (the agency's second award in the list). In reference to the appointment of Laura Hall to head its US office, Talker Tailor co-founder Gary Wheeldon said the hire "means we get to fly to New York a lot and post pictures from Soho House like total wankers".
In the same press release, fellow co-founder Steve Strickland refers to another new hire Ian Edmondson as "fucking clever".
Flack is, in fact, "delighted".
Best Shoehorning of Brexit into a Press Release
"Brexit means... PYJAMAS," read a press release sent to Flack from clothing brand Bown of London.
It doesn't, though.
The Esio Trot* Award for Glacial Releasing of Company Information
In early 2016 several news outlets reported on the MBO of Scottish PR agency The Big Partnership, although, strangely, many also pointed out that the deal was actually concluded in summer 2014.
Co-founder Neil Gibson explained to Flack that this 18-month delay was to allow the new part-owners to get their feet under the desk and settle in, and because as a private firm, they weren't obliged to make an announcement. This would only have been made public when they filed accounts at Companies House the same week.
Expect to receive statements from The Big Partnership on the 2015 General Election very soon (only kidding - Flack understands).
* For the uninitiated, Esio Trot is an anagram of 'tortoise' - the reference is from a book by Roald Dahl. Don't you know.
(All gifs via GIPHY)