Skittles' sweet response to Trump Jnr's refugee analogy
Confectionary brand Skittles was unexpectedly thrust in the eye of a political storm during October when Donald Trump Jnr used Skittles as an analogy for refugees.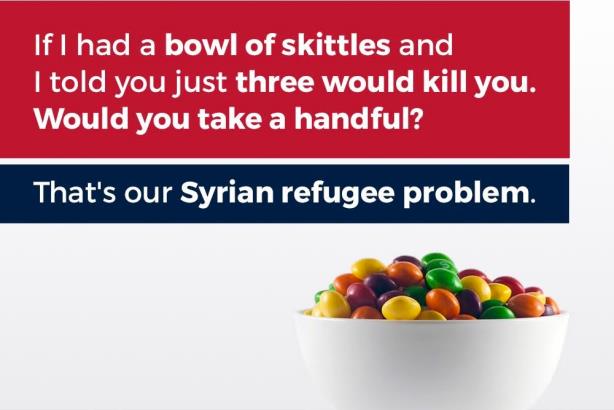 However, at a time when many brands have faced criticism for their crass, opportunistic responses to world events – think Crocs' David Bowie tribute or Homebase's #RIPPrince tweet - Skittles showed that sometimes an understated approach is the most effective when dealing with a genuinely difficult comms challenge, albeit one not of its own making.
Its response read:
"Skittles are candy. Refugees are people. We don't feel it's an appropriate analogy. We will respectfully refrain from further commentary as anything we say could be misinterpreted as marketing."
Skittles maintained the moral high ground and avoided appearing to milk the publicity. At the same time, it made clear its opposition to Trump Jnr's much-derided analogy in a concise way, which is important for a brand that has associations with racial harmony. Sweet.
Mental health sheds the taboo mindset
Many taboos around mental health appear to have been shaken off this year, with the topic becoming a big talking point. This is not so much the work of a single brand or individual, but of several strong campaigns, frank discussion and a serious push by celebrity ambassadors and charities.
To give one of several prominent examples, Rizzle Kicks' Jordan Stephens starred in a music video for #IAMWHOLE (below), an NHS anti-stigma campaign launched to co-incide with World Mental Health Day (10 October). Run in partnership with the YMCA, the earned media campaign is backed by a host of celebrities, including James Corden, Ed Sheeran and Dermot O'Leary, have been using their considerable influence on social to spread the message.
Meanwhile, October also saw the launch of a mental health initiative that provides young public affairs practitioners with initial access to professional support. It's good to see the comms industry taking a stand.
Vote Leave delivers comms masterclass
Like it or loath it, the hard-fought campaign over Britain's membership of the EU was dominated - and won - by Vote Leave.
Speaking at a PRWeek seminar in London last month, Gabe Winn, formerly director of external relations and senior business advisor for the Stronger In campaign, said the Vote Leave slogan 'Take Back Control' was far more emotive than Remain's tagline, which he summed up as: "Britain is stronger, safer and better off inside the EU than it is outside."
Whatever the outcome, it's been an incredible campaign. Thank you to everyone who was a part of this! #ProjectHopehttps://t.co/lN0iGriheJ

— Vote Leave (@vote_leave) 23 June 2016
Vote Leave's campaign was multi-faceted, data-driven, strong on social, firm on rhetoric, and unafraid to push boundaries (too far at times, admittedly). It also hit different audiences with different messages and was blessed with a key ingredient – passion.
Nigel Farage delivers political masterclass
Nigel Farage has taken the political world by storm this year. He is considered by many as the architect of Brexit and has dominated the right-wing political rhetoric in the UK for some time now.
Just spoke in the European Parliament, they were pleased to see me as you can tell.https://t.co/7TRJlBXLJl

— Nigel Farage (@Nigel_Farage) June 28, 2016
However, not content with victory over the EU, Farage also stood alongside Donald Trump as he campaigned – successfully – for the US presidency.
He may not be everyone's cup of tea (or pint of frothing bitter) but he's had an absolutely stellar year on the global political circuit. Cheers, Nige.
Stop Funding Hate shows its strength
The campaign group Stop Funding Hate demonstrated the power of a simple message delivered via social media this year. Beginning on 8 August in the wake of the EU referendum result, the group released a video (see below) on its Facebook page in response to a surge in hate crime following the Brexit vote.
The film explained that newspapers such as the Daily Mail, The Sun and Daily Express were profiting from stories and headlines that distort the truth about immigrants, and that advertising revenue was a means by which these media outlets could be brought to heel.
It called on brands to divest their advertising spend from media outlets which, it believes, promote prejudice.
The campaign's first major victory came when Lego announced in November that it had no plans to continue a promotional tie-up with the Daily Mail. However, attempts to get Virgin and Walkers crisps to withdraw advertising have, so far, gone unheeded.
Since its launch, the campaign has grown into a grass roots phenomenon, with more than 210,000 likes for its Facebook page and in excess of 65,000 followers on Twitter. Cap doffed.
Iceland (and Iceland) play a blinder
The England football team were (unsurprisingly) awful at Euro 2016 and were spectacularly knocked out of the competition by minnows Iceland (the football team).
In response, Iceland (the supermarket) generated plenty of goodwill thanks to the witty interactions of its social media team.
Unexpected result in the bagging area...

— Iceland Foods ?? (@IcelandFoods) June 27, 2016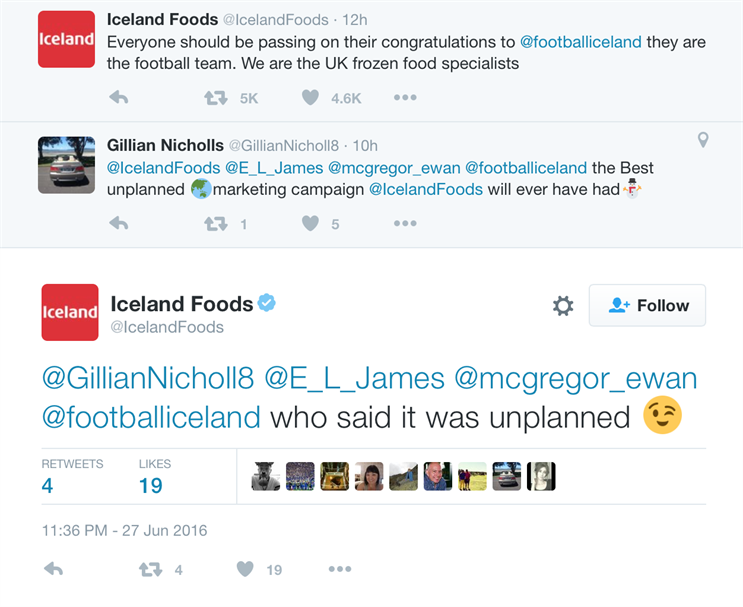 Though Iceland (the supermarket) sponsored Iceland (the football team) during the Euros, the two were embroiled in a potential legal battle over rights to the name 'Iceland' in September.
The supermarket has traded under it for 45 years, but a PRWeek source familiar with the matter suggests that the country has been around a bit longer.
If Carlsberg did PR campaigns...
Carlsberg's supply of eye-catching PR stunts and campaigns seems bottomless. During March, Carlsberg unveiled a pop-up bar made entirely from chocolate, in a stunt called 'If Carlsberg Did Chocolate Bars', which launched ahead of the Easter bank holiday weekend.
The bar was fixed to the wall of the Truman Brewery in Shoreditch, and replicated a traditional British pub with features including a chocolate dartboard, chocolate bar stools and a chocolate television screen, showcasing one of England's greatest World Cup moments.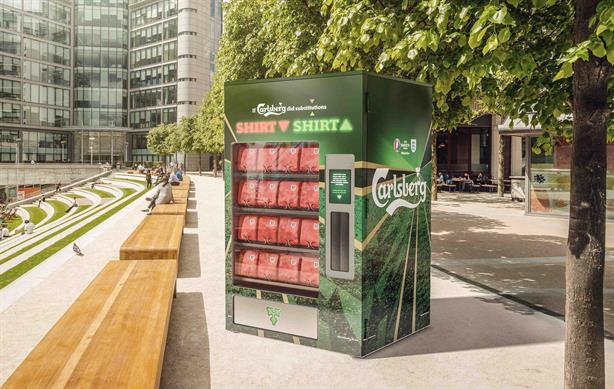 Then in May, the lager brand announced it was going to let London commuters 'substitute' their work shirt for a replica 1966 England shirt using a giant vending machine (above) ahead of the start of Euro 2016.
It formed part of the brand's 'If Carlsberg Did Substitutions' campaign, which aims to substitute ordinary experiences for the extraordinary for England fans.
PRWeek can drink to that.
Ground control to Major Tim
For Major Tim Peake, 2016 has been, you've guessed it, out of this world. The European Space Agency astronaut spent 186 days working on the International Space Station (ISS) for Expedition 46/47, before landing back on Earth on 18 June.
While on the ISS, the British spaceman delivered a New Year message broadcast by the BBC to celebrate 2016, remotely participated in the London Marathon via a treadmill on the space station, becoming the first man to run a marathon from space (below) and also presented Adele with a Brit Award.
What a star. PRWeek salutes you.
Get up and Pokémon Go
It might not have maintained its extraordinary early momentum, but Pokémon Go was absolutely huge during the summer.
Everywhere you turned, kids (and many adults) were nose-to-screen, frantically searching the streets for augmented reality Pokémon.
Niantic, the company behind Pokémon Go, tapped into a sense of nostalgia and delivered a game that was different from anything that had been seen before.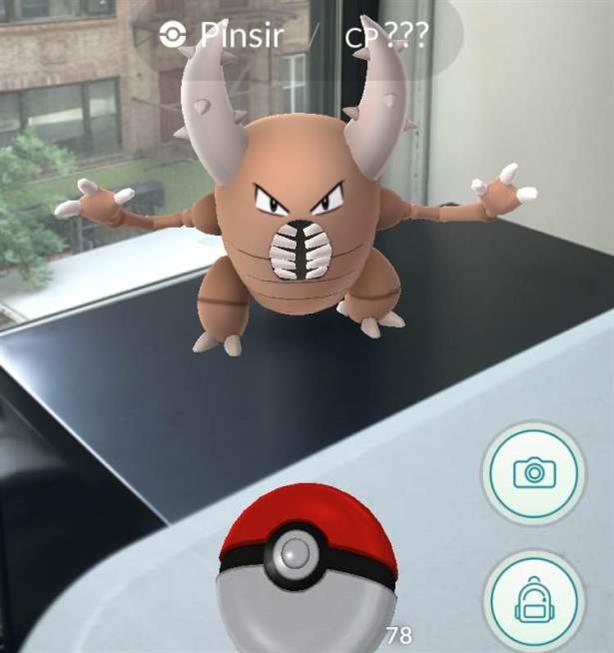 Just two days after its release in the US, almost one million people had posted on social media about the game, according to data compiled by analytics firm Crimson Hexagon. It's not clear how much of this success was actually due to PR or marketing, but someone was clearly doing something right.
In an effort to try and reinvigorate the game this Christmas, Niantic has released an update in which players can catch a Christmas hat-wearing Pikachu. Cute.
The PR stars of 2016
In true 'saving the best 'til last' fashion, we must honour all the winners at this year's PRWeek Awards.
From consultancy of the year Unity, to MHP's campaign of the year, Missing Type, those who have won awards for outstanding work are some of the brightest stars of 2016.
PRWeek would like to thank each and every one of you and cannot wait for more outstanding contribution to the comms industry in 2017. Pip pip.