The report from accounts firm Kingston Smith, based primarily on financial statements filed at Companies House, also found the top 40 agencies averaged an operating profit margin of 12.7 per cent – up from 12.4 per cent in last year's survey and 11.9 per cent the year before that.
Gross income per head also grew, by four per cent, as did employment costs (+3 per cent) and other operating costs (+5 per cent).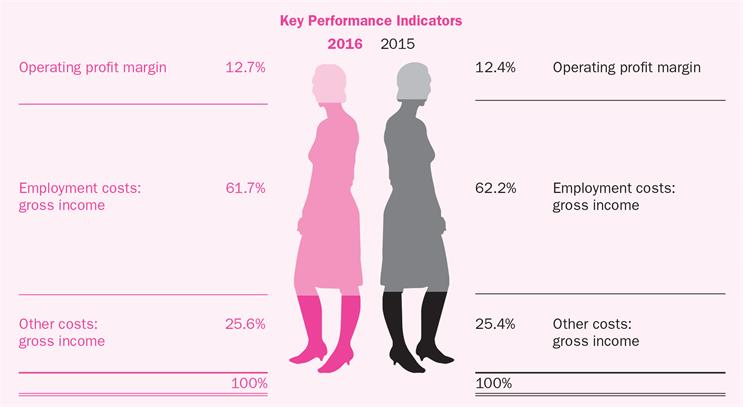 Overall, 22 of the 40 consultancies reported an increase in gross income, with 12 achieving growth of more than 10 per cent.
Instinctif Partners and Pegasus PR reported the strongest growth of 39 per cent, with steep growth also reported at Edelman holding company Daniel J Edelman (26 per cent), Hanover Communications (25 per cent), and Next Fifteen Communications (23 per cent).
However, gross income slipped at seven agencies. "The main reasons cited were the failure of service offerings to evolve to meet the changing market needs and also the loss of client budgets as they were taken in-house," says the report, titled Financial Performance of Marketing Services Companies Annual Survey 2016.
Operating profit grows
Agencies also grew their bottom line. The top 40 agencies achieved just over £82m of operating profit in 2015, against £80m last year.
The report says agencies maintained much better control over costs, which also explained the higher average operating profit margin.
Just over half of the top 40 grew operating profit, with five agencies achieving a 50 per cent or greater increase and 20 exceeding Kingston Smith's target minimum of 15 per cent. The report says a number of agencies achieved positive results by moving toward a fully integrated offering.
The analysis suggests a well-run agency should typically be posting gross income per head of between £100,000 and £120,000, with £80,000 being an absolute minimum. 37 of the top 40 achieved this absolute minimum, which is one more than last year.
Employment costs per head increased by around three per cent to just under £67,000, while other operating costs per head increased by around five per cent to just under £28,000.
"These cost rises have been relatively modest when taken in the context of reported gross income," the report states. "It is pleasing, therefore, to see that our key measurement of profitability and productivity – namely operating profit per head - shows a rise of 6.3 per cent, compared to the comparative year."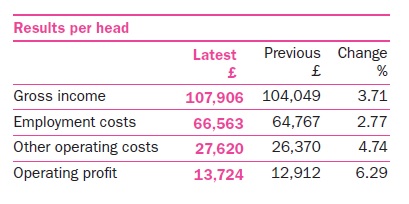 Meanwhile, independent agencies outperformed their group-owned counterparts in the year, the report suggests.
Of the 22 group-owned agencies, 15 reported a lower gross income, which deflated the total growth in gross income to 6.6 per cent. This compares to the 12.9 per cent growth in gross income generated by the independents, with 15 of the 18 businesses reporting an increase to their prior period results.
Independents also reported strong operating profit improvements. Operating profits increased by 44 per cent from last year to £36m, which includes the 209 per cent increase recorded in Daniel J Edelman.
However, among the group-owned agencies, Kingston Smith said 14 were unable to control costs so well and reported a deterioration of operating results, with an overall decrease of operating profits of 4.6 per cent. The overall profit margin for group-owned agencies was 12.1 per cent, against 13.6 per cent for the independents.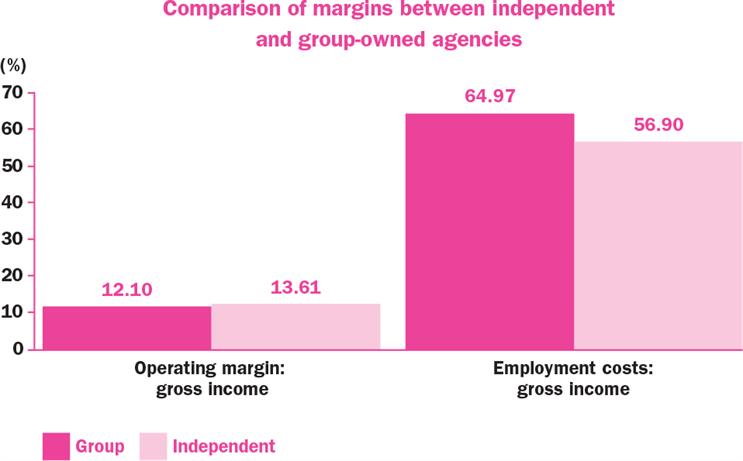 The report says financial PR continues to lead the way in terms of the gross income per head, although this figure was three per cent down on the previous year. Tech PR also saw a decrease of gross income per head, of just over four per cent. Healthcare PR saw an improvement, with gross income per head up eight per cent.
The report concludes: "Overall, the results for the top 40 are positive, with a lot of the key performance indicators moving in the right direction, eg: gross income, operating profit margin and operating profit per head.
"We reflected in 2015 that those agencies that can broaden their offering to include digital services and rich content will be those more likely to prosper and stay ahead of their rivals in terms of income growth. Agencies need to continue to ensure that they are at the forefront of this change, developing content and branding skills within the business to ensure they can deliver the value-added services that clients are demanding.
"PR consultancies continue to be one of the most highly sectorised of the marcomms disciplines and that allows them to provide a high value-added service. We continue to maintain that a greater specialism, combined with a broader range of services, is likely to give consultancies the edge going forward."
For most agencies, Kingston Smith looked at financial statements for the 2015 calendar year. Where these weren't available, the figures in the survey were adjusted pro-rata to reflect the equivalent of one year's trading. In some cases, audited information was supplied to Kingston Smith directly.