Flack's full-proof creative executive formula
At the PRWeek Great Campaigns seminar yesterday, Flack found out what it takes to become a creative executive at a top PR agency. Mark Perkins, now creative director at MHP Communications, said he got the job because he was an awful account director. Flack finds that very hard to believe.
Taking a slightly different approach, Gerry Hopkinson, co-founder at Unity, said it was all about curiosity.
Meanwhile, Christina Joyce, director of PR at Premier, said creative executives need complete freedom to create great ideas. So, for any budding creative executives out there, Flack suggests you follow the above formula to a T.
Creative blood bribes
MHP's barnstorming Missing Type was among the draws at the Great Campaigns seminar, with the agency's Mark Perkins giving chapter and verse on how the campaign went from idea to phenomenon.
Missing Type aimed to boost blood donations by encouraging big brands and organisations to remove the letters A, B and O from their signs and logos to highlight the missing blood types. Perkins gave some intriguing examples of how other countries have tried to tackle the problem, such as in the US where donors were offered free Dunkin Donuts as an incentive – Perkins (pictured below) made the point that encouraging diabetes is perhaps not an ideal approach. Even stranger was China, where children could see their grades rise by five per cent if they gave blood.
As a means to an end, fine, but Flack prefers the MHP approach, frankly.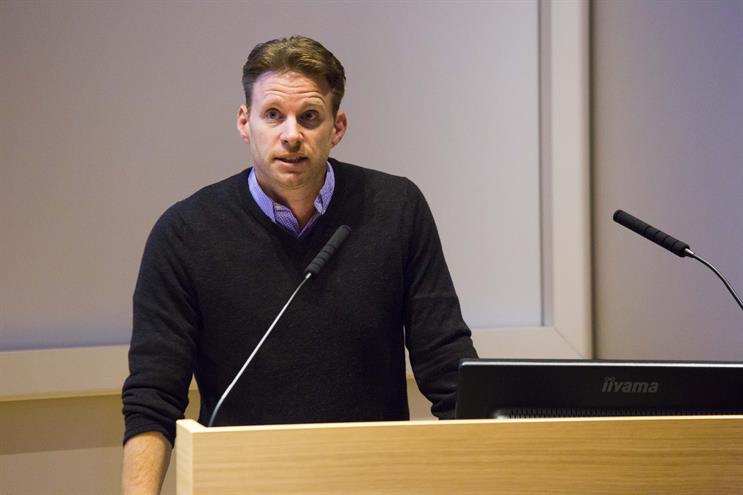 Viral hit
The Condom Emoji campaign for Durex by Premier was also spotlighted at the seminar, with Premier's Lawrence Francis and Christina Joyce explaining how the campaign – which called for the creation of a condom emoji to promote safe sex across the world – gathered momentum online. With a slightly nervous grin, Francis explained: "It's not a word we really like using in Durex… it went viral."
A bad sign for Trump?
Flack attended a briefing with the public affairs firm Mercury - a sizeable player in the US, newer to London - a week after the US chose Donald Trump as its president.
Mike DuHaime, who ran Chris Christie's campaign to be the Republican candidate for the election, and heads two of the firm's offices, told the assembled journalists of Trump's newly announced, and rather controversial, adviser Mike Bannon: "I would say 99 per cent of people don't know who he is." He went on to say that few outside of political news junkies will care. "Most people will judge Trump by his own actions," he said.
Morris Reid, an American who leads Mercury's London office, said the key to future Democrat success was to find messages that would resonate across American's widening urban-rural divide, saying: "The Democrat party needs to stop segmenting America."
He also quipped of Trump's plan for a border wall separating the country from Mexico, which the president-elect has this week admitted might need to be a fence in places: "It's going to be a sign by the time we get finished with it."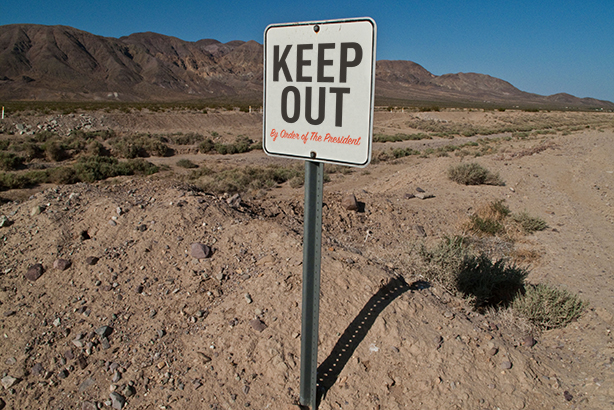 Former Republican Congressman Vin Weber, now a partner at the firm, told this anecdote which gives something of a flavour of what Trump will be like to work with. At an event at this year's Republican National Congress, Weber describes: "[Former speaker of the House of Representatives] Newt Gringrich represented Trump. Speaking to foreign investors on behalf of the campaign, as Trump's designated spokesperson - the first thing he said was; 'If you're expecting me to tell you how Trump is going to behave in office; forget it, we don't know.'"
As if we didn't know it beforehand, we're in for quite a ride...
Getting that sinking feeling
Big stunts news now - it was Guinness World Records Day on Thursday (we don't need to tell you that), and one of the activations that caught Flack's eye was this from the agency Rooster.
The firm unveiled the world's biggest Lego ship in Trafalgar Square for shipping line client DFDS.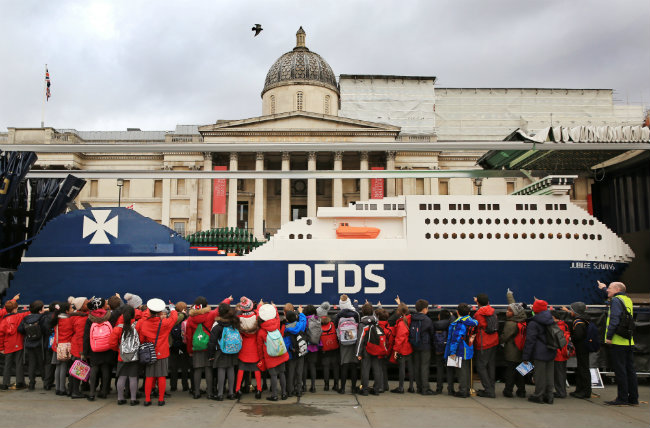 Great, but would it float down the Thames? No? Not interested.
Meanwhile, in other Guinness World Records Day 2016 PR stunt news...
Most British PR Stunt ever? Man armed with chocolate hobnob breaks world record for the highest bungee tea dunk pic.twitter.com/kgJURWOycv

— Andrew Bloch (@AndrewBloch) 17 November 2016
Nice, nice: PRs are the Star's stars
A quick shout out to a press team which won a pat on the back from the Daily Star last week.
The newspaper praised the Local Government Association's PR team for the "brilliant" headline of a press release about councils stockpiling gritting salt ahead of winter - 'Ice, ice maybe'.
However, the Star's hacks stopped short of praising the team for having stopped, collaborated and listened, and instead described the headline as "a tribute to the Muller rice advert".
Vanilla Ice (Robert Matthew Van Winkle) - if you're reading this, and we assume you are, remember that Flack still loves you.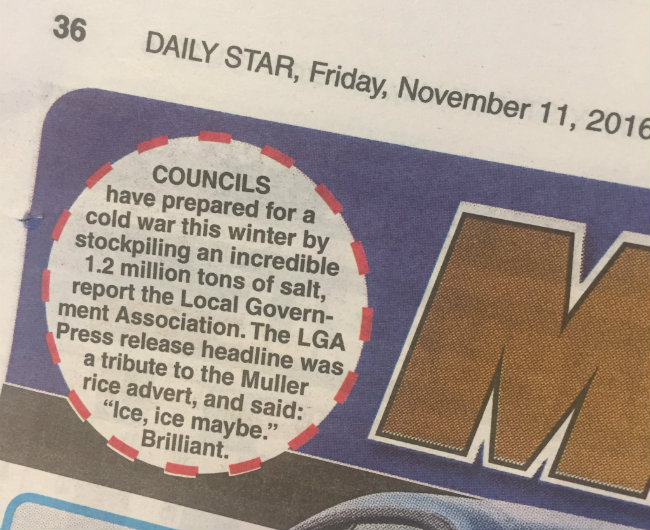 It's not brain surgery
This hasn't got much to do with PR, but Flack is this week considering putting in an application for a rather intriguing role it saw advertised this week - member of the non-executive steering board of the UK Space Agency.
Well, there is a bit of PR involved, given that one of the board's duties is to "advocate and advise in relation to the promotion and awareness of the work of the UK Space Agency with stakeholders and partners".
Still, it's not likely to be an easy job - the application pack stipulates the applications should have the ability to "absorb quickly complex issues about scientific, research and technological, business matters". Oh come on, it's not ro... [note to reader: you can complete this joke yourself].
…And fade to black
As Black Friday edges closer (seven days to go, folks), Flack enjoyed this spoof video about the annual pre-Christmas sales bonanza from My Voucher Codes and Frank PR, arguing with little subtlety that shopping online can be a more pleasant experience. Enjoy.


Many APPC returns, Mark
Happy birthday to Mark Glover, chair of the APPC and chief executive of Newington, who celebrated his 50th on Monday, with family, friends and colleagues.
Glover chose a rather swanky venue inside Tower Bridge to hold his birthday bash, which was attended by, among others, Fiorenzo Tagliabue, chairman of SEC Group and Havard Hughes, his vice chair at the APPC.
And here is Glover himself, flanked by these two giants of the PR and comms world.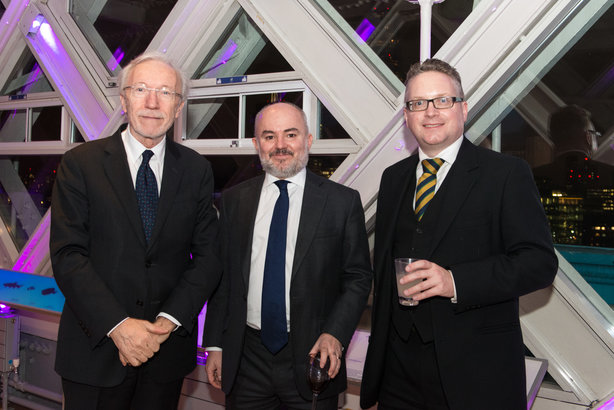 ---
Trump sign picture credit: Stephen Burrows/Alamy