If ever a person warranted the title chief enthusiasm officer, it would have to be ConAgra's 20-year CPG comms veteran Jon Harris.
Following SVP and chief communications officer Harris around the food company's bright new corporate HQ at the Merchandise Mart in central Chicago involves numerous stops to say "Hi" to everyone from the in-house coffee shop staff to CEO Sean Connolly, accompanied by hugs and jokes.
On this day, a demonstration of a new range of P.F. Chang's dipping sauces is taking place in ConAgra's test kitchen, located squarely in the middle of the main floor. Harris mixes easily with the chefs and kitchen assistants, tasting the dips with other staffers.
For Connolly, it was a case of getting the old gang back together when he appointed Harris to the top comms role in August 2015. The duo worked together before at Sara Lee/Hillshire Brands, along with SVP of strategy and business development Brian Davison, who joined ConAgra this August.
"Sean has more than 25 years of experience. It's a blessing to work with a CEO who's a natural communicator and believes in what we do," says Harris.
Connolly also shared high praise for his colleague.
"Jon is one of a kind. He is not only a great communicator, but a fantastic strategic business partner and counselor," Connolly explains. "When looking at the major changes planned, I knew that outstanding communication would be paramount to the successful transformation of our company and culture. And Jon's the right person for the job."
Déjà vu
At Hillshire, the CEO oversaw a similar turnaround and restructuring process to what he's undertaking at ConAgra. The former Sara Lee split in two, with the Douwe Egberts coffee business farmed off in 2012 and remaining operations becoming Hillshire Brands. Hillshire was sold to Tyson Foods in 2014 and ceased trading separately on the stock exchange.
It's always difficult when you're downsizing, but it was the best decision for the business

Jon Harris, ConAgra

"We generated tremendous shareholder value by splitting the company in two," notes Harris. "We learned you cannot communicate enough with your key constituents during times of change. You need to take them on a journey and sell your story every step of the way, from strategy to tactics to results."
On November 10, 2016, the $2.9 billion revenue Boise, Idaho-based frozen potato business Lamb Weston was spun off from the now $8 billion ConAgra consumer and commercial foods business. The two will also trade as separate public companies, with ConAgra Foods morphing into ConAgra Brands.
"Sara Lee/Hillshire was always externally focused, but ConAgra was not," explains Harris. "Most comms efforts focused internally. But in times of great change, you also need to earn the trust of your key audiences, be responsible, accessible, available, and truly be a chief storyteller."
A sign of the shift in emphasis was the fact that Theresa Paulsen, who Harris replaced as head of communications, reported to human resources while he reports directly to Connolly.
"We created a winning culture at Hillshire that led to the Tyson sale," recalls Harris. "We knew the power of communications and making sure everyone was up to speed on progress and knew their role in the success of the company."
The ConAgra split is the latest part of a process of simplification and discipline Connolly instigated when he took over. He unveiled a controversial $300 million cost-savings plan late in 2015, in which ConAgra reduced its workforce by 30%, trimming about 1,500 positions in its Omaha, Nebraska, heartland, leaving 2,000 jobs in the city and at a nearby plant.
Look online, and there are plenty of ill feelings about the cuts and move away from Nebraska, with Connolly and Harris each receiving blame. Harris increased comms efforts there to emphasize it is still ConAgra's largest employer area, and the company aims to replicate the fresh Chicago vibe in Omaha.
"The toughest part was making sure employees understood why we moved our HQ to Chicago after 93 years," Harris explains. "It's always difficult when you're downsizing, but it was the best decision for the business."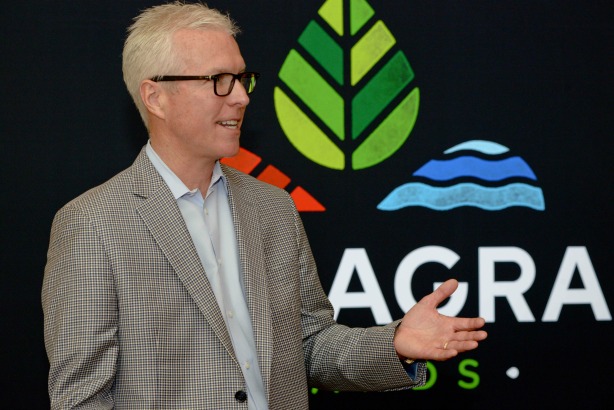 Connolly hired Harris at ConAgra after working alongside him at Sara Lee/Hillshire
Three hundred positions also migrated to the new HQ in June — bringing the total to 550 associates — from the company's consumer business previously managed out of Naperville, Illinois, an hour southwest of the Windy City.
Looking to the future
Harris says ConAgra consolidated in Chicago because of the great food and CPG talent in the area. It was also under pressure from activist shareholder Jana Partners, which believed ConAgra had botched its $5 billion — $6.8 billion including debt — acquisition of white-label food company Ralcorp in 2013 and was underperforming.
Positioned as a key strategic pillar of ConAgra's success, the food manufacturer learned it wouldn't provide the growth needed. ConAgra's new leadership sold the former Ralcorp operations to TreeHouse in February for a marked-down $2.7 billion.
On the comms side, Harris also raided his old employer for talent to help the turnaround, which would need to be achieved with a 40% lower comms budget after the cost-savings plan. The brand's former director of corporate comms, Mike Cummins, joined ConAgra in April as VP of corporate comms.
At an October event, ConAgra hosted 260 investors and analysts to pitch the future of the company and why it is a compelling investment opportunity.
"We told them we were going to unlock the potential of the company in its totality," Harris notes. "For a decade, our performance had been inconsistent and we needed to change that."
Harris adds, after 18 months of steady progress, "We're no longer the ConAgra Foods of the past — we are the ConAgra Brands of the future, a different company with significant potential."
As he explains, the company operates in a dynamic sector and has a high-profile portfolio of 49 brands, including iconic names such as PAM, Hunt's, Banquet, Orville Redenbacher's, and Marie Callender's, but it had underinvested and under supported them.
"PAM gives us 98% U.S. household penetration," notes Harris. "And we compete in all four day parts — breakfast, lunch, dinner, and snacks."
The roots of ConAgra lie in agriculture, and that continued until the 1970s, when it became a diversified conglomerate. Now, it will be a pure-play house of brands, encompassing grocery and snacks, refrigerated and frozen, food services, and international.
Employees used to be the last to know. Now, we want them up to speed with our mission and values

Jon Harris, ConAgra

"The keys to our success are focus, discipline, and culture. Culture is a particular driving force, and my group supports and reflects those objectives," he adds. "We're in a good position to reshape our portfolio. Some brands are growth driven, some we manage for cash, and some we have to decide whether to keep or if they'd be better off in other hands."
But the company isn't just in disposal mode. An eye-catching acquisition in September was Rick Bayless' gourmet Mexican foods company Frontera Foods, a more premium and contemporary brand than those typically associated with ConAgra. "It wasn't large, but it was important," notes Harris.
However, only two brands were actually created and started at ConAgra — Healthy Choice and Wicked Kitchen. The rest were acquired.
"Our goal is to create new brands, but also make acquisitions where it makes sense," explains Harris. "We also want to unleash the potential of our core brands through true innovation. And we want our comms function to mirror that innovation."
That drive is demonstrated by innovations such as organic Hunt's tomatoes that haven't been genetically modified; dairy-free Reddi-wip made with coconut and almond milk; and PAM cooking oil in a see-through squirt bottle instead of an aerosol can.
ConAgra didn't have a marcomms function when Harris joined. He now works closely with chief growth officer Darren Serrao, who took the newly created post in August 2015 and oversees marketing. "The brand PR function led by Lanie Friedman is involved in all ConAgra's key brand marketing," says Harris.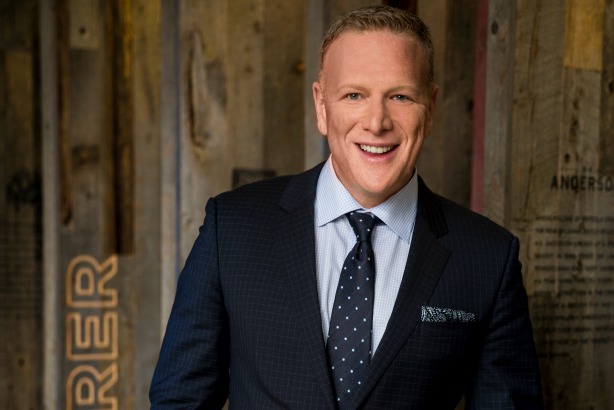 Collaboration is key
Building a new culture is especially important. A lot of effort went into creating a collaborative working environment at the Chicago HQ. A "Founders' Wall" celebrates entrepreneurs such as Marie Callender, the Hunt brothers, and Orville Redenbacher, creators of ConAgra's best-known brands.
"We want everyone to think like an owner," notes Harris. "Good ideas come from everywhere."
The Sara Lee/Hillshire experience taught Harris and Connolly the need to act fast, and many decisions implemented quickly at ConAgra took much longer in their previous incarnation.
"You need to be strategic, but also make timely decisions, from spinning off organizations to acquisitions to talent," explains Harris. "In the past, employees were the last to know. Now, we want them up to speed with our mission and values."
Newly acquired Frontera will launch a line extension within 100 days of joining ConAgra, something Harris says was unheard of previously and unusual anywhere in the CPG space.
Asked if the endgame is to sell the transformed company à la Hillshire, Harris is cagey, though you sense the answer is "yes."
"We'll always do what's in the best interests of shareholders," he notes. "We're focused on making this a long-term, pure-play company."
Even Barry Rosenstein, managing partner and co-portfolio manager at Jana Partners, started talking positively about ConAgra, and the company's stock price rose after the investor day.
"For years, ConAgra was 'on sale' brands," Harris explains. "It was couponing. You don't get a loyal consumer base because they'll buy whatever's on sale."
The organization now focuses on value creation rather than volume.
"Until recently, Banquet was selling for the same price as in 1968," notes Harris. "We've revamped the ingredients, recipes, and packaging, and there's no reason this brand shouldn't be valued more by the consumer."
Selling the private brands business, splitting the company in two, moving HQ to Chicago, and embedding a new leadership team has meant few dull moments for Harris since he arrived, but he is relentless in his positivity.
"We refuse to lose," says Harris. And somehow you know he means it.
As seen on TV
In July 2014 — between stints at Hillshire and ConAgra — Harris got involved in NBC-Universal's The Meredith Vieira Show.
A trained musician and singer, Harris played Huck Finn in a Kodak commercial when he was 12 and has appeared on shows including Today, The Ellen DeGeneres Show, Steve Harvey, Rachael Ray, and Giuliana and Bill.
"I was asked by a dear friend," he says. "It was quite a departure from the past 20 years, but a great opportunity for something different."
Harris supported and executed the launch of the show and secured more than $1 million in corporate partnerships. He had an on-camera role as a news correspondent and personality, but left in December 2014.
"I had a blast," notes Harris. "It was exciting to work at 30 Rock and understand what goes into creating a daytime show."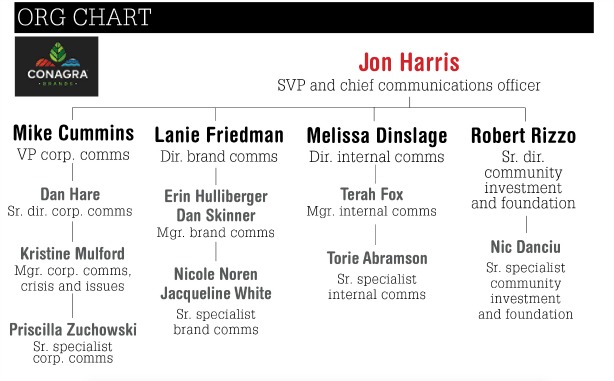 Résumé
August 2015-present ConAgra Brands, SVP and CCO
July-December 2014 NBCUniversal, news correspondent/announcer, The Meredith Vieira Show
May 2014- August 2015 Jon Harris & Associates, founder and CEO
2012-2014 The Hillshire Brands Co., CCO
2005-2012 Sara Lee Corp., SVP, global communications
2001-2005 Bally Total Fitness, VP, media development and communications
1999-2001 OurHouse, director, media development and communications
1995-1999 PepsiCo, senior manager, global public affairs
1992-1995 Ketchum, account supervisor
1990-1992 Medicus NY, SAE