This is according to the latest salary survey by PR and comms recruitment agency JFL, which surveyed 500 people and found that Brexit has been responsible for a rise in requirements for employees with in-depth political knowledge and cross-party networks.
Looking at the earning potential, public affairs agency MDs can expect to earn £135,000 on average, which is in comparison to £120,000 per year for their in-house counterparts.
However, these figures are well below MDs within the corporate PR space, who can expect to earn £155,000 per year on average within an agency, while their in-house counterparts can expect to earn slightly less at £150,000.
For consumer PR, top salaries are the same for agency and in-house bosses, who can expect to earn £125,000 per year on average.

Despite salaries generally increasing across all senior levels, wages have not changed a great deal over the past 12 months. For instance, managing directors in consumer agencies could have expected to earn £120,000 last year, with the same being said for their in-house counterparts. Meanwhile, managing directors within corporate PR agencies have seen their salaries increase £5,000 on average since last year.
Elsewhere, junior salaries across all disciplines have increased, including across consumer PR, where entry-level wages have increased by £2,000 per year on average against last year's survey.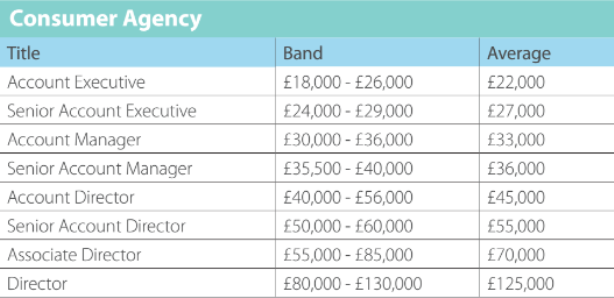 Despite some positivity, however, Brexit is creating an air of uncertainty among PRs. For example, there are fears that clients will cut their budgets, which could lead to smaller retainers and pay freezes.
Of the 500 people surveyed, only half said they had received a salary increase in 2016, while four per cent experienced a reduction.
Other findings include:
Over 60 per cent of respondents said the gender pay gap was a major industry issue, with PRCA director general Francis Ingham saying the time for "warm words and good intentions" is over
Nearly half of respondents have had or expect to be paid a bonus this year, with those at director-level averaging bonuses of £10,000
Just over half of in-house staff are offered flexible working, with 35 per cent of agency staff being offered this benefit
Well over half of those surveyed said they have received a mobile phone, tablet or laptop as a work benefit
Almost 80 per cent said they receive a pension. Broken down, 87 per cent of in-house staff receive this benefit, whereas only 67 per cent of agency staff are offered one
Like last year, agencies tend to offer more 'soft benefits', such as birthdays off (31 per cent), which is in comparison to eight per cent in-house
Friday drinks are also more prevalent within agencies, with 53 per cent offering this benefit, compared to just 11 per cent in-house.