This week, many were shocked at Donald Trump's victory over Hillary Clinton. After seeing poll, after poll, after poll showing that even with late gains in recent weeks by Trump, Clinton would still take the presidency. Well, except for the USC/Los Angeles Times poll, which did things a little bit differently than most of the others.
However, let's step away from politics here, as that's not really the focus of this column. Let's look more at the fact that an accepted set of methodologies for analysis of data failed to assist a group of professionals - our media and political system - to do their jobs properly and adapt accordingly. If you look at the political industry, just as you would your own as public relations professional, you should realize that adaptation is needed. Will all polls be dramatically wrong in the future if the industry did nothing? Probably not, as they do have a decent amount of historical know-how on their side. Is there now that shred of doubt, like a team coming back from 3-0 down (for the first time ever) in a playoff series as the Boston Red Sox did against the New York Yankees in 2004?
For those who make a living using polling data every single day? There had better be.
In my first PRWeek column published in May 2009, I wrote about how PR professionals were adjusting to who the influencers of the day were, and how there was a sea change in who was being seen as valuable by key clients. This is really no different. If you're someone who makes a living gathering polling data - or data of any type, really - it's key to start looking at the mechanisms through which that data was gathered. Heck, replace the Democratic and Republican candidates' names with "Apple" and "Android" and you could come up with a scenario where using one various means to gather intel on those two audiences could be flawed, simply due to the habits - digital or otherwise - of the "fans" of each of those platforms.
None of our data is going to be perfect. In fact, sometimes just looking at your data a little more closely - as the USC/LAT poll did to add some unique weighting - can lead you to adjust your thinking. For instance, the concept of "micro influencers" (read: not huge celebrities) being more valuable to spread brand messages on social media platforms probably seems a bit more obvious to a lot of us as 2016 comes to a close, but this was something that many agencies and clients alike threw to the curb for awhile. Part of that is because identifying them is a lot more challenging, and more challenging work means more time spent, which can increase costs or require additional staffing.
No one said that being a professional communicator would be easy. As times change, so do the tools, and so must the strategies. We all need to be smart enough to be able to look at our mistakes - or how we gathered the intelligence to make those mistakes - and truly determine how to alter our courses to not make them again. This isn't about abandoning ship on our methods and mechanisms, although that should never be out of the question. It's about having our heads on a swivel and not looking at potential issues as red flags or issues to dust under the rug.
American political parties saw Nate Silver's FiveThirtyEight take the data world by storm in 2008, and that world made adjustments. Eight years later, FiveThirtyEight's prediction of the 2016 U.S. presidential election was incorrect. Certainly, that organization will continue evaluating how this happened, and the pollsters will adapt, as will the political parties that rely on them.
It's almost a new year, and what better time to take a look at what data you're making business decisions with, and make sure that you're analyzing and gathering it in the most effective way. You never know what you'll predict to help your cause.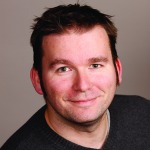 Tom Biro resides in Seattle and is an independent communications professional. His column focuses on how digital media affects and shifts PR. He can be reached at tom@companywidememo.com or on Twitter @tombiro.