Marshall Manson, an American who took the top job in Ogilvy PR's London operation last year, was speaking about an initiative across the wider Ogilvy group to ensure its staff better appreciate the concerns and perspectives of the country as a whole, not just those of Londoners.
He said: "Sitting in our ivory towers on the banks of the Thames, we try to develop ideas that will connect our clients with audiences across Britain... but too often, our work is based on insights that are too Shoreditch and too rooted in a world view that's either unfamiliar or uncomfortable to people beyond the M25."
Manson said that the ultimate risk was that "the attitudes reflected in our work can be superior, preachy, and even snobbish".
Ogilvy has produced research outlining this disconnect, showing for example that non-Londoners, and particularly those who voted for the UK to leave the EU, are unlikely to feel they can relate to people living in London.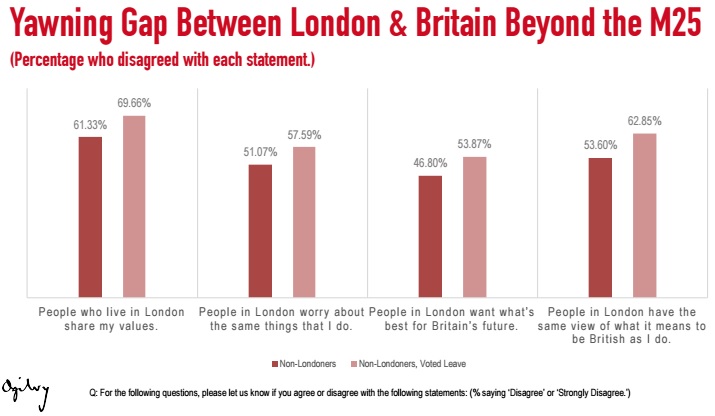 They also show that 53 per cent of non-Londoners who voted 'leave' agreed that people from elsewhere in the EU who live in the UK have "generally had a negative impact on Britain" - although this figure is far lower for Commonwealth immigrants (34 per cent).
Another finding of the poll of 1,000 UK consumers (750 coming from outside London) found that 'leave'-voting non-Londoners are nearly three times as likely as London 'remain' voters to feel optimistic about Britain's future.
Manson said of the push to understand non-metropolitan attitudes: "In practice, that means putting more miles on our cars and fewer on our keyboards. We need to get out of the office and out of London, and spend less time with people like ourselves and more time with people aren't like us at all. With those insights in hand, we can consider how we can help our clients connect better."
"If Brexit hadn't driven this lesson home firmly enough, then the results from US election make them more imperative than ever," Manson went on to say.