Ingham wins with Trump
Connect Communications - the public affairs agency jointly led by former Labour MP Andy Sawford - held a US election night party in their Millbank Tower office as the counts came through.
One of those turning up in black tie following the PRCA National Awards on the same night was PRCA chief Francis Ingham, who Sawford described in an address to attendees as "the UK's biggest Trump fan".
"I suspect he may not actually be the UK's biggest Trump fan but I enjoyed teasing him," Sawford said.
It turns out Ingham was a fan for a particular reason - he had staked £2,000 on a Trump victory two weeks prior, when odds were high enough (this was before the latest FBI disclosure on Clinton's email indiscretions) that he eventually won a five-figure sum from Trump's victory.
What will he be doing with the winnings? Splashing out on a holiday to catch some winter sun, he tells Flack - perhaps to Florida, or maybe Mexico. To see the Great Wall under construction, presumably.
Thanks to @Connect_Comms for having us along at the election night party. Here's me saying the polls are wrong... pic.twitter.com/Spz3npNjF0

— Francis Ingham (@PRCAIngham) November 10, 2016
Bad day to bury good news?
Acknowledged understatement of the week from Channel 4's press office: Flack received a press release on Wednesday morning about the broadcaster's Paralympics campaign winning at the PromaxBDA UK conference awards. The PR pro, presumably holding out little hope of coverage as the world's eyes were fixed on America, noted, dryly: "It's not as if there's anything else going on in the news today." Quite.
Liverpool's high press (man)
The seemingly jovial relationship between Liverpool boss Jurgen Klopp and the club's press officer is one that has pricked Flack's radar-like ears up before, with the Reds manager blaming Matt McCann for teaching him English expletives but clearly forgetting to warn him not to use them on live TV.
At last week's pre-match press conference, prior to the Reds taking on Watford, Klopp was at it again. When asked about the corresponding fixture last year, in which Liverpool were on the wrong end of a 3-0 drubbing, the eccentric German replied (with a nod, a wink, a nudge and a smirk): "The best thing about Watford away last year was the Christmas party that night. He [pointing to the press officer] enjoyed it!"
Flack has absolutely no idea what Klopp could have been referring to, but will be issuing the table-topping LFC gaffer with a one-match ban for bringing the PR game into disrepute…
Drug habits and playlist performance
This week Flack was invited to Bite Live, an event hosted by market intelligence provider creativebrief, which threw up some entertaining episodes.
At one point Rory Sutherland, vice chairman at Ogilvy and Mather Group, explained why he prefers to buy branded medicine over cheaper generics – despite them containing the exact same ingredients: "I haven't got a 15p headache; I've got a £3.50 headache." Flack was at the PRCA Awards the night before, and can certainly relate.
Elsewhere, Spotify's new head of consumer marketing Karen Staughton discussed how people use the service to create playlists that "soundtrack their lives". Staughton said the "let's get it on" compilations were the most amusing to sift through – mainly because "they are usually between three and eight minutes long".
Take from that what you will, folks.
Australians couldn't give a XXXX…
Now Flack's cork-hat-wearing cousins from Down Under are not known for their shy, reserved nature. In fact, during the 1980s Aussie beer brands won awards for brash, edgy advertising that rarely let political correctness get in the way of a good giggle:
In retrospect, though, even those controversial campaigns seem pretty tame when compared to an offering this week from unofficial* Northern Territory tourism group, NT Official (what?), which made even Flack's bloodshot eyes water: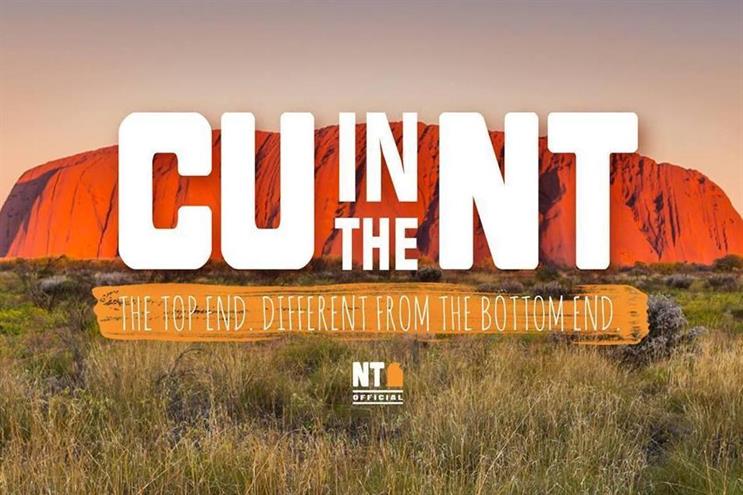 A spokesman for the campaign said: "CU in the NT is an independent underground campaign designed to bring attention to the unique Northern Territory." Mission accomplished.
* The official tourism board for the Northern Territory, Tourism NT (what?) has (unsurprisingly) made it clear it has nothing to do with anything like this, ever.
Is the rise of content proportional to the demise of journalism?
Flack attended the screening of the new Sainsbury's Christmas campaign yesterday evening at a swish London hotel (hush, our lips are sealed until Monday morning because Flack has signed his life away on an NDA). While availing oneself of the tasty canapés and a glass of fizz, Flack spoke with a seasoned reporter from the Daily Mail and the conversation quickly turned to the managed decline of print journalism.
Still, Flack told the man from the Mail, at least you work for a media outlet that boasts the most-read news website in the world - so jobs are surely safe(r)? Yes, he confided, but margins are extremely tight, which means job security remains elusive.
Flack mused later that the excellent content created by Sainsbury's, and John Lewis earlier this week, will doubtless be consumed with the same enthusiasm as any news content created by a paid-for media outlet. How is this sustainable for the media in the long-term?