The campaign, created by Cohn & Wolfe alongside Barclays' in-house PR team, features Barclays Digital Development Index, which was rolled out during the summer.
The Index is aimed at identifying gaps in the UK's digital skills across each generation. Barclays UK CEO Ashok Vaswani used the campaign as a platform to discuss the potential implications of Brexit and the need for the UK to stay ahead of its global competition.
"We want the UK to be the most digitally savvy nation on earth," he said in a statement on the bank's website.
As a result of the launch, more than 200 pieces of coverage were generated in July including a letter to the editor of The Telegraph, a piece in The Guardian (see image below) and an interview on Sky News.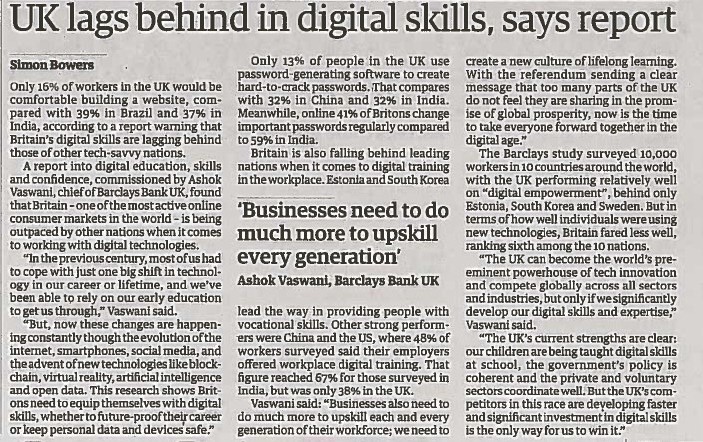 The campaign also won the support of Ed Vaizey, who was minister for culture & digital economy until July this year.
To help the UK prosper in the Digital Age, @Barclays has launched its Digital Development Index https://t.co/5ofQMN8sD8

— Ed Vaizey (@edvaizey) 20 July 2016
The programme is now being developed for a second year, and is expected to play a major role in Barclays' corporate communications, as well as the way it approaches digital skills with its customers, Cohn & Wolfe said.
Elsewhere, the project also included Barclays' Eagle Labs initiative, which launched in March and is designed to offer entrepreneurs and start-ups access to workspaces. The Labs, located in Birmingham, Bournemouth, Brighton and Cambridge, have attracted more than 22,000 visitors across nearly 550 events so far, Cohn & Wolfe said.