What's the PR structure at KFC UK and Ireland and how do you work with the international business?
Jenny Packwood, head of brand communications We are rather loftily called the brand engagement team. Essentially we are part of the wider marketing team. I report to the marketing director. Mark Cheevers [PR executive] reports to me. Mark leads on PR, and Josh Benge [community executive] leads on social. We took a view that PR and social needed to sit within the same team because you cannot separate the two. People talk a lot now about content, but PR has always been about creating content, something that taps into what's going on in culture. That's what's going on in social as well.
What is your agency set-up?
Packwood We have Freuds, which is our PR agency for proactive and reactive press office.
Cheevers It is effectively an extension of our team. With just shy of 900 stores, it's a busy press office. There's a lot going on, it's very varied.
Benge On social, we split into the branded messages, where we're trying to push relevancy and be on-culture with our youth market – that sits with BBH; and customer care, which will be with our customer-care team, Market Force.
How do you work with the international press team?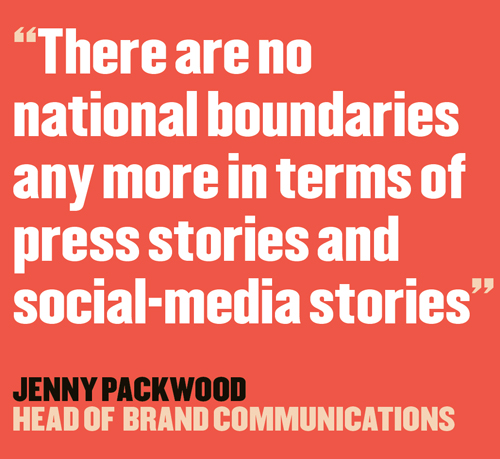 Packwood We are a business unit within the 'mothership' of Yum! Restaurants International, but we have a huge amount of autonomy to set our strategy and to act on that however we wish. But we do have an incredibly close relationship with the international [PR and social media] team. There are no national boundaries any more in terms of press stories and social-media stories.
Cheevers If there is ever an issue that we feel will travel, they will help spread the message and co-ordinate between different markets.
Benge There's a social listening tool in the US that we call the Social Hive that we will use to monitor all social, and blogs and websites and things like that, and flag anything that arises.
What are the most common press queries that you get?
Packwood Very frequent ones are about new store openings. It ranges from that to "What's your position on health and nutrition?" and questions about a product launch to issues that happen at store level. You have to love the variety.
How do you communicate with the franchisees [about three-quarters of KFC stores are run by franchisees]?
Packwood In the wider marketing team, there are 25 of us. We spend a lot of our time talking to our franchisees and have regular forums with them. That can cover anything from the direction we want to take the menu through to our strategy to build trust with the consumer, to our new pricing strategy.
How to you communicate KFC's message on health?
Packwood The case we always put across is that there's room for KFC in any kind of diet. There are bad diets, there are not bad foods. We're very transparent; we were one of the first in our sector to put calorie counts on the menu board. But you'd be surprised that some of the most popular things on the menu are not as indulgent as people think. Last year we did quite a bit of campaigning around rice boxes, trying to give people more options at lunchtime where people don't want to feel weighed down by a really big, blow-out meal.
What's the balance of proactive and reactive PR? Which takes more of your time?
Cheevers It depends on the week.
Benge It tends to be when it rains, it pours. With a brand like ours, when there's a negative story, it tends to snowball; when there's a positive story, it tends to snowball. It makes it quite exciting for us.
Packwood One of our biggest-ever positive proactive stories was when Josh put out this post [on social media] that was just a silly quirky little story inspired by the idea that gravy is our most popular side. We had this idea: why don't we play around with chocolate fountains? We put gravy in one of those and just put a post up. It exploded. Mark got it pushed out on all the national titles. It cost us a sum total of £50. It just goes to show how the world has changed.
Benge We now meet up [with people from the marketing team] once a month and talk about calendar events and what we can leverage from a social and PR point of view.
How do you feel you're treated by the media generally?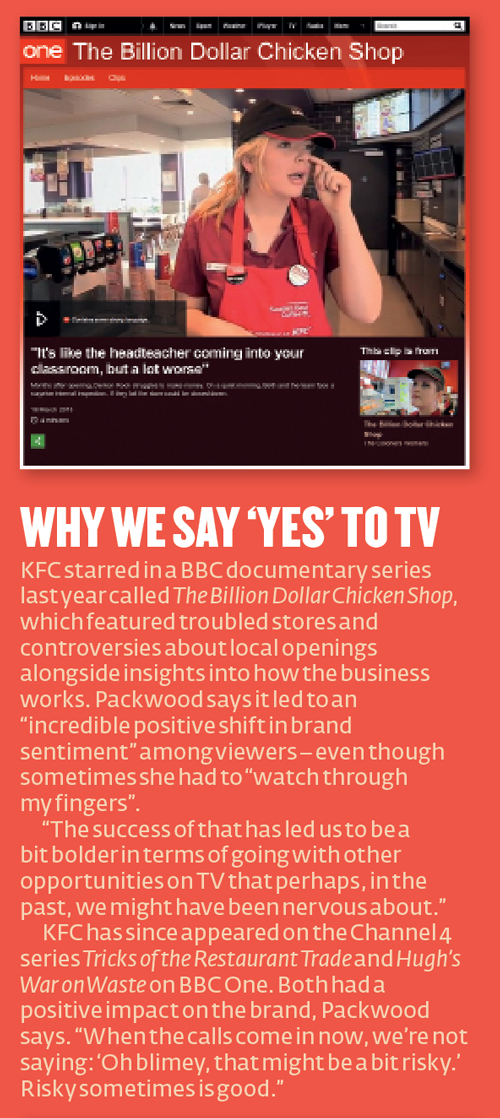 Packwood We do have a really good solid base of fans in the media, people who love KFC. One of the biggest challenges of being in our sector is that the media are very quick to bash it. What we often find is media outlets attaching our brand to a story to give it a bit more salience. It cuts both ways because sometimes it works in a positive way, like the gravy fountain.
Benge There are a lot of myths surrounding KFC and it does a lot to affect perceptions of the brand. In the US, they're starting to tackle those head-on now, going to them directly and debunking them. It's something we might do more of next year.
How do you deal with negative comments on social media alongside the more proactive, fun stuff?
Benge We split it into lower-level [and] mid-level complaints, and the serious complaints where we have to investigate. Freuds helps us quite a bit with that. We have a guidebook of potential issues that arise and know how to handle those.
Packwood The bulk of the complaints on social are [handled] by Market Force. Previously Josh himself was having to handle all the social-media issues and complaints, and that was taking up all his time. The agency took on some social agents, whom Josh spends a lot of time training, in terms of brand tone of voice and personality.
Benge We've seen positivity in our channels start to increase because of how quickly and efficiently they've been handling complaints. Our average response time now is 52 minutes, whereas previously it would have taken over a day. Cases are now resolved within a day, usually.
How do you see what you do evolving in the coming years?
Packwood The influence of social will only increase. The word we use is relevance. The biggest challenge of most consumer brands is how you stay relevant in this fast-paced world in the mind of your consumer. When I first started working it was much more about reputation. It's not that that's not important, because it is. But it's almost as though relevance is the new reputation.
What's interesting from a PR perspective is the degree to which the wider marketing disciplines are converging on our space. I think agencies are finding it hard because everyone is fighting over this new space, everyone feels they're the one best equipped to create content. Increasingly with PR stories and strategies, content or some kind of online video or creation will be at the heart of it, and that is now increasingly the case with wider marketing. We are always challenging our lead creative agency, BBH, to not just rush to a TV ad as the first solution.
Benge We're moving from being platform-led to more idea-led: 'Let's have the idea first and then we'll figure out which platform that would fit best on.' We saw an opportunity with Snapchat and jumped straight on it. We were the first QSR [quick-service restaurant] brand to launch Geofilters [customised filters] in Europe. It was incredibly successful. It was a year-wide partnership and now [Snapchat is] considering us for all [its] new products.