PRWeek's and MM&M's Health Influencer 50: 20-11
The fourth day of our Health Influencer 50 rollout features the CEOs of Allergan and Sanofi, the director of the CDC, and the FDA commissioner, among others.

#Healthinfluencer50 PRWeek's and MM&M's Health Influencer 50: list and features here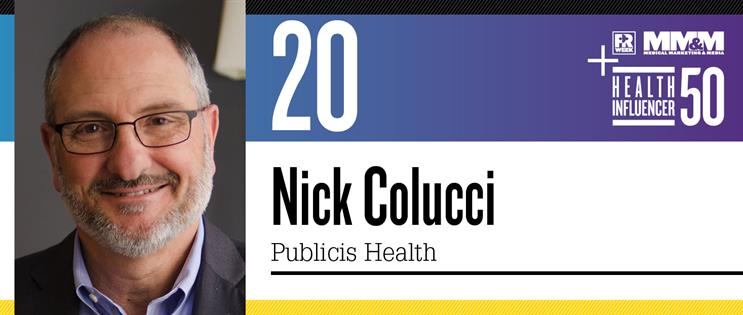 20. Nick Colucci, CEO, Publicis Health

By Kathy Delaney, global CCO, Publicis Health

There are two kinds of influencer: those who say and those who do. Nick Colucci is the latter, the kind who leads by example and demonstrates through actions what great leadership and truly impactful influence is all about.
His passion is supplemented by a tireless work ethic driven by a sense of purpose to better the world. Whether mentoring interns at Cannes Lions Health or fundraising for the American Heart Association's Wall Street Run and Heart Walk, Nick tackles everything he does with grace and joy — and inspires everyone around him.
As a longtime champion of diversity and inclusion, Nick has been outspoken about race and gender parity — not only in healthcare communications, but also within the marketing industry at large. Nick is an optimist who always seeks out the best in people — and challenges all of us to rise to being our best, most authentic selves.
Nick understands the importance of using comms to inspire and educate people to better their health. He's committed to using creativity for good and embodies what a 21st-century leader should be — accessible, genuine, and human.
––––––––––––––––––––––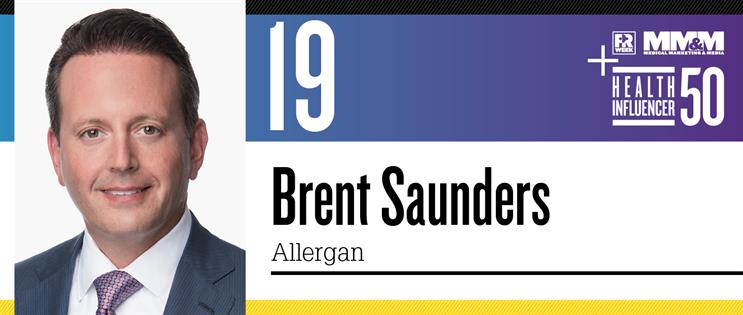 19. Brent Saunders, CEO and president, Allergan

No maker of pharmaceuticals, Allergan included, has been immune from pricing criticism. But while many of his C-suite peers went silent on the issue, Allergan CEO and president Brent Saunders responded with a plan.
In Our Social Contract With Patients, a lengthy blog post, Saunders voiced sentiments that top execs at other firms were either unwilling to say or were barred from saying by their legal and PR counsel.
Acknowledging that "it is hard to speak out publicly on this," Saunders wrote, "The healthcare industry has had a long-standing unwritten social contract with patients, physicians, policymakers, and the public. Patients understood new medicines required significant investment. At the same time companies understood they had to price medicines [to make] them accessible to patients while providing sufficient profit to encourage future investment. Predatory price increases have violated this social contract."
See also: Merck Consumer Health CMO Atilla Cansun talks about why the company is focused on preparing society for an average lifespan of 100 years.
Saunders, who led Forest Laboratories and Bausch + Lomb prior to arriving at Allergan, then articulated four principles to which Allergan has committed, among them guarantees about safe­ty and access. For lack of a more elegant way to phrase it: Saunders gets it.
––––––––––––––––––––––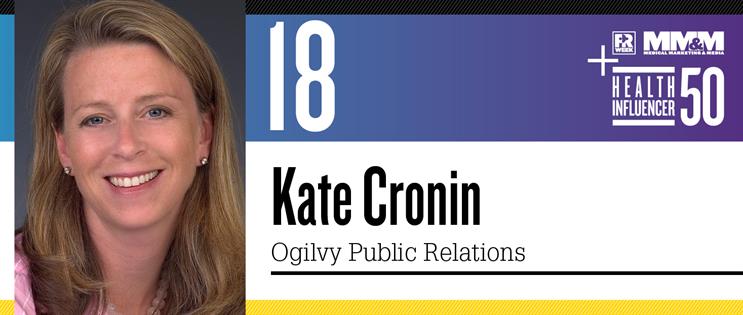 18. Kate Cronin, global MD, Ogilvy Public Relations

Kate Cronin has a knack for leading healthcare practices. Her résumé reveals a healthcare trifecta that includes some of the biggest names in the business. Her stints include head of healthcare at Porter Novelli, WPP, and currently at Ogilvy PR, where she is global MD of the healthcare practice and a board member for Ogilvy PR and Ogilvy CommonHealth.
For five years, Cronin took on a dual role at Ogilvy as MD for New York and head of the global healthcare practice, before taking on the healthcare role full time. Her career in health began on the science side, with a biology degree and position as a research associate at Weill Cornell Medicine. She made the move to PR a few years later at Porter Novelli.
Cronin is passionate about bringing more women into leadership roles. She works with several initiatives and mentoring programs. Cronin is part of WPP's mentoring program Women in Leadership and Learning, where she mentors rising female leaders in the agency. She also founded Ogilvy & Mather's women in leadership group, the Women's Leadership Professional Network.
––––––––––––––––––––––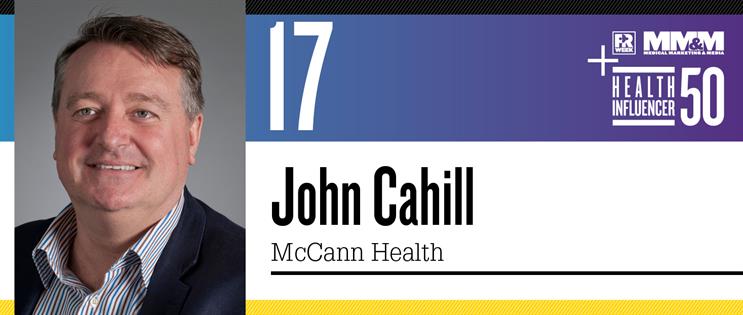 17. John Cahill, global CEO, McCann Health

John Cahill thinks big. As leader of one of the world's biggest and most highly regarded healthcare agencies, he's been at the forefront of McCann Health's march into growing and underserved markets, as well as its savvy expansion within existing ones. It's all part of a meticulous plan, as he shared with MM&M late in 2015:
"The past five years in healthcare communications were about diversification. The next 10 will be about integration and the ability to put things together in novel ways to meet the ever-evolving health and wellness landscape."
The next 10 years will be about integration and the ability to put things together to meet the evolving landscape

John Cahill, McCann Health

But don't let his big-picture pronouncements fool you: He sweats the details. Take the efforts he invests in evolving McCann Health's corporate culture, for instance, or some of the thoughts he shared with Campaign during a trip to Asia last year, when he rhapsodized about user expe­rience and the importance of "technology redefining how medicine is practiced and healthcare is delivered, particularly when the institutional infrastructure will never keep pace with the demand from health consumers."
That's not a typical CEO bird's-eye view of the business — that's the thinking of somebody still enmeshed in and enthused by the day-to-day details of the work itself.
––––––––––––––––––––––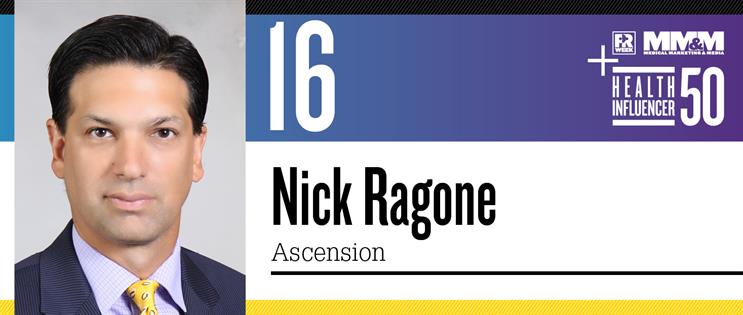 16. Nick Ragone, SVP and chief marketing and comms officer, Ascension

Nick Ragone never imagined he would serve as a CCO in the healthcare space, he told PRWeek in 2014. He approaches his career without fear, taking on new roles, or trying different things. "It's the only way to grow," he said then.
Ragone joined Ascension in 2014 after he fell in love with Ascension's mission and story. Therefore, Ragone's main day-to-day goal should be no surprise: He endeavors to shape Ascension's narrative and tell its story to a wide range of audiences. His work has clearly gone over well: He added CMO responsibilities to his role earlier this year.
See also: How Ascension's Nick Ragone is rebranding one of the biggest health systems in the U.S.
Shortly after his promotion, Ascension launched its first advertising campaign, touting a partnership with the Department of Veterans Affairs. The partnership expands the purview of the federal department's medical system to veterans who meet certain requirements but cannot easily access a VA facility. To that end, Ascension is adding 2,000 sites where veterans can receive care.
The organization worked with FleishmanHillard and GSD&M on the national cam­paign. Elements included print ads in military publications and newspapers, Google ads, and a targeted Facebook ad. Ascension also created a dedicated landing page to help veterans easily navigate the system.
Ragone's overarching longer-term goal is to develop Ascension into a national brand. Next up: a push to bring more nurses into the Ascension system.
––––––––––––––––––––––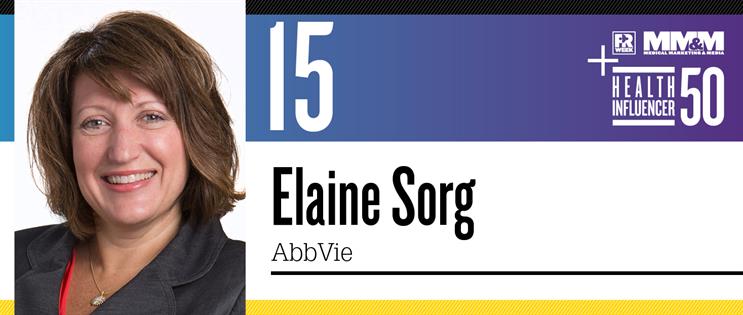 15. Elaine Sorg, VP, U.S. immunology, AbbVie

When longtime Eli Lilly executive Elaine Sorg left for AbbVie in early 2012, she knew she was walking into an unusual — and enviable — situation.
First approved by the FDA in 2002, rheumatoid arthritis, Crohn's, and plaque psoriasis drug Humira had long since evolved into a blockbuster, generating nearly $3.8 billion in sales in 2011, according to QuintilesIMS.
Sorg, who leads more than 1,000 employees, and her commercial comrades grew sales even further, from $4.23 billion in 2012 to $10.65 billion in 2015. Per QuintilesIMS, Humira ranked as the country's second-best-selling drug in 2015, behind only Gilead Sciences' hepatitis C supernova Harvoni.
Her mettle is about to be tested once again. In addition to the oncology responsibilities recently added to her charge, Sorg must stare down an existential threat to Humira. It comes in the form of competition from Amgen, whose Amjevita was approved for six of Humira's 10 indications in September.
Others will likely follow: the FDA's specific declaration that Amjevita is not interchangeable with Humira isn't likely to deter would-be competitors, nor prompt cost-conscious PBMs to shy away from favoring the lower-cost biosimilar options.
Sorg's pre-AbbVie career at Eli Lilly spanned 23 years in senior management roles, during which she led a range of brand teams across therapeutic categories. Among other assignments, she directed the company's Cymbalta efforts at a time when it was pressing for new indications.
––––––––––––––––––––––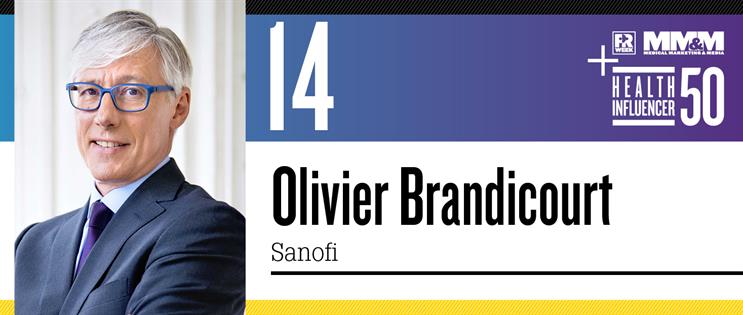 14. Olivier Brandicourt, CEO, Sanofi

Olivier Brandicourt took over as CEO of Sanofi at a turning point in the drugmaker's history. The company's previous CEO, the outspoken Chris Viehbacher, was ousted after reported tension with the Paris-based company's board.
Brandicourt, who spearheaded Pfizer's introduction of the cholesterol treatment Lipitor, the best-selling drug in history, now leads Sanofi at a time when its legacy is under siege. Sanofi, long known for its work in diabetes with its long-acting insulin Lantus, suffered a huge blow to sales when the drug's patent expired in 2015. In turn, the company has pinned its hopes on its cholesterol-lowering injection, Praluent, which has been plagued by disappointing sales.
Brandicourt restructured the company in July 2015 into five global business units (down from seven) in a move he said will "optimize growth." Part of that plan included an attempt to acquire oncology biotech Medivation. That move failed when Pfizer announced it would pay $14 billion for it in August.
Still, Brandicourt has found ways to push Sanofi into new ventures that adhere to the company's legacy in diabetes. Sanofi recently announced it would form a new startup, Onduo, with Google's parent company, Alphabet, to develop diabetes treatments. And that's not its only tech collaboration: Sanofi is also working with San Diego–based Dexcom to produce a miniature glucose monitor by 2018.
––––––––––––––––––––––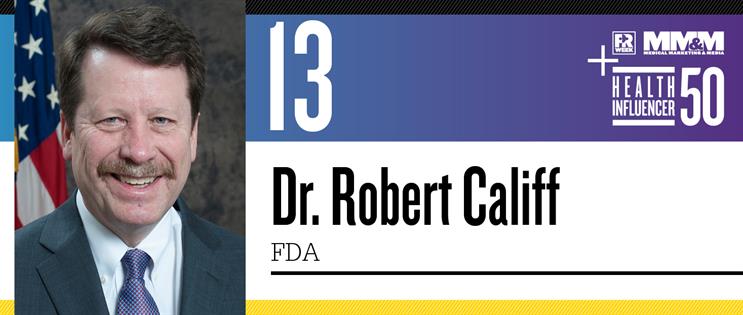 13. Dr. Robert Califf, commissioner, FDA

By Wayne Pines, healthcare president, APCO Worldwide
Dr. Robert Califf is in many aspects the ideal commissioner for this point in the FDA's history. As a highly respected clinical investigator before he joined the FDA, he is intimately familiar with the drug­development process at the precise time when fundamental changes are being implemented.
The FDA is aggressively seeking ways to incorporate patient experiences and patient tolerance for risk in the development process. In addition, there will be increased reliance on biomarkers to evaluate safety and effectiveness. These changes will not come without controversy. Robert can provide credible agencywide leadership during this transition.
He may have only a short time to make an impact. If the next president decides to replace all political appointees, his term could end as early as January 21, 2017 — giving Robert less than a year in office. He has focused his attention thus far on recruitment, which FDA watchers agree should be the top priority.
During his brief time in office, Robert has been an open, personable leader. He has reached out to many of the FDA's major constituencies with a clear delineation of his priorities. Now it remains to be seen if he has the time to build a lasting legacy.
––––––––––––––––––––––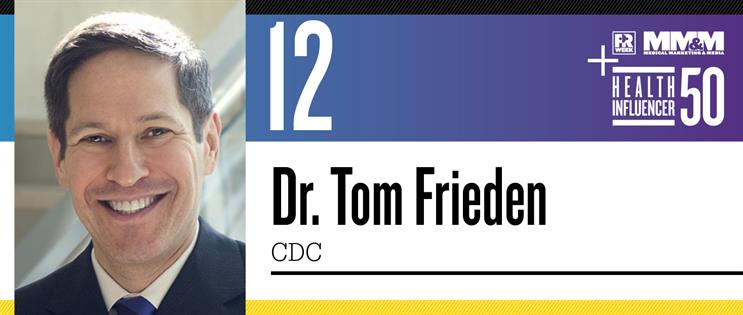 12. Dr. Tom Frieden, director, CDC

As director of the Centers for Disease Control and Prevention, Dr. Tom Frieden has served as one of the point people in the country's efforts to combat the Zika virus amid the usual partisanship on Capitol Hill. For months, Frieden has taken his battle to the press, urging Congress to set aside party differences while simultaneously warning the public of an eventual steep rise in the number of infants born with Zika-related defects.
The requested funds finally came through, but he still won the media game: Throughout, he has been portrayed as the proverbial good doctor trying to care for patients held hostage by an inept political system.
In 2014, Frieden and the CDC faced down West Africa's deadliest Ebola outbreak. It generated a mountain of coverage and public debate — yet in the end, Congress did "the right thing," he noted, to "protect Americans." Similarly, he oversaw the country's response to the H1N1 pandemic in 2009.
Prior to the CDC, Frieden was commissioner of New York City's Health Department. There he oversaw the city's efforts to reduce the number of smokers (by as many as 350,000, according to city estimates), eliminate the use of trans fats in restaurants, and require certain sellers of food to post calorie information.
––––––––––––––––––––––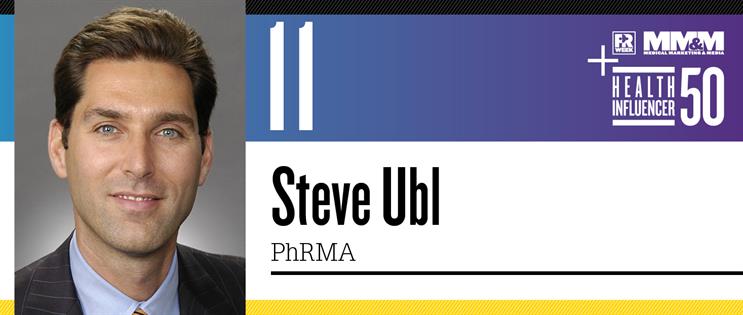 11. Steve Ubl, president and CEO, PhRMA

By J. C. Scott, senior EVP, government affairs, AdvaMed

I wasn't surprised when PRWeek reached out to tell me it was featuring Steve Ubl as one of its top health influencers for 2016. Steve has been informing and influencing the healthcare environment for years, from his beginnings as a congressional staffer turned government affairs advocate through his time leading major healthcare associations. And he has a knack for good PR.
Steve and I worked together for about five years, tackling issues such as the device tax and FDA regulations and their impact on innovation, issues that are key to creating new therapies for patients.
Steve cares about shaping healthcare policy for the better. But it's how he approaches helping people that really speaks to his character

J. C. Scott, AdvaMed

But it's not just his work to influence policymaking that stands out. When I got word my father had been diagnosed with esophageal cancer, Steve was the first one to pick up the phone and start making calls. He didn't put the phone down until we had gotten my father into the right treatment center.
Yes, Steve cares about shaping healthcare policy for the better. But it's how he approaches helping people that really speaks to his character.
Steve isn't a doctor or a researcher. He hasn't created a new technology or cured a disease. But he has had as much influence as anyone else has had in improving healthcare for patients.
––––––––––––––––––––––
PRWeek's and MM&M's Health Influencer 50 list