The concept behind the saying is simple. Whatever medium one conveys a message through is "joined" with that message, effectively adding (or subtracting) from what is said or shown through that medium.
Around the time Marshall McLuhan shared this, the number of media formats we all paid attention to were a bit more limited, though we've somewhat splintered the primary ones down a bit since that time, especially with the advent of social media. At their core, however, are the same few things we leverage today: audio, moving pictures (gifs, videos, etc.), photography, and text.
As organizations continue to evolve as news-sharing entities, "competing" for the eyeballs of customers, prospects, and other constituents has never been more important. Factors such as necessary brevity on Twitter and out-of-order posts on platforms such as Instagram have been compounded, however, by people's perceptions of those platforms. For instance, if a takeover bid for Twitter was potentially ditched because of concerns about internet trolls on its service, then do people need to reconsider how they use Twitter if certain users they're trying to reach might be frustrated or turning away from it? That's not to say people didn't like television, print advertisements, or some other medium in the past, but rather as our ability to "tune in" to a new platform has become super easy, discounting one is just as simple.
If we had a lot more space - and let's be honest, time - we could go through a flow chart of choosing how to communicate news or other information these days. It's not as simple as "let's make sure we get it on our company blog, out to our beat writers, posted to Facebook and Twitter, this week's newsletter, etc." In fact, sometimes you might communicate content in one space, and not in another, based on the perception from a variety of factors.
Back in 2012, I wrote a column about grasping how digital fits into what agencies were doing on behalf of their client partners. That is obviously still true, but we can't ever sit on our laurels and expect that we'll just keep incorporating the "new shiny" into our lexicons and toolboxes simply because we're skilled communicators. This goes beyond knowing that a great executive quote might make a superb tweet while a Facebook post about the same topic might require a different tone and visual. You need to know why those things work, and more importantly, how delivering them where you've chosen to is going to potentially add to what your intended perception is.
Photos can add value. Videos can be fantastic. Sometimes, a joke evokes the emotion you're looking for. Each of those examples put your audiences in a different state of mind, and making an educated decision on what that state of mind will be is just as critical as coming up with the best photo, video, or joke to accompany your core message.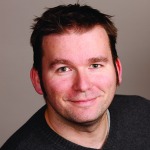 Tom Biro resides in Seattle and is an independent communications professional. His column focuses on how digital media affects and shifts PR. He can be reached at tom@companywidememo.com or on Twitter @tombiro.