BA gets very social
There was mirth aplenty in the Virgin Atlantic PR team last week, when it received an unexpected burst of promotion.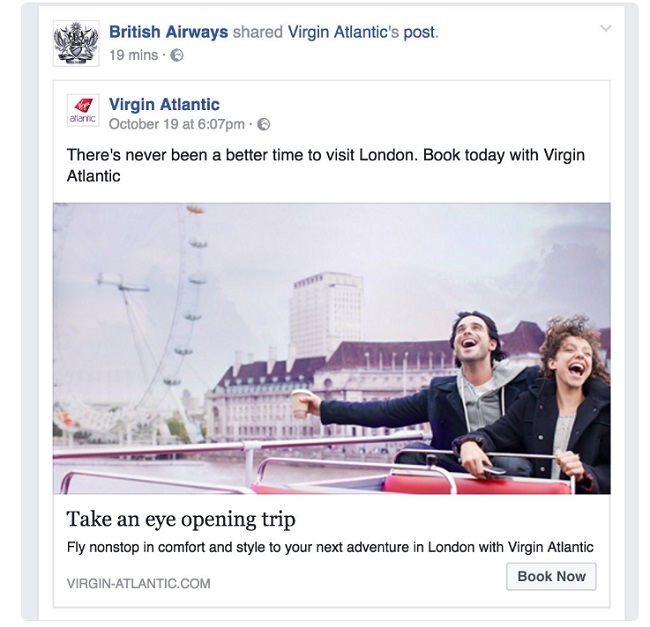 Yes, a finger belonging to a British Airways PR person had evidently slipped, sharing a Virgin post to its followers on Facebook.
Unsurprisingly, that share was soon (but not that soon - it took at least half an hour) taken down by BA. But not before Virgin could give its thanks - and several other punters could pick the appropriate emojis to express their reactions.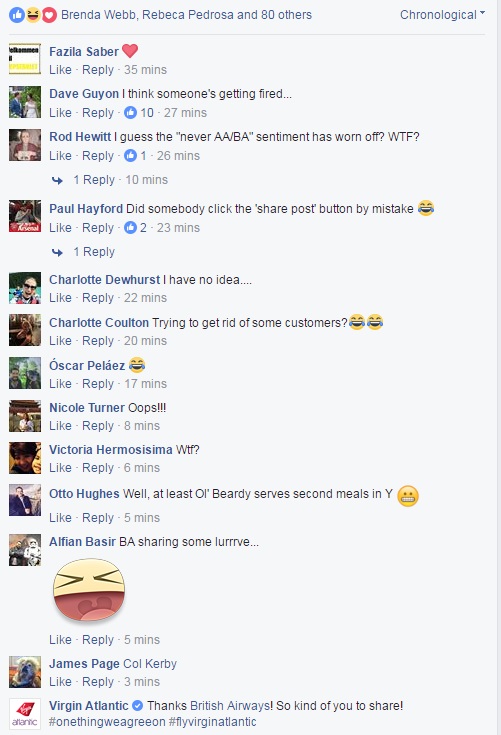 If you've enjoyed reading this, you might enjoy: Greggs & Google, BMW & Audi, Heathrow & Schiphol: When brands troll brands.
Ever fancied a Beech wedding?
The PRWeek UK Awards are always a good place to catch up with old friends, and a chat with judge Brian Beech, MD of Havas PR UK, uncovered details of nuptials that didn't quite go to plan - but did include a bit of product placement, at least.
The day before his wedding included two suitcases being lost (later found), and Beech's son being struck down with what they thought was Norovirus - Beech himself was fine, telling Flack he was "made of sterner stuff than most". The son was followed by his two new step-daughters becoming unwell, and then the new Mrs Beech being taken ill at the end of the Parisian honeymoon.
On the day of the big event, the area around the venue and hotel was inaccesible by public transport or taxi due to the RideLondon cycling event - leaving the pair bereft of any mode of transit other than their two feet - but at least this left time for a quick visit to one long-time client's local outlet. "Greggs has been a client for years. I even got my wife's wedding dress from Debenhams [with a 40 per cent discount, he added], another client. Couldn't find anything suitable from Pets at Home, another client," Beech said.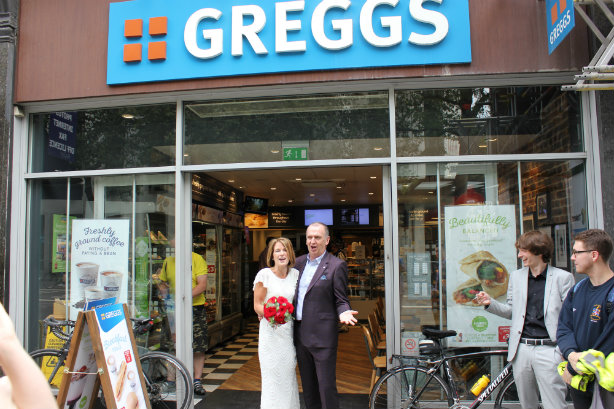 Flack wishes Brian and Fiona all the best - and plenty more happy trips to Greggs*.
(*As part of a healthy lifestyle.)
Is it Schrödinger's cat?
Now time for some 'young people these days' news. Flack's attention has been drawn to the Student Problems page on Facebook, where hundreds of students have been trying to win the mystery contents of a box.
The page - which is owned and managed by the social agency Social Chain, and is also available in Twitter, Instagram, Snapchat and website varieties - began live streaming a picture of a chest on Thursday afternoon, promising that the first person to comment on it 10 times in a row.
It proved an impossible task for at least the first few thousands people to try - a couple of hours after posting, the number of people viewing it was fluctuating around the 800 mark, and more than 133,000 people had given their attempt at commenting on it 10 times.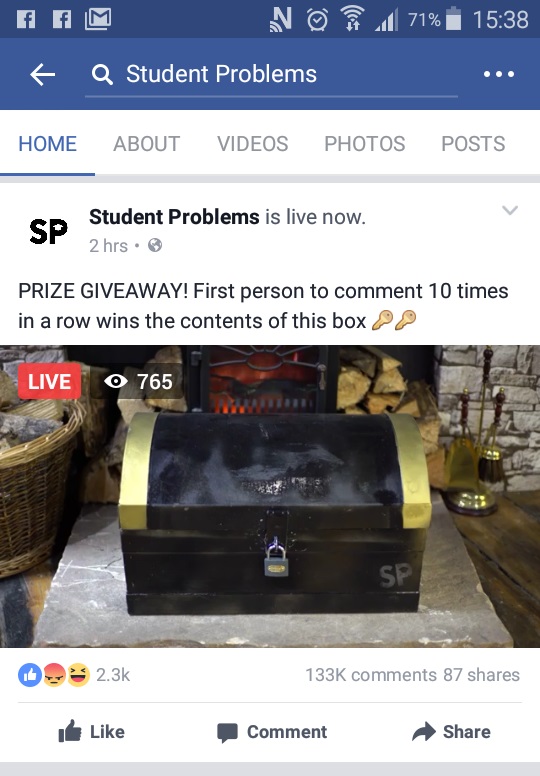 "4," commented Dominic Tinker of Maidstone, while Tanya Scott of Lincolnshire wrote: "H." Neither of those two, nor indeed anyone else, appears to have won.
All together now: "Young people these days."
Saucy sign
No words needed here really:
Inspired billboard placement... pic.twitter.com/d7ovxWmoKO

— Andrew Bloch (@AndrewBloch) October 21, 2016
W'll drink to that
Congratulations to Montana Gerry (and yes, that name is definitely that way round), who on Tuesday completed an epic feat that puts to shame last week's attempt by a man to do a gazillion burpees.
Gerry decided to give up alcohol a couple of days after W, where she is an account manager, won the mid-sized agency gong at last year's PRWeek UK Awards, and she's stayed off the wagon ever since.
In part thanks to donations from colleagues, which were matched by the agency, Gerry has far exceeded her initial £2,000 fundraising target for her chosen charity, International Justice Mission - a human rights organisation that rescues victims of violence, sexual exploitation, slavery and police brutality in the developing world.
Congrats.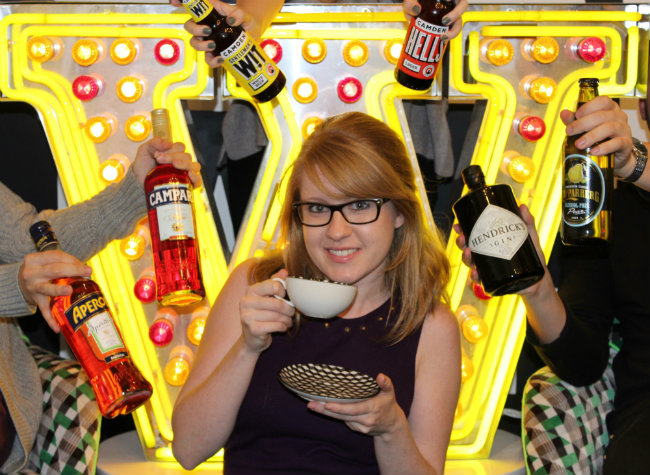 Initial reports are that Gerry's acquaintance with alcohol has been met with muted, restrained celebrations by her colleagues.
Britney Spears, Lady Gaga, and Mariah Carey bumping in the office today. Feels like a Friday celebrating @montanagerry12 drinking again

— Jeffrey Ingold (@Jefflez) October 25, 2016
Abandon ship...for the day
Here's an interesting take on flexible working from PR shop Alfred. The "Take Tuesday" scheme means you will now find the Alfred team working in a location of their choosing every Tuesday. According to the agency, the only rule is that employees can't work in the Alfred offices.
Flack wonders which bizarre locations the Alfred team members might turn up in. Time will tell.
Speaking of time (smooth segue, Flack knows), the deadline is fast-approaching to enter the PRWeek UK Best Places to Work Awards 2017. Flack is urging all agencies to get their entries in by Monday 31 October. Enter by clicking here.