Elsewhere, members of the union Unite will be serving up a "poisonous brew" in protest of pay cuts, Tesco attempts to make 'Pumpkin Day' twice as nice, and Giffgaff gets ready to open a Halloween salon.
PRWeek runs through some of the best Halloween stunts it has seen so far. Let us know if you've got anything planned...
Thorpe Park
To celebrate 15 years of its Fright Night attraction, Thorpe Park has teamed up with tattooed star Zombie Boy and the agency Taylor Herring to launch its newest scare maze, Platform 15, which is touted as the park's biggest maze.
Alongside Platform 15, the other scare mazes at the park are The Cabin in the Woods, The Blair Witch Project, Saw Alive, Big Top and Containment.
Starbucks
Starbucks, meanwhile, which is famed for its seasonal specials, is marking Halloween with the return of its #FrappulaFrappuccino - a Dracula-inspired drink that you can get throughout Halloween. The company has been promoting a film on social media to publicise the launch:
Fanta
Sticking with drinks, Fanta has teamed up with London-based graphic designer Noma Bar to create five Halloween-themed drink cans, available for a limited time.
Tipping our witch hats to these #WickedlyFantastic limited edition #halloween designs by #NomaBar. pic.twitter.com/5tO3rfIUvI

— Fanta (@fanta) 21 October 2016
Haribo
Getting into the trick-or-treating spirit, sweets company Haribo has been helping commuters at London Victoria and shoppers at Trinity shopping centre in Leeds mimic their favourite Halloween characters.
As part of the stunt, a team of 'scare scholars' have been on hand to teach adults how to speak like witches, ghouls and ghosts, before putting their training into practice. The stunt is being promoted by Open Communications.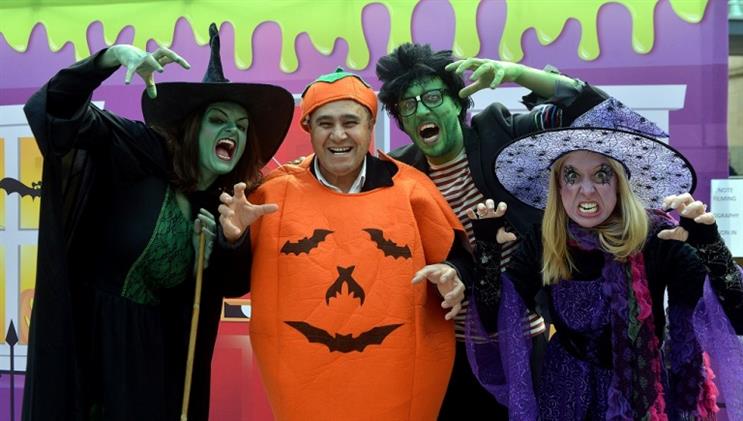 Giffgaff
Mobile network provider Giffgaff has teamed up with comms agency Mc&T and the capital's "best horror hair and make-up artists" to help Londoner's perfect their horror looks before getting into the Halloween spirit this year.
The Halloween Salon opens for one day in Soho between 4-10pm today (Friday 28 October), and also features an in-house mixology bar. According to the network provider, the salon has been inspired by its latest 'End the Nightmare' advert, which is being promoted on social media:
This Halloween. End the nightmare. #halloween pic.twitter.com/N9U7eNsCjb

— giffgaff (@giffgaff) 25 October 2016
Unite the union
On a more serious note, members of the union Unite are today (Friday 28 October) "serving up a poisonous brew" outside the Sanctuary Housing Group's headquarters in Worcester to protest imposed pay cuts to staff.
One hour to go before housing charity workers serve up a poisonous brew to callous CEO over £8,000 pay cuts https://t.co/7rJOXNhviv pic.twitter.com/UwJQQ9Riib

— Unite the union (@unitetheunion) 28 October 2016
According to the union, its members will be dressed as witches to highlight the difference between CEO David Bennett's reported salary of £320,000 and the £8,000 pay cut many frontline workers will be getting as of 1 November.
We look forward to seeing whether Bennett enjoys the concoction...
Lidl UK
Elsewhere, supermarkets have also joined in, with Lidl UK taking consumers to the world of the dead via the Lidl Monster Market.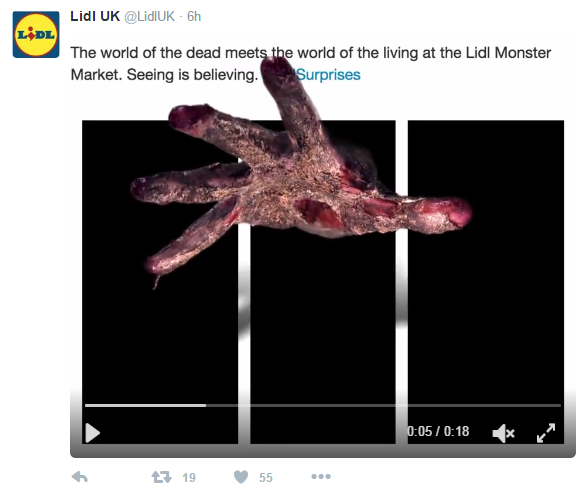 Tesco
Tesco has taken a different tone, calling on consumers to make #PumpkinDay "twice as nice" by making its double-baked pumpkin and goat's cheese recipe.