The show, which boasts an average audience of more than 10 million viewers, will move to Channel 4 next year, after the broadcaster bought the rights in September.
However, that didn't stop Britain getting on board with the BBC one last time, with many people showing their support on social media via the hashtags: #gbbo and #gbbofinal.
Whipping up anticipation for the final, GBBO judge Paul Hollywood, who will move to Channel 4 for the new version of the show, wrote a Game of Thrones-inspired Facebook post featuring the caption: 'Three bakers. One winner. Who will rise to the occasion? #GBBO. The Final'.
Tesco, Sainsbury's and Waitrose were also out in force on social media, promoting their own cake recipes via the GBBO hashtags, as well as using their own less-than-subtle versions, which included #showstopping (Waitrose) and #BakeOn (Tesco).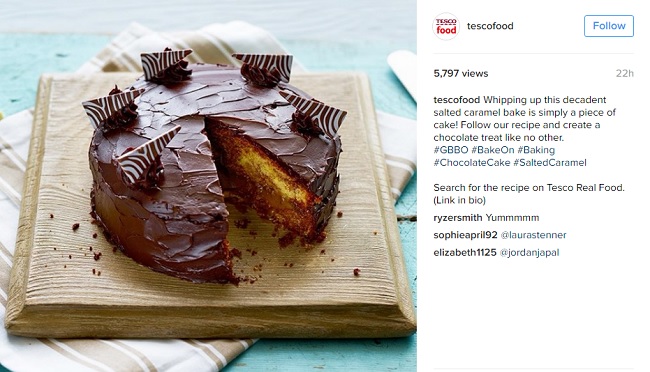 The #GBBOFinal is here! Celebrate by making this fresh raspberry and almond cake: https://t.co/NFerwJUqF7 pic.twitter.com/UPRX4luJzC

— Sainsbury's (@sainsburys) 26 October 2016
Discover our #showstopping chocolate cakes including our pistachio torte, chocolate fudge cake & honeycomb ombre: https://t.co/3v9RDMgbBD pic.twitter.com/R5Thx3M7ow

— Waitrose (@waitrose) 26 October 2016
Meanwhile, Selasi Gbormittah, a contestant on the show, posted an image on Instagram showing a number of this year's contestants. He used the hashtags #memories and #GBBOfinal. The post was liked more than 23,000 times and was picked up across Facebook, Twitter and in the national press.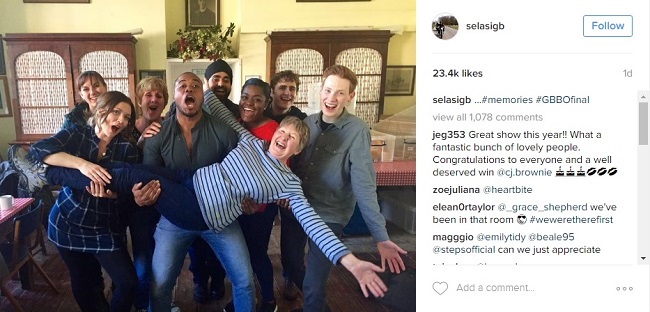 Following Brown's win, online fashion retailer Asos asked its one million followers who will be wearing lipstick tomorrow, in a tweet depicting the winner.
Hands up if you'll be wearing lipstick tomorrow?! ?????? #GBBOFinal pic.twitter.com/k22PxX4FAx

— ASOS (@ASOS) 26 October 2016
However, with the series coming to an end, the nation was also in a state of "mourning". This morning, BBC journalist Hannah Gelbart tweeted a video of a hearse pulling up outside BBC headquarters in London.
A hearse outside the BBC to mourn the passing of the #GBBO #GBBOFinal @Dungeon_London pic.twitter.com/lGkJN6Keir

— Hannah Gelbart (@hannah_gelbart) 27 October 2016
According to data compiled by social media monitoring company Brandwatch, mentions for one of the show's presenters, Sue Perkins - one half of 'Mel and Sue' - spiked at just after 8.10pm, as viewers remembered this was her last series, Brandwatch said.
A tweet by the company was accompanied with the caption: 'Roses are red, violets are blue, Bake Off won't be the same without Mel and Sue #GBBO'.
Roses are red, Violets are blue, Bake Off won't be the same Without Mel and Sue #GBBO https://t.co/IlzQdtoilv pic.twitter.com/IuY4KgLKNv

— Brandwatch React (@BW_React) 26 October 2016