A major focus of Brandwatch's Now You Know conference on Thursday was the future of social media intelligence, including insight on how brands can tell their stories to an increasingly private audience.
According to a discussion hosted by Brandwatch CMO Will McInnes, which included Fernando Polo, global CEO at the agency Good Rebels, an increasing number of social media users are pushing for privacy, meaning brands will have to change the way they reach people.
However despite this, brands using platforms such as Facebook messenger and Snapchat will have the opportunity to tap into "few-to-few" conversations on social media if they can build trust with the more private users, the panellists said.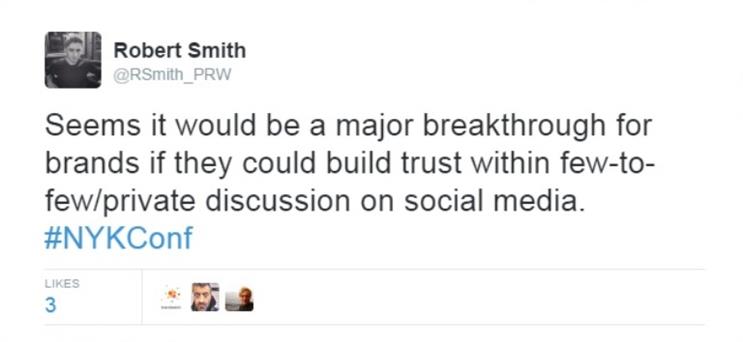 "If brands can build an appropriate level of trust, people will start opening up and allowing them into their private conversations - if they can be sure they respect their privacy," said Polo.
"We may also start to see certain brands being able to use private data owned by these social platforms," Polo added.
However, private and public data taken from social media platforms will need an increasing level of context if it is to become truly valuable to brands in the future.
This is where humans and machines will have to work more closely, said Gaelle Bertrand, head of brand insight at Kantar Media, in a separate discussion at the conference.
"We are yet to see a tool that will derive an insight from social media data, because an insight is based on cultural or contextual interpretation of the data you are seeing.
"For example, consumer opinions can't just be reduced to data points... you need to understand those opinions to get the insight you need, and a machine can't offer that service."
Bertrand said it was hard to imagine a world of social media intelligence without humans, despite automated processes gathering pace.
She said this is because social media is a very personal medium, with people posting images, emotions and jokes, for example.
"It's all about humans, that's why you need the personal touch."