Jazz man trumps dino and Portillo at Portland party
Portland went big for its 15th birthday bash - hiring the Earth Hall of the Natural History Museum.
"When did Portland buy the Death Star?," chimed one attendee of the glitzy venue's giant globe. "Is that the stairway to Portland heaven?", asked another of the escalator leading up to said orb.
.@PortlandComms keeping it simple and low key for their 15th birthday do #pr #naturalhistorymuseum pic.twitter.com/okozTCT5bb

— Sam Burne James (@samburnejames) October 20, 2016
Portland knows how to draw a crowd - among the partygoers were such names as Michael Portillo, Jo "Boris Johnson's brother" Johnson, Robert Peston, his BBC counterpart Kamal Ahmed, radio's Nick Ferrari, Flack, the comms chiefs of both the Home Office and Department for Business and the world's most complete Stegosaurus skeleton - although admittedly one of the above (guess...) was there involuntarily, having spent years nailed to a plinth in the venue.
Is Portland boss Tim Allan forever trying to tap you up, Flack mischievously enquired of Ahmed? "Oh no, no no no no, no no no. No no," he chuckled. Flack believes him, but also lost count of exactly how many times he said "no".
With the firm's senior adviser Alastair Campbell unable to make it, the mantle of the person whose work would attract most attention across the world was not there mingling and drinking, but working. The jazz band hired for the evening was led by none other than Simon Whiteside, the man who composed the music for internationally beloved TV show Downton Abbey.
Talker Tailor cliché killer
Flack admits to being a little bored of the clichés attached to many press releases these days, especially the obligatory "delighted" quotation. Hats off, then, to the folks at new PR shop Talker Tailor Trouble Maker, who outdid themselves when announcing news of new hires Ian Edmondson from the News of the World and Laura Hall, who previously led M&C Saatchi PR in New York.
Of the former, Talker Tailor co-founder Steve Strickland said: "PR's underestimate the power and importance of editorial news and the value of newspapers. Ian doesn't and that makes him fucking clever and essential to our business successes moving forward."
Fellow co-founder Gary Wheeldon described Hall as "a fierce PR queen", saying her appointment "means we get to fly to New York a lot and post pictures from Soho House like total wankers".
Not to be overshadowed, Hall herself is quoted saying: "It's because of the brilliance and bravery of Steve and Gary - my 'Ride or Die' guys - that I've tethered myself to their Gucci belts for what I know will be an incredible ride."
Good work, all. (Pictured left to right is Edmondson, Wheeldon, Strickland and Hall, in suitably exuberant pose).
Flack would be delighted/thrilled/super-excited to hear any of your industry-leading press release cliché/jargon pet hates. Tweet them to @prweekuknews with immediate effect.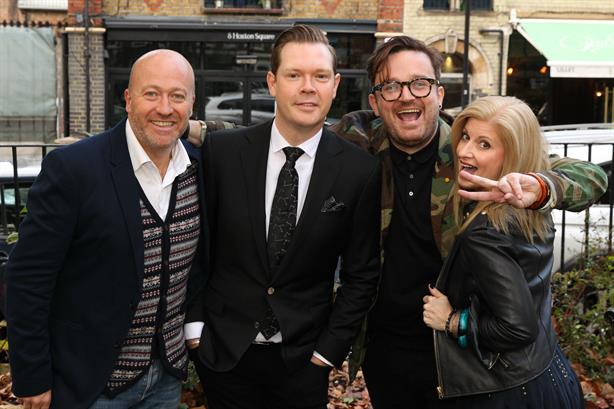 Mark Glover meets his match
Mark Glover, chair of the Association of Professional Political Consultants and founder of Newington Communication (latterly Bellenden), would surely be a formidable opponent in many an arena. But he seems to have met his match in his regular tennis partner - none other than John Bercow, the speaker of the House of Commons.
"I've never beaten him," Glover told Flack, with the look of a man plotting how to bring Bercow to order. There's always a next time...
Time for 'off the record' to go off
Flack was amused this week to see news that HMRC had got into trouble with the UK's Supreme Court after a senior official (not a PR) gave information "off the record" to journalists at The Times. The resulting privacy lawsuit, which went through the High Court, Court of Appeals and now their Supreme counterpart, might have been so easily avoided, some PR pros have suggested...
Just goes to prove me old maxim when media training - 'nothing is ever off the record', just ask big Ferg / @fergussheppard https://t.co/u23f7JHyCq

— Cormac Smith (@CormacS63) October 20, 2016
Real people shouldn't actually say 'off the record', it's only for the movies... #pr https://t.co/W29pgTFoJy

— Chris Chilton (@chrischilton) October 20, 2016
A worthy exercise...
The majority of PR party people (or maybe just Flack) probably think a burpee is some kind of impolite, hybrid after-dinner digestive issue, but for one comms professional it's something less rude, but far more painful.
Indeed, Sussex-based consultant Craig Peters is attempting multiple burpees – most easily described as a full-body exercise combining a press-up and a star jump – in an attempt to break two Guinness World Records, for the most number in 12 and 24 hours. The current records stand at, gulp, 6,800 and 10,110 respectively.
As if that wasn't enough, he has already competed over 40,000 burpees this year, and aims to complete over 67,000 in 2016 by adding one each day.
But why?, cries Flack, almost choking on its second bacon & sausage bap of the morning (Flack is still recovering from the PRWeek Awards on Tuesday night – see all the winners here).
Well, Craig is raising money for St George's Hospital, Tooting, where the lives of his twin sons were saved after they were diagnosed with twin-to-twin transfusion syndrome (TTTS). The attempt will take place in Worthing, West Sussex, from 9am on 3 December to 9am on 4 December.
His challenge has already captured worldwide attention, with Reebok donating $1,000 to the cause and sending Craig $1000 worth of training gear from Boston, US. It has also been featured in various media outlets including Men's Health magazine. And, for anyone (Flack) wondering whether all this exercise is really possible, Craig is documenting daily progress with videos on his Facebook page and on Twitter @ForTheBoysTTTS.
Flack raises a can of full-fat Coke to Craig's superhuman effort.