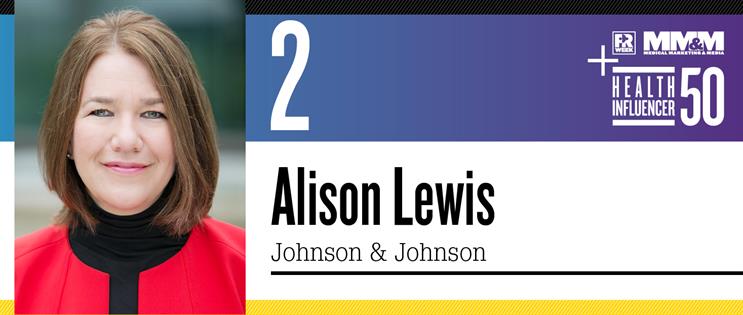 2. Alison Lewis, Global CMO consumer sector, Johnson & Johnson

Alison Lewis stepped into uncharted territory in fall 2013 when she became the first global CMO for the consumer­facing business of pharmaceutical blue-chip Johnson & Johnson.
Despite the company's reputation successes and failures, Lewis hasn't been afraid to add her own stamp. She spearheaded a brand framework, aiming to unite J&J's consumer brands across business units.
She also began an initiative to align the company's firms and holding companies more closely with its global megabrands in an effort to develop ideas that can be used more consistently around the world. Lewis oversees a 400-strong marketing unit at a company dealing with an evolving crisis stemming from lawsuits over its use of talcum powder, which plaintiffs have claimed causes cancer.
She spearheaded a brand framework, aiming to unite J&J's brands across business units.
Part of the company's strategy lies with its training and development group, which focuses on modern marketing capabilities. She also holds an all-hands-on-deck community call for J&J's marketers around the world each quarter to help staffers keep up with the pace of change.
Lewis was previously VP of strategic marketing for Coca-Cola's North American unit. The position enabled her to visit dozens of countries, and she has described it as "the best schooling in marketing." She began her career in brand management at Kraft Foods in Canada.
––––––––––––––––––––––
PRWeek's and MM&M's Health Influencer 50 list