PRWeek's and MM&M's Health Influencer 50: 30-21
The third day of our exclusive Health Influencer 50 includes the comms chiefs at leading companies such as Bayer, Abbott, Merck, and Cleveland Clinic, as well as healthcare agency leaders.

#Healthinfluencer50 PRWeek's and MM&M's Health Influencer 50: list and features here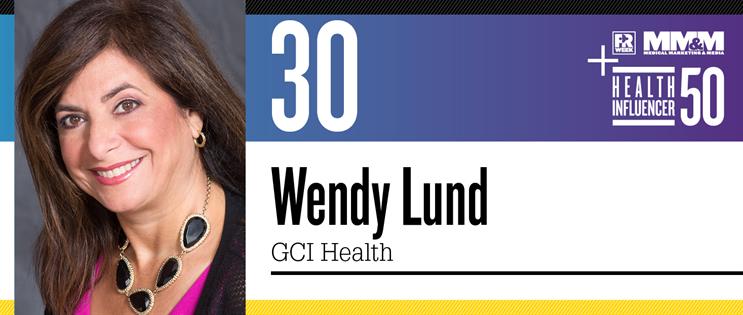 30. Wendy Lund, CEO, GCI Health
Wendy Lund said the best career advice she had ever given was, "Stick with it. It will get easier and everything is possible."
Perhaps taking her own advice led her to become GCI Health's first CEO in 2010, following the merger of Cohn & Wolfe and GCI Group. She came to the agency with more than 20 years of healthcare comms experience and has built out the agency's capabilities. Under Lund's eye, GCI Health has tripled its size and expanded its presence in Europe with the 2013 opening of a London office.
Lund began her career in the nonprofit world, giving back to the healthcare industry. She started as marketing VP for the National League for Nursing and then moved to a marketing role with Planned Parenthood. Plus, she served as a board member for the National Family Planning & Reproductive Health Association. Lund moved to the agency world in 1997 at MS&L, then to Publicis Consultants.
––––––––––––––––––––––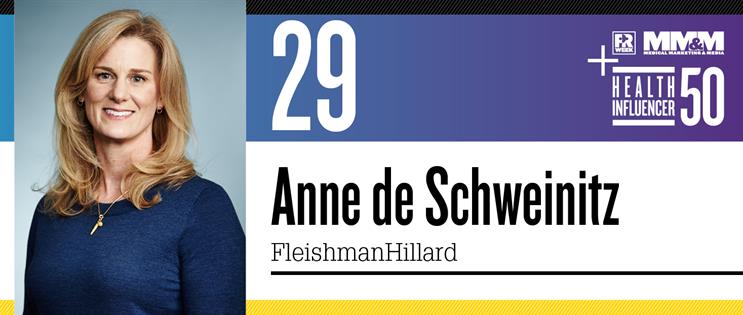 29. Anne de Schweinitz, MD, global healthcare, FleishmanHillard

Anne de Schweinitz has led FleishmanHillard's global healthcare practice since 2012. When she joined the firm, Fleishman's then EMEA president — and now CEO — John Saunders said de Schweinitz got the role because of her history of positive client relationships.
Saunders added that she "understands the importance of establishing sustainable and value-based relationships with clients."
De Schweinitz has spent more than 15 years in healthcare communications. She's worked primarily in the agency world, with roles at MS&L, Big Arrow Group, and Hill & Knowlton before joining Fleishman. She is particularly experienced in comms for biotech, medical devices, patient advocacy, and U.S. and European regulation, among other areas of healthcare.
See also: Two minutes with McKel Hill, registered dietitian, nutritionist, and founder and author of Nutrition Stripped
She also worked in comms for the University of California, San Francisco Medical Center. She has lived in San Francisco, New York, and London in her career and has spent time in Antigua, Guatemala, and Budapest.
When not running a global healthcare practice, she has a passion for arts and culture. De Schweinitz has supported New York institutions including the New York Historical Society, the Whitney Museum of American Art, and Lincoln Center for the Performing Arts.
––––––––––––––––––––––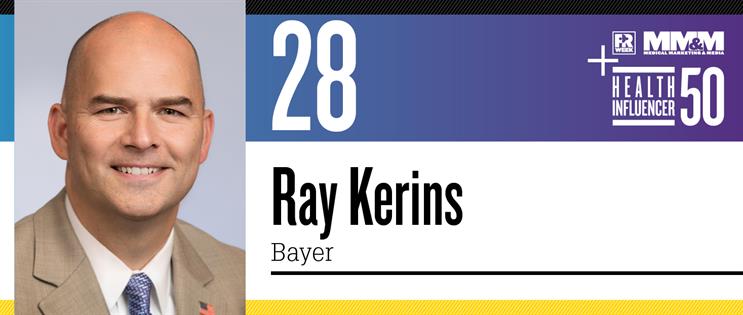 28. Ray Kerins, SVP and head of U.S. comms, government relations and policy, Bayer

Ray Kerins, who has led comms for pharmaceutical giants including Pfizer, Merck, and now Bayer for a decade, has taken an "engage-and-educate" approach to everything he does. Since joining Bayer in 2013, he has helped launch and lead a number of innovative programs, initiatives, and partnerships.
"Engagement of the stakeholder, regardless of who they are, should be your first move [as a communications head]," Kerins told PRWeek in an interview last year. "When we are not engaging, we don't know what stakeholders are thinking."
See also: Leveraging an 'engage-and-educate' approach when tackling issues, Bayer's SVP, head of comms, ensures transparency is at the heart of the legacy brand's messages
Kerins' team makes sure the "right information" about Bayer is promoted through video, historical views on a particular product, and the publication of research on products in question. However since March, he has been spearheading Bayer's fight against the Zika virus.
Indeed, Kerins handles any number of responsibilities that require him to parry scrutiny from regulators, NGOs, and consumers. He serves as chairman of Bayer's PAC and as executive sponsor of Bayer Resources for Armed Forces Veteran Employees and BLEND, a global resource for lesbian, gay, bisexual, and transgender employees and supporters.
––––––––––––––––––––––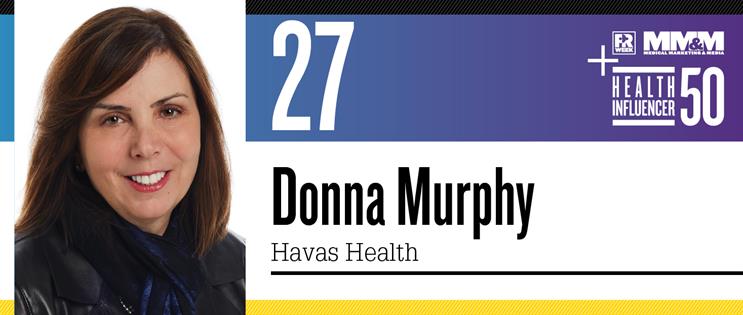 27. Donna Murphy, global CEO, Havas Health
Donna Murphy has spent much of the past year trying to better align Havas Health's capabilities with growing client demands. Judging by the company's recent maneuvers, it's a task she has embraced.
In June 2015, the firm acquired Just:: Health Communications, a London-based PR shop it renamed Havas Just::. Three months later, Havas Health launched a consultancy named Xigxag.
In November, the company picked up med-ed agency Symbiotix, a deal that added 45 employees to the agency's roster. Finally, in February 2016, Havas Health announced it would partner with Vencore Health Analytics to expand usage of Vencore's patient-finder technology, which identifies clinical trial candidates with rare diseases.
In July, Murphy told MM&M Havas Health aims to remain hyper-focused on results-oriented solutions. "We will continue to push diversification so our ability to solve problems across the complex health matrix is comprehensive and unparalleled," she said. "Changes in healthcare are not stopping, so you can be sure we won't stop, either."
––––––––––––––––––––––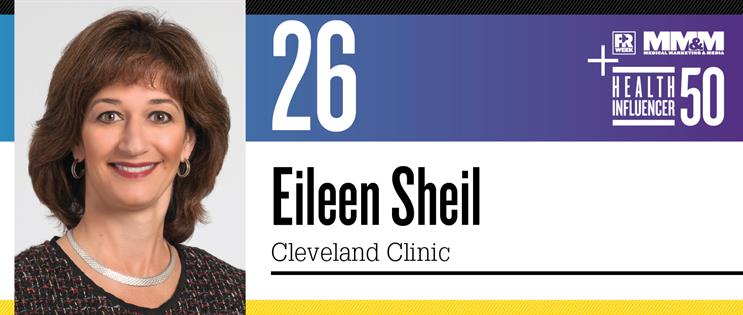 26. Eileen Sheil, executive director, corporate communications, Cleveland Clinic

By Johna Burke, EVP, BurrellesLuce
Two of the most highly considered traits of an effective communicator are "taking the complex and making it simple" and using research and measurement to guide strategy. Working in the ever-changing and incredibly complex world of healthcare, Eileen is superb at working with the media.
To the benefit of both the clinic and its patients, she embraces challenging topics. One example is the March 2016 story about America's first uterus transplant. Women facing infertility watched with eager anticipation and could clearly understand the process, challenges, and unfortunate disappointment as they followed the story and progress of this case. A technical and emotionally charged issue was communicated clearly and effectively, in no small part owing to Eileen's leadership at the Cleveland Clinic.
Eileen's comms strategy is based on research, and the clinic measures progress in outputs, outcomes, and organizational results

Johna Burke, BurrellesLuce

Her communications strategy is based on research, and the clinic measures progress in outputs, outcomes, and organizational results on an ongoing basis. She also is a global leader on the need to use research as part of communications.
I work with Eileen through AMEC, where she co-chairs the AMEC nonprofit group. Its goal is to bring better communications research and measurement to nonprofits. So her exceptional work at the Cleveland Clinic is not an anomaly, but rather a trend that reinforces the value and strength of her quiet and thoughtfulleadership style.

Her expertise and style are unmatched, whether she is promoting global nonprofit's comms efforts or clearly communicating a complex medical procedure.
––––––––––––––––––––––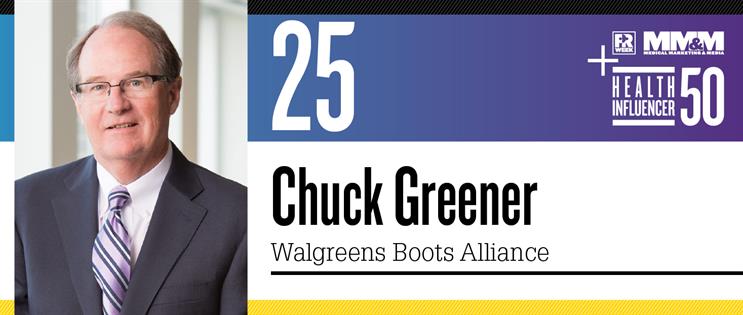 25. Chuck Greener, SVP, global communications and corporate affairs, Walgreens Boots Alliance

By Yves Romestan, SVP, communications and international affairs, Walgreens Boots Alliance

In-depth knowledge, industry expertise, and intense motivation are some of the key characteristics of any fine influencer. But the true essence of Chuck ­Greener's influence lies much deeper, starting with his ability to bridge gaps and bring people together. For me, Henry Ford's famous "Coming together is a beginning, keeping together is progress, working together is success" lies behind Chuck's influence.
Chuck is an outstanding expert in U.S. public affairs and a gifted communicator. From advising the Reagan administration to serving Walgreens Boots Alliance, Chuck has always demonstrated that effective and innovative communications has the ability to powerfully engage and empower stakeholders.
See also: Walgreens Boots Alliance's global comms team works hand in hand to balance the complexities of a merger and create a unified strategy to inspire all stakeholders.
Passionate about bringing people together and developing meaningful projects wherever he goes, Chuck always pulls it off by involving and listening to those around him, as well as by creating strong dynamics for everyone to work toward. Brilliant at public speaking, Chuck is also driven by a strong set of personal and professional values.

It is impossible to list all of Chuck's achievements, but his contribution to the successful merger of Walgreens and Alliance Boots into the formation of Walgreens Boots Alliance was outstanding. I feel privileged to know a loyal, committed, and talented gentleman I am proud to call a great friend and business partner.
––––––––––––––––––––––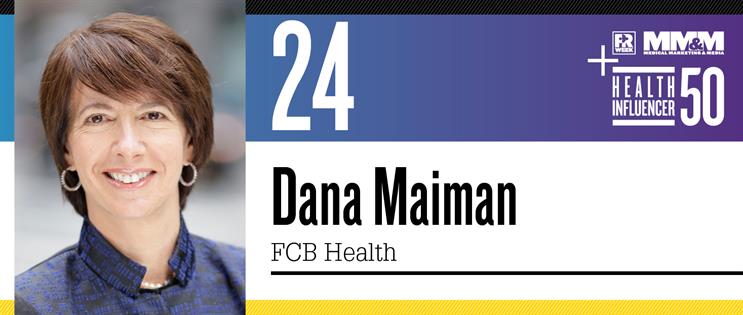 24. Dana Maiman, CEO and president, FCB Health

While no big-agency chief lacked big-picture challenges during the tumultuous past two years, FCB Health's Dana Maiman had perhaps the most difficult with which to contend: In March 2015, FCB and McCann Health parent, Interpublic Group, eliminated its third health-marketing network, ICC Lowe, and folded its three brands into FCB.
The unexpected move delivered some 275 employees and a raft of potential client conflicts onto Maiman's doorstep. She didn't so much as blink. Nearly two years later, FCB has smoothly integrated the entirety of the former ICC Lowe operation.
Two brands were united as FCBCure, while the other was recast as a med-ed specialty shop. In the process, it blew past the 800-employee and $140 million milestones, expanding its relationships with A-listers including Novartis, Teva, and Amgen.
The secret to Maiman's success lies in her approachability and flexibility. Every agency leader claims a warm connection with employees up and down the company organizational chart, but Maiman actually walks the walk.
She's also hands-on with FCB clients — in a good way. Asked last year by MM&M about the pros and cons of working with biotech startups compared with pharma monoliths, Maiman doesn't take the bait. "Come on. Do you have more than one kid? Even if you have 20, you find something awesome and adorable about each one."
––––––––––––––––––––––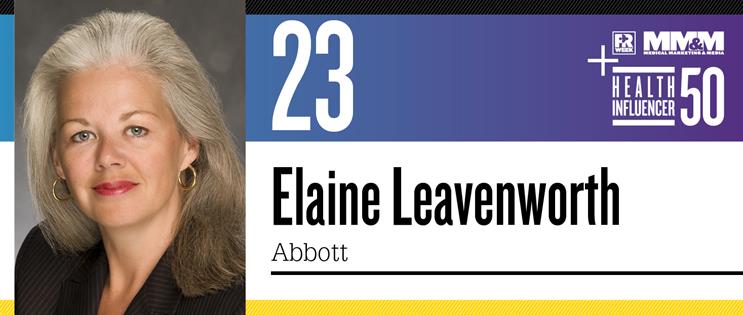 23. Elaine Leavenworth, SVP, chief marketing and external affairs officer, Abbott

Since Elaine Leavenworth assumed her current role as SVP, and chief marketing and external affairs officer in 2014, she has overseen a number of memorable consumer efforts. The company grew its rehydration fluid, PediaLyte, audience in 2015 by focusing on See the Lyte, a spot that features clever ways of showing how it fits into adult lifestyles.
During her tenure, Abbott struck gold again for Similac, with the Sisterhood of Motherhood, whose video featured a playground confrontation between different kinds of moms and attracted nearly 6 million views in less than two weeks.
Beyond her marketing efforts, Leavenworth is, by any account, deeply embedded within her community and her company's philanthropic efforts. During her 25-year career at Abbott, she has held roles from manager of strategic planning to licensing and new business development, VP of government affairs, and division president of Abbott health systems.

––––––––––––––––––––––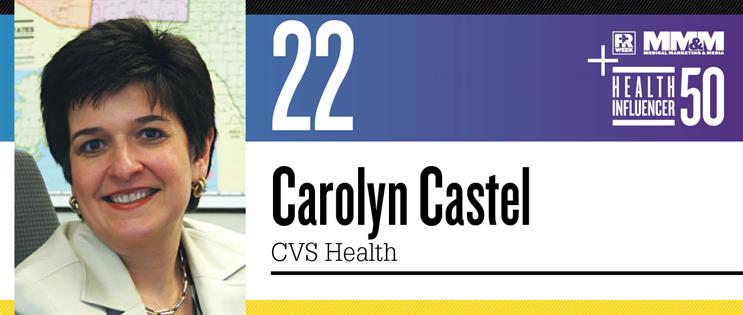 22. Carolyn Castel, VP, corporate communications, CVS Health

Carolyn Castel has spearheaded comms during CVS' game-changing announcement to cease selling tobacco products in 2014. More recently, CVS began replacing 25% of candy at the front end with healthier snacks.
Castel, a 10-year CVS veteran, has also had to shape messaging around the company's decision to add 35 products to its list of excluded drugs in 2017 due to "hyperinflation" in pricing in favor of lower-priced alternatives.
Early on, Castel played a key role in defining CVS Caremark's message around its evolution — from CVS, a top drugstore chain, to CVS Caremark, a pharmacy healthcare provider with $139.4 billion in annual revenue in 2015.
Castel leads the company's efforts in corporate reputation, media relations, crisis planning and issues management, and CSR. Prior to working at CVS, she was SVP, corporate and public affairs, at Edelman.
––––––––––––––––––––––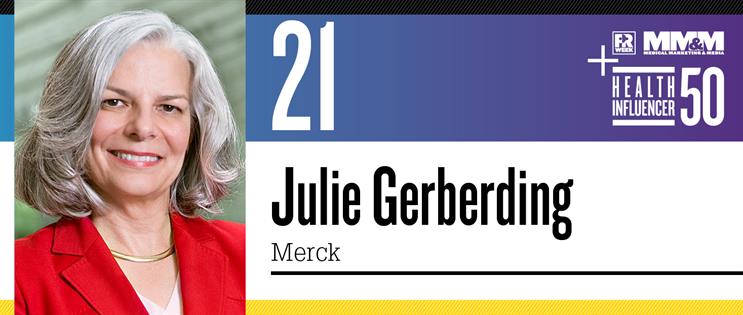 21. Julie Gerberding, EVP, chief patient officer, strategic comms, global public policy and population health, Merck

Julie Gerberding's career has spanned the health system. After starting her career in academia at the University of California, San Francisco, Gerberding went on to lead the Centers for Disease Control and Prevention as its director from 2002 to 2009.
During that time, she presided over the agency during a remarkable number of public health crises, including the anthrax attacks that killed five people, Hurricane Katrina, and the outbreaks of West Nile virus and SARS.
Gerberding stepped down from that post in 2009 when President Barack Obama took office. After a year as a consultant, she was named president of Merck's vaccine division, then a $5 billion business. While at the helm of the company's vaccine division, she oversaw the proliferation of the first vaccine for the human papillomavirus, Merck's Gardasil.
––––––––––––––––––––––
PRWeek's and MM&M's Health Influencer 50 list