Tory commercial team (mostly) bests Labour
One clear winner of the week has been the Conservative Party's conference sponsorship team, which looks to have firmly routed Labour in terms of how many private businesses have paid to have stands or sponsor events. In fact, Labour actively turned down money in places - McDonald's was widely reported earlier this year to have been told it could not come to the Liverpool event, and a number of other companies seem to have been told the same thing.
Here's the @McDonaldsUK VR stall that @UKLabour DIDN'T WANT YOU TO SEE (no food though to some #CPC16 delegates' disappointment) pic.twitter.com/iPGhpvM21g

— Sam Burne James (@samburnejames) October 4, 2016
Labour is said by attendees to have had a more robust conference partnerships team in the Ed Miliband area, but has since had a couple of personnel changes. However, one way in which Labour did best the Tories was by again flogging sponsorship of its conference lanyards to the union Usdaw. The Conservative Conference brochure quotes £16,500 (excluding VAT) as the price for sponsoring its lanyards, but these were unbranded.
Perhaps companies don't want to shell out for something that may just be discarded - lanyards have become a good medium for ambush marketing at conference. Numerous groups, including Conservative Way Forward, have been handing their own ones out for free, but the most popular and prominent has been news platform BrexitCentral (which is edited by former TaxPayers' Alliance CEO Jonathan Isaby) and its eye-catching pink ribbons.
The fantastic @LordAshcroft wearing our @BrexitCentral lanyard, pleased to hear he's also thrilled by @theresa_may's premiership so far too! pic.twitter.com/kMv5qBy2Ja

— Darren Grimes (@darrengrimes_) October 4, 2016
And the winners are...
Flack is proud to present the Fringies, its awards for those who have displayed excellence in conferencegoing at Birmingham this year.
Longest panel event: The Solar Trade Association, whose Tuesday evening fringe was advertised at two and a half hours long. (Although Flack has learned that the panel discussion bit was only for the first hour, followed by drinks.)
Last PRs standing: FleishmanHillard Fishburn, whose trio organising screenings of the US presidential and vice presidential debates here and in Liverpool with Labour were still on duty until 3am
Outstanding contribution to networking: Simon Nayyar, Acuitas Communications (It's almost like he has a new agency to win some business for.) He's certainly been putting in the hours, and Flack takes its hat off to him.
Exuberance at the bar: Pagefield, who bought no fewer than eight bottles of champagne at the conference hotel bar on Monday night as it celebrated a client's birthday
Early start award: As with many events, freebies are very much the order of the day at conference, making any event presented by the Scotch Whisky Association an attractive proposition. While its Tuesday morning fringe meeting was listed with a plate and cutlery icon to indicate refreshments being provided, Flack is not sure exactly what kind of refreshments were provided at the 8am event.
Endurance: the Royal Mail was the one major corporate to have appeared at the Liberal Democrat Conference last month. It was also at Labour, and will be at the Scottish National Party next week. Flack hopes James Gold and his presumably exhausted team have some time off later this month.
Innovative exhibition stand: Pharmacy trade association Pharmacy Voice has been testing delegates' blood pressure on its conference stand. The late nights and alcohol mean many peoples' will be slightly higher than usual. As can be seen in the chart in the back of this picture, the organisation has been tracking which group has had the highest blood pressure. It's bad news for MPs.
Environment Minister @MPGeorgeEustice grabs a blood pressure check at pharmacy stand and regional briefing for the South West #cpc16 pic.twitter.com/ukT3dikVH7

— Pharmacy Voice (@PharmacyVoice) October 4, 2016
Pimlico Plumbers: nearly watertight PR
One of the private companies with a prominent presence at conference this week has been Pimlico Plumbers, and its charismatic founder (and Conservative donor) Charlie Mullins has made a number of media appearances. In one of those, with none other than PRWeek, he predicted Theresa May was "going to be the nuts", and rather beautifully described how he and Labour "don't drink from the same teapot".
Outspoken Mullins is often good for a slightly mischievous quote, and that unfiltered, authentic tone is very much a double-edged sword for his longstanding PR man Karl Plunkett. While Plunkett was pleased by how pro-'remain' Mullins stuck to his lines during some tough questioning on TV on Tuesday by Andrew Neill over the Brexit process, his boss went a little rogue that evening. At a drinks event hosted by Pimlico Plumbers and its agency Connect Communications, he told a somewhat risqué joke about a prostitute. "I think he does it mainly to piss me off," Plunkett told Flack with a wry smile.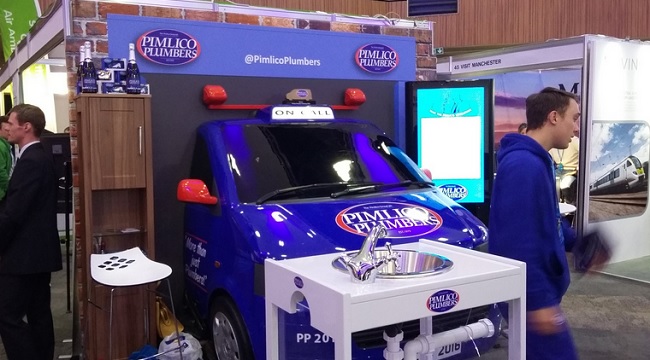 In enemy territory
Plenty of PR and public affairs professionals have a background working for a political party - meaning that, for many, stepping away from the party is their first chance to attend the opposition's conference. Karim Palant, a former aide to Ed Balls now working for Facebook, had a couple of irreverent observations.
Looks like they're running low on these at Tory conference @edballs pic.twitter.com/Vsey50B9at

— Karim Palant (@KarimPalant) October 3, 2016
Simon Hughes, the former Lib Dem minister, wasn't as amusing on social media, but he did raise plenty of eyebrows among people wondering what he was doing in Birmingham. The answer: he joined the Open University on a one-year contract as head of public affairs in February.
No crisis here
MHP Communications - one of just two agencies with an overt, branded presence within the International Conference Centre - has been packing out its small suite this week with a series of training sessions on various PR topics. Delegates have found this a welcome break from the more abstract policy discussions that dominate conference, and one of the most popular has been on crisis management - several people had to be turned away by MHP as the room could only take around 30 people.
"I was rather interested in this," said a Bournemouth councillor who regretted that there was no space, before adding hastily: "Not that I'd want you to think we had a crisis."
New collective nouns
Another councillor, this time from Nottingham, was in more mischievous mood on meeting Flack, when conversation turned to the Conservatives' former coalition partners. "I've got a new collective noun for Lib Dems - we call them an irritation of Lib Dems," she smiled. What about Conservatives, Flack asked. "In Nottingham we say a Thatcher of Tories."
And with that, Flack bids farewell to the annual gathering of the Thatcher flock, but not before a quick hat tip to this bit of cheekiness from Sky on the subject of the big non-conference story of the week.
Great subtitling @SkyNews @adamboultonSKY pic.twitter.com/BCAXvqrvbs

— Michelle Di Leo (@michelledileo) October 5, 2016