At the Labour Party Conference last week, PRWeek looked at how party conferences are arguably becoming less useful for public affairs pros and other attendees, as the events become media-managed rallies rather than places where policy is made.
Nonetheless, there is more business to be done (and a greater presence from the PR industry) at the conference of the party in power, versus the party of opposition. While public affairs professionals are keen to stress that not much actual lobbying happens at the conference, it is a time to shake hands, re-acquiant and network with significant figures - even with the Prime Minister herself, for those with deep enough pockets.
The conference is a chance to listen in and gauge the mood of the party, and many commercial attendees leave it at that, with a small number of delegates then reporting back to head office. Others use it as more than an intelligence mission, choosing to try to get their message across, at considerable expense, by having exhibition stalls, hosting, speaking on or sponsoring fringe events.
The party said there were 12,000 delegates in total at the conference, with a "higher proportion of members than ever before", more than 400 fringe events taking place, and more than 120 exhibitors. Its press office said it was not able to provide last year's figure for comparisons, but the general feel around conference is of a busier, more crowded affair than Manchester in 2015.
'Half of the FTSE 100'
Cicero Group executive chair Iain Anderson, until recently chair of the APPC, told PRWeek yesterday that the impression he was getting was that "half of the FTSE 100 is here". Many of those are likely to have attended the expensive business dinner on Monday night, with the PM and a minister in attedance. PRWeek was not surprised to have its request for a list of attendees declined.
Anderson, who for the first time in more than a decade said he did not attend the Labour conference, went on to say: "Airports are going to be very visible [in Birmingham], and banks are very much here in force."
On the banks, a sector source said Barclays tended to have among the largest and strongest public affairs presence at conference, while Santander was generally "small but smart" and that the American banks were always very quick to pick up on relevant public affairs issues. Lloyds' activity seemed to have dropped off under its relatively new public affairs chief.
Brexit, of course, is on everyone's mind. "The thing that every business wants to talk about is Brexit trajectory - are we going to have hard of soft Brexit? - and when is Article 50 is going to be triggered," said Anderson.
Another in-house government relations professional, who asked to speak anonymously, concurred: "All anyone wants to talk about is Brexit. May intended to get it out of the way on Sunday, but everyone is waiting for [David] Davis or [Liam] Fox to make a comment at a fringe that drops May in it," he said.
He also noted that one of the busiest fringes of Monday, despite starting at 8am, was the Social Market Foundation's conversation on industrial policy with George Freeman MP, chair of the PM's policy board. "The room was packed with lobbyists seeking to identify the routes to May."
#CPC16 making a bit of a splash on Instagram. 2,300 uses of hashtag so far. Tragically only nine accompanied by #selfiewithMay pic.twitter.com/tum9oIrsXD

— Sam Burne James (@samburnejames) October 3, 2016
Airports
With the government set to make its long-awaited decision on the expansion of Heathrow and Gatwick shortly, the airport sector is trying to ensure it remains prominent in Government's mind.
The conference fringe may only list two events hosted by Gatwick, and one apiece by Heathrow, Luton and Manchester's airports (one of which includes a speaker from Birmingham Airport), but Heathrow and Gatwick have been spending a lot at conferences for years, while the long and fraught decision process has dragged on.
Says one regular attendee of conference: "Goodness knows what the Think Tank community is going to do once the Government makes a decision on aviation capacity. They've been bankrolling party conference receptions for the past five years."
A prominent example this year is Heathrow's regular lounge, situated just inside the conference centre - not far from iNHouse Communications' rival London Lounge, where Gatwick has bought meeting space - although some were surprised to find Heathrow not open for business on Sunday.
The Heathrow lounge invites you to check in, only to find Heathrow is closed! #CPC16 pic.twitter.com/xQd5Dk5blu

— Stop Heathrow Exp (@StopHeathrowExp) October 2, 2016
The exhibition
A large number of businesses, charities, party groups and retailers are to be found in the marketplace zone of the conference. Regular attendees said they were interested to see the first appearance as an exhibitor of Sharing Economy UK, and its best-known member, Airbnb. With its combination of real ale and bar games, the Camra stand (below) has been popular through the week, while Natwest's has turned heads with a stand featuring small businesses which it has helped to finance.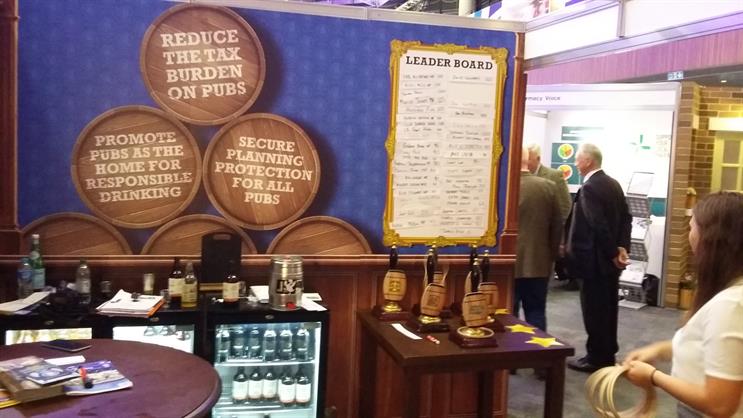 McDonald's has also received a lot of attention, with its virtual reality stand outside the front of the conference centre. Unlike many other stands, delegates who were at the Labour conference last week won't have seen this already - the fast food retailer being one of several not welcome at the event in Liverpool.
Pimlico Plumbers
Another business which wasn't in Liverpool - in this case by choice - is Pimlico Plumbers. When former PM Margaret Thatcher died in 2013, Pimlico Plumbers' entire fleet of vans were decorated with a portrait of her, such was the admiration its founder Charlie Mullins had for her.
Speaking to PRWeek on the company's stand, Mullins told PRWeek it had spent £25,000 on being at conference, including a drinks reception to be held on Tuesday night, organised by its agency Connect Communications, half of which went on the eye-catching stand at which it is talking to attendees about its commitment to apprenticeships.
.@PimlicoPlumbers stand - in blue is apprentice Ashley, the grandson of founder and avowed Conservative Charlie Mullins #CPC16 pic.twitter.com/7eqfXLgayi

— Sam Burne James (@samburnejames) October 3, 2016
Conservative donor Mullins said there was "no substitute" for being at conference. "This is the equivalent to being on the television at the moment, there's so many people who are going to come and visit... it's one of the most important things on our yearly calendar, it's a must have," he said.
"We're not drinking from the same teapot as the Labour Party," Mullins said. The firm wouldn't go to the Labour conference even if they were in power, he added. "I can get a meeting with most [Conservative] ministers right away – they're a bit more business savvy," he said.
Royal Mail
Another attractive-looking stand in the exhibition area is Royal Mail - where, in addition to talking about its business, it is doing a roaring trade as a pop-up post office, as well as selling to stamp collectors.
It was the only major business to be present at the Liberal Democrat Conference this year - last year it had just been it, the BBC and LBC owner Globe Media at the Lib Dems. The Royal Mail will also be at the Scottish National Party's conference.
David Gold, its director of public affairs and policy, said that even if they weren't in power, there were plenty of peers, councillors and backbench Labour and Lib Dem MPs who were worth liaising with.
PRWeek put to Gold the suggestion made my many public affairs professionals that short meetings with ministers at conference are less valuable. He said: "We've had quite a lot of shaking hands, re-acquianting with people. Of course you can have a lot of those meetings in London, but it's not necessarily the biggest priority of certain ministers to have a meeting with Royal Mail, so you can get through a vast number of ministers and have conversations without officials... it's a very efficient way of getting around."
"I have no regrets about being at all four; it was definitely the right thing to do," he said.
Big spenders
Prices of conference stands are listed on the event website - ranging from £6,600 for the smallest stand, to £27,500 for the largest, with charities getting a 25 per cent discount.
Prices for fringe events are less easy to find, but PRWeek hears that an organisation - generally a think-tank - running a fringe space in the secure zone for the week will spend £15,000 or more on hiring the space. They will in turn charge several thousands of pounds for a company to be a speaker on an event, or to sponsor it. One charity told PRWeek it was offered the opportunity to pay to ask a first question at a fringe. It declined.
In addition to that, thousands of pounds are spent on advertisements in the conference booklet - more than £5,000 for the one on the back cover - and £10,000 or more will buy sponsorship of a drinks event.
PRWeek spoke to the former employee of a think tank, who had sold partnerships and speaking opportunities at both conferences this year. This person, who preferred to remain anonymous, named the Joseph Rowntree Foundation, British Gas and its owner Centrica as having had particularly big budgets this year. Another mentioned the Nuclear Industry Association and Smart Energy GB. John Lewis was also mentioned has having sponsored a Sunday night fringe event at the London Lounge.
Like any of its kind, the Conservative Party Conference is a money spinner, and markets itself as a 'must attend', trying to instill a fear of missing out in order to attract the business world.
Going back to last week's question - is it really worth it? Opinions, of course, vary.
Warwick Smith, managing partner of global public policy at Instinctif Partners, sums up the value of conferences from an agency point of view. He said: "I attend because it's an almost unique opportunity to join the party at prayer, to understand where they are being driven by the grass roots, and to catch up with people. Being here, being seen to be here, and contributing to the debate around and on the fringe has value."
However, he warned businesses against spending too much on conference without good reason. "Businesses that benefit from a 'splash' are limited to those arguing their case on a big public and political issues – major infrastructure development and Brexit this year," he said.
"Companies that fall outside this should really ask whether they couldn't argue their case better in Whitehall and Westminster, understand who the decision-makers really are and take a more forensic approach."