Asked by PRWeek what they would be up to in Liverpool last week, a number of agencies said they would not be going at all, or for less time or with fewer colleagues than previously.
Those numbers, the seniority of attendees and the duration of consultants' trips have increased this week - MHP Communications has three more people in Birmingham than it had in Liverpool, Instinctif Partners has six compared to the two who were at Labour (the same number it had sent to the Liberal Democrat Conference) and Weber Shandwick has around half a dozen.
One of these is high profile new hire Joey Jones - the former Sky political journalist is in just his second week of work as the agency's new head of public affairs in the UK, following a stint advising Theresa May just before she became Prime Minister.
Cicero Group executive chair Iain Anderson, until recently chair of the APPC, said the agency's six or seven people in Liverpool had increased to more than 10 in Birmingham. "I think everyone [agencies] will be there mob-handed," he said.
A drinks event hosted by the APPC's Young Consultants Committee - which is chaired by Instinctif account executive Matthew Sutton - was perhaps slightly less full than this time last week. This may reflect the fact it was held outside the conference's central secure zone, and the fact that with businesses busier this week, consultants are more likely to have more client duties. This is the first year the YCC has held such events.
The most obvious branding for a PR agency is, like last week, iNHouse Communications' London Lounge. The small agency - whose co-founder Katie Perrior sold her stake earlier this summer to take up a post working with May in Number 10 - is co-hosting the private lounge with clients News UK, Microsoft, Diageo and Starbucks.
This week, the London Lounge occupies as a large marquee just outside the main conference venue, but still inside the secure zone.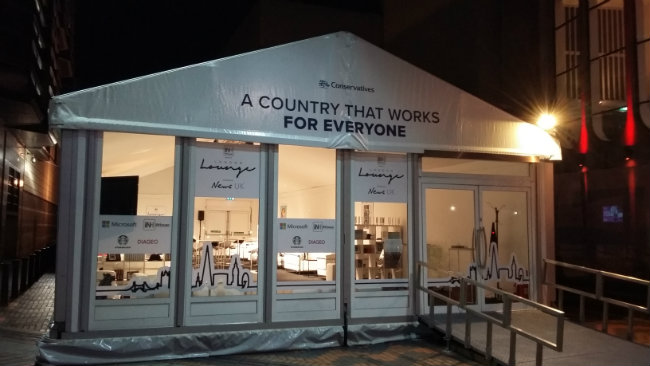 As with last week, it appears that the only other agency hiring a dedicated, branded space throughout the week is MHP, which will host six training sessions through the week, and hosted clients and contacts for a drinks event yesterday evening.
MHP also appeared to be the only agency mentioned in last week's conference brochure - Labour was less keen than the Conservatives to list events by private businesses. Other PR firms listed as holding events include:
The Whitehouse Consultancy and the Nuclear Industry Association are hosting an event on Tuesday evening on how to deliver a etter energy market, and Lansons is holding its annual financial services drinks reception
Westco, a consultancy providing comms services to the public sector and itself owned by Westminster City Council, is hosting an event on engaging local communities in growth plans, also on Tuesday.
FleishmanHillard Fishburn, which last week held a screening of the US presidential debate with experts from its US team providing analysis via Skype, is doing the same in the early hours of Wednesday for the vice-presidential face-off.
Come back to PRWeek.com throughout the week for more from Birmingham. The Conservative Party Conference ends on Wednesday.