The study also picks out healthcare and technology as the two biggest sectors for agency growth in the near future, and touts digital and online as by far the largest area of demand for services.
The report, presented on Friday at the ICCO Global Summit, the global membership body for PR industry trade associations in 48 countries, provides analysis and insight into the industry's health and prospects - and provides a ranking of the top 100 firms in the world by revenue.
It includes a foreword by PRWeek UK editor-in-chief Danny Rogers, who said he was struck by how consistent responses from PR leaders were, even across such varied geographical markets. In his executive summary, ICCO CEO Francis Ingham said the outlook for the industry is "bright - and getting brighter".
Asked how optimistic they were about the growth of the PR industry, and its profitability, the most positive responses came from those in North America, the UK, the Middle East and Australia and New Zealand.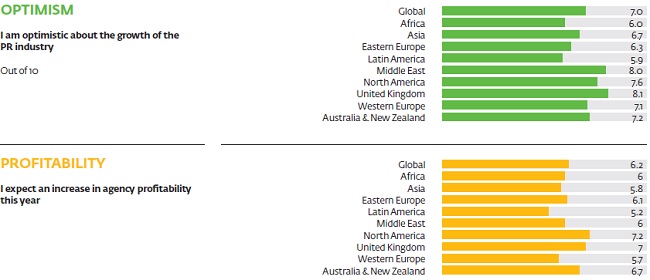 Digital and online comms were cited by 89 per cent of respondents as the area the industry is most likely to see growth in the next few years, followed by corporate reputation (54 per cent) and public affairs or government relations (46 per cents). The sectors most likely to provide growth for PR are healthcare, technology and consumer products, the respondents said.
Staff retention and recruitment were cited as the biggest challenges for PR companies.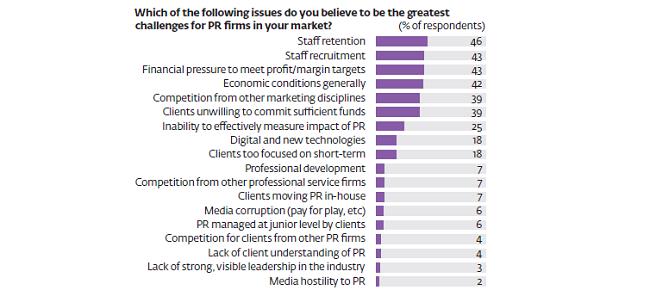 The report also contains a regional breakdown of those results, and regional breakdown by key players in each area. Weber Shandwick UK and EMEA CEO Colin Byrne says that industry has to "call time on talk of the digital PR versus non-digital PR divide and start to think properly about integrated comms", and FleishmanHillard Asia-Pacific president Lynne Anne Davis describes the strong demand for a variety of PR services across the region's fast-growing markets.
In addition, Ketchum Argentina partner Gustavo Averbuj argues that across Latin America "creativity and storytelling reign supreme". Beth Balsam, US CEO of Hill+Knowlton Strategies, writes that presidential candidate Donald Trump's low media spend and manipulation of media coverage demonstrates that PR, as the "art of influencer and advocacy", has never been more "relevant or meaningful".
In the list of the world's largest PR firms, positions one through to nine remain unchanged, with Edelman the largest followed by Weber Shandwick and FleishmanHillard. Chinese group BlueFocus's revenue growth of more than a third since last year catapults it into the top 10 at the expense of Havas PR.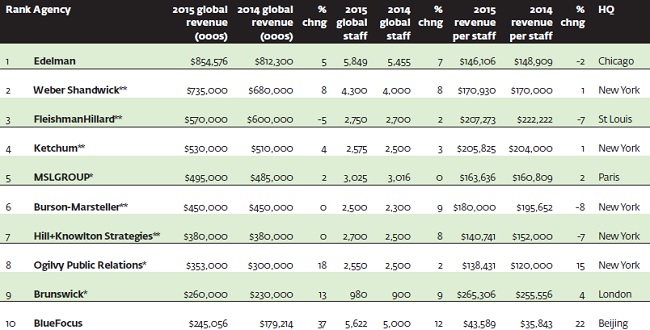 Other firms adding more than a third to their revenue are Finn Partners (29th overall, revenue growth of 36 per cent year-on-year), Allison+Partners (47th, 33 per cent), Four Communications (49th, 79 per cent), Newgate Communications (60th, 39 per cent) and Kivvit (89th, 36 per cent). Firms taking a sizeable revenue hit include Grayling, Kreab, FSB Comunicação and ICF Mostra.