On Thursday 15 September, hundreds of life jackets were put on the banks of the Thames (above) within sight of parliament by ActionAid, with support from Islamic Relief, ahead of a Refugees Welcome Here march on 17 September. No agenices were involved.
On 19 September, the London production company Snappin Turtle laid out 2,500 life jackets in Parliament Square (below) as New York-based global NGO the International Rescue Committee also drew attention to refugees' plight.
Sanj Srikanthan, an executive director at the IRC, said: "650 of these life jackets were used by children, you can still see the Disney stickers on some of them."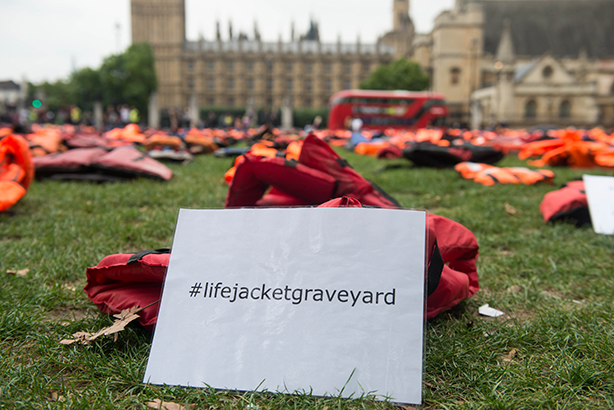 The charities are understood to have conceived their respective stunts independently. Snappin Turtle contacted ActionAid around a month before the event to ask for its support, at which point the parties worked together, also co-ordinating with other charities, to ensure a consistent message.
The result: two poignant photo opportunities gaining coverage aplenty, although some reaction was negative, calling the events "self-righteous" and highlighting an apparent breach of rules for political protests on Parliament Square.
---
Credit for #lifejacketgraveyard image: Getty Images