How the Rolling Stones got their PR satisfaction
Alan Edwards, founder of the Outside Organisation, gave a star turn at the PRCA's annual conference last Friday with an anecdote on the trials and tribulations of becoming the PR man for the Rolling Stones, aged just 24.
Edwards described a two-part interview process (complete with admirable impressions of Stones' front-men Mick Jagger and Keith Richards).
It began with him being flown out to New York and driven to a palatial apartment in the Dakota Building, where it was "just me and a bunch of chandeliers". Presently Jagger walked in and began to question Edwards on the circulation of various European publications, including Libération in France and El País in Spain. Fortunately, Edwards had all the answers and was duly flown back to London.
However, two weeks later, he received a phone call from Richards, who began the call by telling him: "Listen here sonny-boy Jim, I run the Rolling Stones, not that effing Mick Jagger. If you want to work for the Stones, you'll be down here at Shepperton at midnight tonight, right. Got it?"
With a summons like that, one could hardly refuse and Edwards duly arrived at Shepperton studios, only to stand in a small windowless room without a chair for hours, with only the distant strains of an early version of Brown Sugar to keep him company.
At dawn, Richards burst in and demanded of Edwards: "Who played bass with Johnny Cash? What was Gregory Isaacs third album? How old was Muddy Waters when he died?"
As luck would have it, Edwards is an aficionado of blues, reggae and more and answered with aplomb. Two days later he was hired.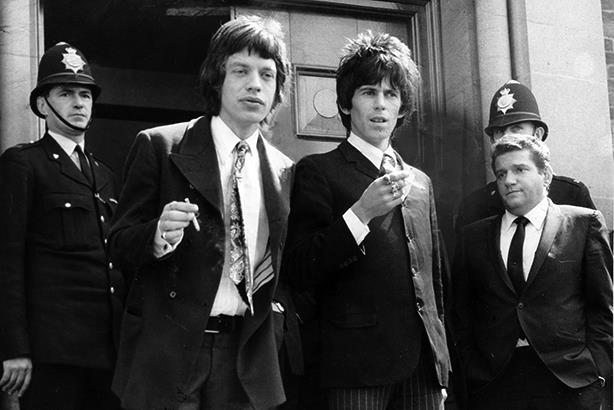 Burning the midnight oil with Fleishman, Trump and Clinton
Flack has to confess to being a little tired this week after its exertions at the Labour Party Conference in Liverpool.
Normal timetables go out of the window at conference - people go to planning law policy discussions at 10pm, are still meeting clients and contacts for drinks past midnight, and then wonder why come the final day of conference they're coming down with a bit of a "cold".
On Monday night, FleishmanHillard Fishburn hosted a screening of the US Presidential Debate, which started at 2am UK time. Hot dogs, Budweiser, live Skype input from some of Fleishman's US political experts and cardboard cutouts of the candidates were all on the menu.
Nice of the candidates to take time out for a selfie before the big debate... #Debates2016 pic.twitter.com/OwHdmqeFoY

— Michelle Di Leo (@michelledileo) September 26, 2016
The agency also gave out 'Clinton/Kaine' and 'Trump/Pence' badges. The former were a lot more popular. "You've got to be brave to wear the Trump ones," a Fleishman staffer said.
While howls of derision were reserved for Trump, there were wry chuckles for one stereotypically American bit of behaviour from the Skype-d in experts. Nearly every question from the floor in Liverpool with the reply: "Well that's a great question." A good diplomatic tactic that gives the respondent a moment to ponder it, sure. But let's be honest, by 2am at an event with free booze, not all of the questions were of the most sparkling intellectual calibre.
And the winner is...
As the PRWeek UK Awards rapidly approach (buy your tickets for the 18 October jamboree here...), we note one comedy writer's snarky suggestion for a new awards category for next year.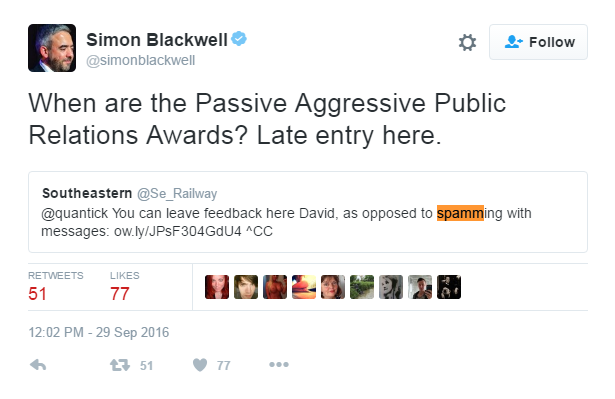 In fairness to Southeastern, Flack can see that it would be irritating when customers prefer to be grumpy on Twitter rather than provide properly thought out feedback. But still, manners cost nothing.
Shkreli takes a hit for late PR consultant
Could Martin Shkreli, AKA "the most hated man in America" after hiking up the price of a HIV-related drug by 5,000 per cent while CEO of Turing Pharmaceuticals last year, be taking steps to redeem himself in the public consciousness?
Shkreli caused a stir this week when he auctioned off the chance to hit or slap him in the face. He tweeted that a figure of £50,000 had been raised, which the "pharma bro" has vowed to match.
The money will go to the family of his former PR consultant Mike Kulich, who died earlier this month, leaving behind a young son who recently received treatment for leukaemia.
Katie from Florida @like_ether_ has agreed to donate $50,000 & I am matching! Congrats to the Kulich family. Mike, I will never forget you.

— Martin Shkreli (@MartinShkreli) September 28, 2016
Katie will be permitted to "repeatedly pummel me in the face" as requested. Bidding is over. Congrats to her and the Kulichs! @like_ether_

— Martin Shkreli (@MartinShkreli) September 28, 2016
London Baa-ridge
As independently minded, creative types, PR pros are not known to follow the flock. But that didn't stop a group of them, including PRCA director general Francis Ingham, joining an eclectic bunch of folks driving sheep over London Bridge last week.
Flack could ask why, but frankly, let's just enjoy the spectacle:
The Company of PR practitioners @PRGuild driving sheep over London Bridge this afternoon #sheepdrive pic.twitter.com/9na3txa7ln

— London Sheep Drive (@SheepDrive2016) September 25, 2016