Ogilvy Healthworld tracked the activity of the 20 largest global companies' Instagram, Facebook, Twitter and YouTube channels from January to June, using audience intelligence platform Pulsar Core.
In the below graph from its report The Social Check-up, number of posts is measured on the x-axis. Lilly was the most prolific poster and so appears furthest to the right, dwarfing infrequent publishers Allergan, Teva and Takeda.
However, Lilly's posting did not always create engagement. It posted nearly twice as much as Boehringer Ingelheim and seven times as much as Novo Nordisk. These two firms scored highly on an engagement ranking calculated around likes, shares, comments and retweets, shown on the y-axis.
The size of the dots relates to size of social media following - Johnson & Johnson has the largest.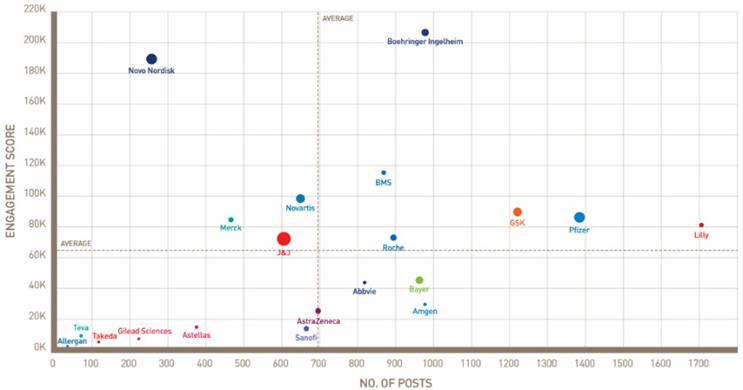 The report says: "The rise of paid social has offered companies the ability to achieve better user response rates through highly specific content targeting. It is difficult to speculate which of the pharma companies studied were using paid social strategies. This may be one of the reasons Novo Nordisk and Boehringer Ingelheim achieved significantly higher levels of engagement compared with their competitors."
Another finding of the report is that disease awareness was the most common content theme posted by pharma firms, but their audiences actually preferred to interact with company news and CSR-related content.
Highlights from the Social Check-up are available online via SlideShare.